The Flyers took advantage of good health, experience, and end-of-season momentum to win their third straight and fourth in the last five…36-17, over Marist.
DAYTON — Alex Jeske missed Thursday's University of Dayton football practice this week because the senior quarterback was in New York on a job interview.
But he asked the folks who interviewed him if it would be all right if he started in January, 2019, if they hired him.
Why? Because even though Jeske is a senior he has another year of football eligibility and wants to spend next fall leading the Flyers, which is music that rocks coach Rick Chamberlin's ears.
It was Senior Day Saturday at Welcome Stadium and 19 seniors were honored, but the vast majority are eligible to play another year because they were red-shirted their freshman year and didn't play.
And some key 'seniors' told Chamberlin they are coming back — Jeske, leading rusher Tucker Yinger, slick pass received Matt Tunnacliffe, to name three.
"I'm going to tell coach Austin King (offensive co-ordinator), 'You better score 40 points a game next year with all those guys back,'" said Chamberlin.

After starting this season 1-and-4, mainly because Jeske was in a boot on the sidelines with a broken foot, the Flyers won their third straight Saturday and fourth in five games, kicking (literally) Marist, 36-17.
The Flyers scored three touchdown, all three in a three-minute-14-second span, to build a 30-0 halftime lead. True freshman kicker Allen Waltz took care of the rest with a school record five field goals and an additional three extra points for 18 points.
Jeske threw 27 times for 300 yards and a touchdown (208 yards in the first half). Yinger ran for 129 yards on 25 carries, his seventh game this season over 100 yards rushing, and Yinger ran for 100 of his yards in the second half. Tunnacliffe caught a pair of passes, one a diving snag for 21 yards that set up a field goal.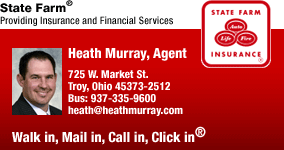 UD's first two scores came on Waltz field goals of 19 and 31 yards after the Flyer offense stalled in the red zone to make it 6-0.
Then came three touchdowns in 3:14.
—The first touchdown came with 1:40 left in the first quarter, a 1-yard-run by Cole Kaparos after Jeske hit Adam Trautman with a 32-yard pass to the 1. For the day, Trautman caught six passes for 133 yards and a touchdown.
—Marist went three-and-out and after a short punt and a 15-yard return by Christian Searles put the ball on the Marist 38, Jeske threw an across-the-field touchdown pass to Trautman on the first play as the first quarter expired.
—Marist fumbled on its first play and true freshman safety Brandon Easterling from Fairborn, starting his first game, recovered. Early in the game Easterling intercepted a pass.
Three plays later Jeske ran left 11 yards for a touchdown with 13:26 left in the half — three touchdowns in three minutes and 14 seconds.
Waltz kicked his third field goal, a 30-yarder late in the half, to push UD's lead to 30-0.
The only points the Flyers would score in the second half came on Waltz field goals of 21 yards each, both in the fourth quarter.

Marist scrambled desperately to get back in the game after the 30-0 halftime deficit and quarterback Mike White, a true gun-slinger, set a school record by throwing 62 times. He passed for 400 yards, but completed only 34. He didn't throw a touchdown pass, but was intercepted three times as many of his flingers were at to whomever it may concern.
Waltz, ironically, broke the school record shared by fellow freshman and teammate Patrick Sandler. The two staged a tryout-competition before the season and Sandler won the job the last week before the season began.
And he kicked four field goals against Southeast Missouri State in a 25-23 victory, tying the school record. Then he had a few foot hiccups and Waltz was given the job a few weeks ago.
"My coaches just told me to stay calm and confident," said Waltz, a Blue Ash native who played high school at Summit Country Day. "I progressed more and more and ended up taking over. Now I feel very confident."
Five for five will do that for you. And it could have been six-for-six, but the Flyers unsuccessfully faked one field goal attempt.
"I knew Sandler tied the record earlier this season, so I knew five broke it," said Waltz. "All those points add up."

They certainly do when the offense sputters in the red zone.
Brandon Easterling was playing safety only because senior David Leisring was sitting out on concussion protocol. In addition to his pass interception and fumble recovery in his first defense start (he played only special teams) before Saturday, Easterling had eight tackles, four solos.
"It felt awesome, but like everybody you feel a little nervous," said Easterling. "Then a few plays in, you just start playing. And the preparation helped me all the way, got me ready for what I had to do."
Of the interception, which was tipped by the Marist receiver, Easterling said, "I didn't expect anything like that going in. My mindset was, 'Do your job, an anything else was just icing on the cake (the interception was chocolate icing and the fumble recovery was vanilla icing).'"
Because Eastering is from nearby Fairborn and knew he was coming to Dayton, he worked out three and four times a week during the summer before his freshman year with some of the Flyers veterans.
And senior Christian Searles, the team's defensive leader, told the coaches, "Keep your eye on this guy. He's really good."
Hearing what Searles said, Easterling smiled broadly and said, "That's awesome to hear that. I'd never heard that. Searles and I got real close this summer and he has definitely been a role model and a guide in helping me be a better player."
Chamberlin grinned about Easterling's success and recalled when David Leisring had to sit out a game for targeting. Tim Simon, a red-shirt freshman, made his first start against Drake and intercepted two passes in a victory. And he intercepted one Saturday, too.
And now Easterling steps in.
"I kiddingly told Leisring that the way things are going he is going to be third string," said Chamberlin. That, of course, isn't likely because Leisring is the team's leading tackler.
And even though Matt Tunnacliffe plans to return next year, he won the prestigious Andy Zulli Award, presented each year to a senior bases on leadership and character and voted upon by his teammates.
"It means a lot to me, but there are a lot of guys on this team that deserve it," said Tunnacliffe, a clue as to why he won it. "Guys from the past and even guys on this team have paved the way for me to learn."
Tunnacliffe came to UD and tried to play baseball his freshman year, but didn't make the team and walked on to the football team his sophomore year.
"That great catch he made early in the game, that diving catch?" said Chamberlin. "That just shows you the kind of individual he is. He is determined and loves the Flyers program. He is a young man who came in as a tryout guy and makes the team. He made an impression right away."
With Saturday's win, the Flyers are 5-5 with one game left, two weeks away at Valporaiso. The Flyers need the win to avoid only their second losing season in 40 years.
It's a goal they all take seriously.
"We've done it so often here, 39 of the last 40 seasons are winners, it is important here," said Chamberlin. "As for this game, I'm going to tell the team Sunday night the importance of the kicking game and the turnover battle. You have to win those to win the game. And we did it again."
The Flyers outkicked the Red Foxes (five field goals to one), out-punted them (Seas Smith 53.5-yard average to Marist's (37.8) while Smith and the special team kept Marist pinned back on kickoffs.
Turnovers? UD — zero. Marist — three passes intercepted, one fumble lost.