There was something for everyone, and above all else…it was as good as volleyball gets.  For a title-starved community, the New Bremen Cardinals took the Division IV regional crown to finally get that championship opportunity.
Clayton, OH – It was more than just good volleyball.  It was GREAT volleyball.
It was more than just sport.  It was great drama.  It was great excitement.  It was great atmosphere;  and a lot of pride from the respective communities.  In short, for whatever you seek when you go to a high school sporting event…Saturday's Division IV regional final between #1-ranked New Bremen (26-1) and Fort Loramie (17-11) had something for everyone.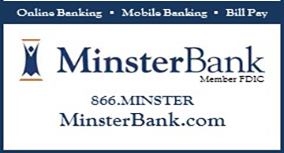 The records will show that New Bremen won the match, 3 sets to 1, to advance to their first state title opportunity in memory – of any sport.  The record will also show that it didn't come easily, despite the top-ranked Cardinals entering the match as overwhelming favorites.  Coach John Rodgers had his Fort Loramie Redskins prepared emotionally and physically, and from the outset they served notice that matches and titles are won on the court, and not in the media.
Rodgers and the Redskins did something that no one else had been able do all year.  They capitalized on the obvious nerves displayed by New Bremen and actually won the first set of the match;  and did it in convincing fashion, 25-19.  Bremen served poorly, hit the ball out of bounds, and seem confused on defense.  Loramie took advantage, and for a time appeared to be not the proverbial David in the face of Goliath, but the real deal.  A stunned New Bremen audience watched in disbelief as the Redskins walked to the bench after winning the opening first set with such obvious confidence.
But these are very good programs, coached by two exceptional personalities.  And Bremen's Diana Kramer made some adjustments, with personnel and strategy, that would prove fateful towards the eventual outcome of the match.
Bremen came out in the second, served better, got their emotions under control, and played Loramie point-for-point until the 12-12 mark of the game.  They took their first lead, 13-12, when a served escaped the control of Loramie libero Emily Austin.  It gave Bremen a 13-12 lead, but more, it gave the Cardinals the opening they had been seeking.  They kept hitting serves in the direction of Austin, one of the Shelby County League's best players at her position, and for whatever reason…she continued to struggle with the return.  Bremen stretched their lead to 20-17, and eventually took the second set, 25-22.
It eased the pressure.  It restored the confidence to a team that had steamrolled through the regular season, sectional and district round of the tournament.  Suddenly, Paige Jones started driving shots inbounds, and out of reach of Loramie defenders.
Suddenly, serves improved, and Bremen's defensive intensity increased, extending points and pressuring Loramie to be more precise with its shot placement.  Confidence and momentum are powerful weapons in volleyball, and by the mid-point of the third…both were squarely in the hands of the Cardinals.
Ironically,  on a team with senior stars like Julia Goettemoeller and Paige Jones, it was a sophomore, Macy Puthoff, who stepped up at the height of the Cardinals' early troubles and brought calm and order to their game.  Statistically, she only had four kills and as many assists.  But there were no errors of any kind in her game, and for one so young, she proved to be the epitome of leadership.
That carried through the third match, a 25-13 win, and the fourth, a 25-17 win, and while the packed Bremen stands went "Cardinal Crazy" at Paige Jones' match point…Macy Puthoff handled winning like a seasoned veteran.
"She was a difference for us,"  admitted Diana Kramer.  "She was really, really good.  I'm nervous before every game, and I cautioned the girls about that, too.  But the nerves really caught up with us at the beginning and Macy, with the way she played, was definitely a spark for us."
In the hallway outside the Loramie locker room, John Rodgers answered questions in his usual manner.  One of the classiest and best at his profession, his eyes were red and a bit moist from having just addressed his team.

"First, I'm so proud of my team,"  he said.  "They played their hearts out today.  But New Bremen's serving was what ultimately did us in.  They're such a great team, and they're going to win it all.  I hate to make predictions like that…but I know Division IV volleyball pretty well, and they're going to win it all with a coach like Diana and the kind of players they have.  They had to make a decision after that first set as to whether they were going to step it up a notch, and they did.  Their serving is what did it."
Kramer agreed.
"The thing that sticks out to me was that in the first set we didn't have any aces,"  said Kramer.  "And from the start of the second set to the end,  I'm guessing that we had probably ten to fifteen aces.  That was the difference, and it flipped the momentum of the match.
"We wanted to target their outside hitters with the serves, making them both pass the ball and hit the ball, and their libero is a very solid player.  But tonight she struggled in returning serve and that was the key to our turnaround.  The key to winning volleyball matches is your serve/receive.  We found a weakness and we were able to exploit that weakness."
It negated what was obviously an uncharacteristic and ominous start to the match.
"We hadn't lost an opening set all year,"  said Kramer.  "So that fact that we could lose a first set at the regional finals and find a way to stay composed and play through the nerves is just a remarkable accomplishment."
Some numbers…..
Paige Jones had 27 kills…Julia Goettemoeller had 7 kills…Abby Theiman had 23 assists…Blake Snider had 10 digs…and Macy had 4 kills and five aces.  But more importantly, she didn't have an error all day.
Puthoff was all smiles, of course, for the fact of her contribution helping her team go to the state finals for the first time in school history.
"This is for our team and our community,"  she stated proudly.  "We've really got a younger team and we were able to get over the nerves and win it.  We prepare in practice to be mentally tough, and today we were able to get through a rough start and play our game.  You just have to remind everyone to have confidence, and when you can play with confidence and have the momentum there's no stopping us."
So yes, it was good – and better than just good volleyball.  It was emotional, history-making, and a time for hundreds of photos aferwards with teammates and the regional trophy.
But there's more to do, as Paige Jones reminded earlier in the week.  History for New Bremen is within their grasp.  They've never won a team title in the history of the school, and someone mentioned that it was the first time that a team had been to the state tournament since the 1960 boys basketball team captured the county title and swept on to Columbus.
If you believe in confidence, Diana Kramer has stated all along that as long as they play their game…no one can beat them.  And after Saturday she might add to that…something about conquering their nerves.  This is history in the making, after all.  This would be a first – a much-coveted first.  It would be crazy – Cardinal Crazy – as St. Louis broadcaster Jack Buck once claimed after an Ozzie Smith home run in the 1985 post-season.
All that remains now is doing it.  And seeing, of course, if John Rodgers really is a prophet.