Paige Jones put on an impressive power display, and #1-ranked New Bremen cruised to a Saturday regional final showdown with Fort Loramie by ousting defending champion Jackson Center from the tournament.
Clayton –  New Bremen volleyball coach Diana Kramer made no bones about it.
"I'm nervous about this,"  she said prior to Thursday night's Division IV regional semi-final with defending champion Jackson Center.
"You know, Kim Metz may be the best volleyball coach in the state of Ohio and I'm sure she'll come out tonight and throw a lot of soft stuff at us."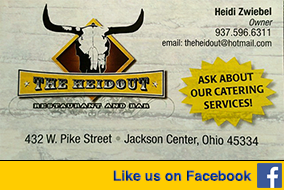 Meaning, that against New Bremen's aggressive power game, Jackson Center would throw the volleyball equivalent of a change-up in baseball…to negate that power and keep Kramer's #1-ranked Cardinals off balance.
But, Kramer is also oft to say, "If we play our game there's no one out there that can beat us."  And that's exactly how things turned out.
Bremen DID play its game – power, power, and more power – and cruised to a three-set sweep over the defending champs, 25-17, 25-18, and 25-19 in front of a packed Northmont High School gym.  And to borrow from another time-honored sports phrase, if you have a good horse…ride it.  And that's exactly what Kramer and the Cardinals did from the outset.
With arguably the state of Ohio's best player, senior Paige Jones, Bremen (26-1) went right after Metz's Tigers (18-9) and dashed all fears about Jackson Center giving them a dose of "rope-a-dope", the fighting style that Muhammed Ali used to employ to wear down a more powerful opponent.  They served aggressively, they swung aggressively, and Jones' 27 kills and numerous deflections kept Jackson on the defensive to the point that the Tigers never had a chance to counter-punch.
"I completely agree,"  said a more relaxed Kramer afterwards.  "And that's been our motto this year.  We want to come out aggressive because the only team that can beat us is ourselves.  We want to be aggressive on every single point and if we can do that good things are going to happen.
"When Paige is swinging like she did tonight no one can stop her.  And Julia (Goettemoeller) played one of the best games of her life tonight;  Rachel (Kremer) was swinging away, and when everyone's firing on all cylinders like that we're really tough to beat."
Jones was impressive to the point of drawing oohs and aahs from both sides of the arena.  The 'oohs' mostly came from the New Bremen side, but just as many 'aahs' were heard from an appreciative and supportive Jackson audience for the scrappy defensive effort put up by the Tigers.  The Michigan-bound senior landed some heavy blows early, got her confidence, and with momentum mounting, proceeded to move about the court and drop one bomb after another on the Jackson defense.
And…she had help.
Abby Theiman, Taylor Paul, Madison Pape, Macy Puthoff, Kremer and Goettemoeller joined in with the power parade and made it tough for the Tigers to mount much of an offensive counter-attack.
Yet, the trademark of a Kim Metz team, and the reason that Kramer was nervous, is its ability to find a way to give themselves a chance;  and on Thursday they did that by playing defense.  As many shots as Jones and company sent to the floor, there were just as many dug out by Raquel Kessler, Katelyn Sosby, Caroline Frieders and Madilynn Platfoot – more than worthy of the 'aahs'.
"Paige was impressive,"  admitted Metz.  "She did have to take a little bit off her serve because she hit a few into the net.  But that's their game.  They play aggressively so they can take you out of system.  And with Paige if you're playing catch-up you're not going to be able to do as much.  Her power game is just that dynamic."
For her part, Jones, as usual, was crediting to her teammates, while admitting that she was "feeling it", and into the moment.

"We knew we had to go in playing our game against them to be able to compete,"  she said.  "We want to swing at them hard and make it tough for them to play defense, get them out of system, and keep them from doing what they wanted to."
To Jackson's credit, they played point-for-point with Bremen for much of the start of the third set – matching intensity and relying to a dogged defensive effort to extend points and eventually create an opening.
"We might have let up a little bit,"  said Jones.  "When you're up 2-0 you have a tendency to relax, but we also knew that we needed to pick up the speed again."
Which, with the score tied at 17-17, Jones took matters into her own hands, igniting a five-point run to extend the lead to 22-17 and eventually close out the match.
As always, Metz was classy and appreciative of a gifted and talented opponent, lavishing praise upon the obvious coaching talent of Kramer and the athletically gifted Jones.  When told that Kramer had called her the best coach in the state, she laughed and shook her head.
"I doubt that,"  she smiled.  "She's pretty phenomenal herself and does a great job with her team."
And of course no one appreciates the process more than Metz, who assured that while this year is over she's already looking forward to next year and a run at yet another state title to add to her two, already.
"I'm still hungry,"  she said, nodding for emphasis.  "I'm still hungry for more."
And if she's hungry, Kramer and the Cardinals are famished, seeking the school's first team title in any sport.  The next step comes Saturday, when they'll face John Rodgers' Fort Loramie team, who beat Russia in four games in Thursday's opening match.  And while she might be nervous, Diana Kramer was still confident as she left the building that if they play their game…no one can beat them.
"Right now all the records can be thrown out,"  she added.  "There's one more game until the girls' dreams come true.  We're confident going forward, but I'm sure Loramie's confident, too.  We're going to work hard and be prepared to give them our best."
And if they do…well, you know.  Expect Paige Jones…and some power point(s)!