Fort Loramie keeps its focus to fend off Russia in D-IV regional semifinals with a four-set victory. The Redskins spread the ball around to keep the Raiders off balance and set up a regional final clash with a familiar foe.
CLAYTON – The Fort Loramie volleyball team held a 2-1 lead over Russia and needed one point to close out the Division IV regional semifinal on Thursday.
Play in the moment. That's what Redskins coach John Rodgers challenged his team to do. The moment – needing that one point to reach the regional final – came in a Northmont High School gym packed with fans filling the bleachers to capacity and dozens spectators more standing along the facility's running track that rings the gym.
It came against a scrappy Russia Raiders team that Rodgers said just might have the Shelby County League's best blocker (Laurissa Poling) and libero (Whitney Pleiman).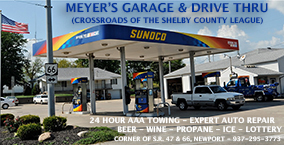 And it came with a trip to the regional finals at stake.
Rodgers couldn't have blamed his players – well, not too much – had they fast-forwarded mentally to Saturday's potential match up with either New Bremen or Jackson Center. Especially being one point from victory.
"That's tough when your 14- 15-years old," Rodgers said. "You have to be able to adjust and stay in the moment when they make adjustments, too."
Fort Loramie led 24-20 in the fourth game. Four straight times Russia (19-8) held off Fort Loramie (17-10) thanks to an illegal hit, a hit out of bounds, a Poling kill and another hit that went long. Suddenly, it was 24-24. A block by Redskins freshman McKenzie Hoelscher had her team at match point again.
And one of those in-the-moment plays happened. Hoelscher's serve headed toward the back line. Russia let it go thinking it was long.
"Sometimes it goes your way and a freshman gets an ace serve," Rodgers said.
Hoelscher's ace capped Fort Loramie's 25-18, 25-20, 24-26, 26-24 victory.
The finish was nearly identical to the end of Game 3, when tied 24-24, Poling hit a kill that landed just inside the line and Pleiman ended it with an ace.
In Game 1 with Fort Loramie leading 19-16, Russia never trailed by more than three points. That changed when senior Abby Holthaus connected on consecutive kills. A ball hit out of bounds and a shot by sophomore Marissa Meiring pushed the lead to 23-16. The Redskins eventually closed it out on a pair of Russia serve reception errors.
In Game 2, Fort Loramie led 8-2 on as many as five Russia serve reception errors before the Raiders battled back to trail 20-15. The Redskins led 24-17 only to see the Raiders fend off set point three times before the Redskins took the crucial 2-0 lead.
"That didn't set a good tone for us," Russia coach Aaron Watkins said. "We dug ourselves too big of a hole to start.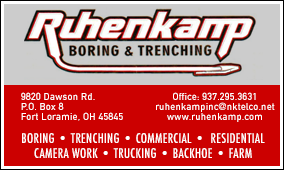 "The moment was a little big for us this year. The girls really had no experience (at the regional tournament). Once we settled in it was a little better. We're happy to be here and we want to be here every year. It was a good first time."
Fort Loramie reached the regional semifinals in 2016 before falling to New Bremen 18-25, 18-25, 17-25. Those two teams also met during this regular season with the Cardinals winning 19-25, 25-23, 19-25, 17-25.
Fort Loramie and Jackson Center played twice during the Shelby County League season. The teams split with Jackson Center winning in four sets and Fort Loramie winning in five.
"I live in New Bremen, for crying out loud, and Kim and I are good friends," Rodgers said of facing one of those two teams. "That's okay. That's what makes the sport so great. That's what makes this level of competition so much fun to play in."
Just like it has all season, Fort Loramie spread the ball around to a variety of players. Holthaus had 12 kills. Meiring and junior Chloe Stang both had 11. Junior Emily Austin and Stang both had 23 digs, while Meiring and senior Sophia Albers both had 14. Albers also had 38 assists.
"I think our offense is really spaced out," Albers said. "We don't have that one go-to person. We have reliable people I can go to."
Albers was one of those players getting it done in the moment for the Redskins. But she wondered if getting to that point would even be a possibility at the beginning of the season.
"At the start of the season we were a little patchy," Albers said of a Redskins team that was 8-7 before winning nine of their last 11, counting Thursday's win. "Since then we've been playing really well and playing good as a team. … This feels awesome to make it here my senior year."
Russia and Fort Loramie split their two-game series in the SCL with the Raiders winning 3-1 and the Redskins winning 3-0. The both finished 9-3 in the league and tied for second. The Raiders chances at victory took a hit in Game 4 when, with the Redskins leading 17-15, senior Cameo Wilson rolled her ankle on a play at the net. She didn't return.

"I was really proud they didn't give up in the third set. Even in the fourth set they pushed back," Watkins said. "If we get a ball to roll our way we might win that set.
"They're a great group of girls. I'm going to miss those four seniors. They all get along on and off the court and it really contributed to it."
Fort Loramie takes on the winner of Jackson Center and New Bremen in the D-IV regional final 2 p.m. Saturday at Northmont. Jackson Center is the two-time defending state champion. New Bremen is ranked No. 1 in the final state poll.
What will it take for the Redskins to reach state for the first time since 2014 when they won it all?
"More consistency," Rodgers said. "No matter who we play we have to be more consistent than we were today. I think we'll be better on Saturday because we've been here now, we know what the gym looks like. Now we can come down and focus on playing volleyball."
And Fort Loramie can't wait to be in that moment.