If you do the math this weekend's accomplishments by area high schools become all the more impressive.  Because seriously, how many leagues can you name where more than half – HALF – its members qualify for the post-season playoffs?
Oh yes, it was the first email received from a loyal reader in Scioto County Sunday morning, calling my attention (as if I needed it) to the fact that six of the ten football members of the Midwest Athletic Conference had qualified for the OHSAA football playoffs through last Friday night's action.
Six, that is, of the ten members in Division V, VI, and VII.
"I'm sure you'll be writing about that again,"  the reader shared.  "But it's nothing really new."
And he's right on both counts.
I will take the opportunity to mention that Marion Local (D-VI), Coldwater (D-VI), Fort Recovery (D-VI), Delphos St. John (D-VII), Minster (D-VII), and the Anna Rockets (D-V) – six of the ten football members of the MAC had qualified to play in week eleven.
He also went on to mention that there's not another league in the state that can make such an impressive claim…and I don't know if there is or not because I won't take the time to do the math (but I'm pretty sure he's right).  But percentage-wise, 60% is an impressive feat.
But in fairness, our column Saturday night about area volleyball on Saturday actually left out one other fact that's just as impressive;  and that is that while Russia, Jackson Center, and Fort Loramie all won Saturday to advance to the Division IV regional tournament this coming week…the Anna Rockets also beat Williamsburg in Division III (one division higher) to advance to the regional round, as well.
That's four teams – four – from a seven-team conference (the Shelby County League) that not only made the playoffs, but advanced to the state's penultimate round of competition.  And doing the math…it's 66 and 2/3rds per cent of the league, bigger even than football in the MAC.
Anna's win over Williamsburg leaves them with a record of 18-7, and eerily consistent with that of Russia (19-8), Loramie (16-9), and Jackson (17-8), which only goes to prove that the competition in that seven-team league is such that it could be considered the toughest (per division) of any in the state.  And by comparision it's no different than what people are saying, and have been saying, for years about the MAC in football.  In fact, it probably is tougher when you take in account that the SCL schools play each other twice in conference play, in both volleyball and basketball.  On a typical year it's ridiculously hard to get through the league unscathed.
And before I leave…kudos to the Miami East Vikings, as well, out of the CCC, for advancing to the regional round.  The Vikes have their own recent history of championship success, having won back-to-back titles in 2011 and '12 under then coach John Cash (not the singer).  They'll be seeking their third in Division III.
"It's really a factor as to why we've had the success as a league that we've had,"  said Loramie coach John Rodgers earlier this year.  "When you consider that Loramie has won a title just a couple of years ago, Jackson Center has now won back-t0-back titles, and Anna won in 2006, that's impressive."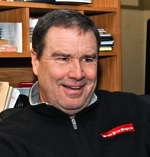 Yeah, it is.  Because if you go back through the OHSAA records and look at the percentages of leagues with 40% state championship credentials in volleyball…that's getting even more rare.  And again, I can only think of the MAC as one who's done that…with Versailles, St. Henry, Marion, Parkway, and Fort Recovery coming to mind as past championship winners.
"It speaks to the kind of competition we play," added Rodgers on Saturday.  "I know I like to schedule the best I can, with conference and non-conference, and programs that we could lose to.  Because, it only makes you better when you get to a setting like this."
No argument here, or from any place else.  The numbers don't lie!