On a night better suited for ducks and geese than football, Minster takes advantage of six Anna turnovers to go to next week's playoffs with a winning record.
Anna –  Yes, on a night that was wet, cold, sloppy, and perfect for many who didn't know enough to get in out of the rain…they played football.
It wasn't easy, mind you.  Wet weather makes the football hard to hold onto – and easy to turn over to the other team.  But they played, anyway.
And Minster quarterback Jared Huelsman would afterward say that it was a focus going in:  Hang on to the football with both hands, and DON'T TURN IT OVER!
And in fact, that in large part was exactly how the Minster Wildcats (6-4) parlayed six Anna turnovers – four fumbles and a pair of interceptions – into an eventual 20-7 win Friday, finishing their season on a winning note, while ending Anna's in just the opposite fashion.  Minster enters the Division VII playoffs next weekend with a 6-4 mark;  Anna will go to the Division V opening round with a 7-3 record.
In the midst of a steady, hard rain, it didn't take long for the elements to raise havoc.  Anna fumbled on its first play of the game, Minster's Jared Huelsman recovered, and moments later scored on a five yard run to take a 6-0 lead at the 9:45 mark of the first quarter.  The rain made the extra point attempt nearly impossible.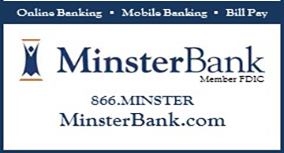 After an exchange of punts, Minster took advantage of good field position at 1:10 of the quarter to punch in another score, by Huelsman again, raising the margin to 12-0, as the extra point attempt was again no good.
Anna could seemingly not acclimate itself to the conditions, losing ground and field position, until at the 9:28 mark of the second quarter tailback Riley Huelskamp took advantage of the poor footing and got outside Minster's containment at the line of scrimmage, made a move upfield, and sprinted 60 yards for a touchdown…untouched.  That cut the deficit to 12-7, and for the moment made it a contest as the teams left the field for halftime.
But at the 6:00 point of the third quarter, Anna's Caleb Kauffman looked up into the lights and the driving rain to field a punt at his own ten yard line.  The ball went through his arms to the ground, Minster recovered, and one play later Jared Huelsman scored his third touchdown of the game from ten yards out to conclude things, 20-7.
Anna would make one more drive to get back into the game at the 7-minute mark of the fourth quarter, but Travis Meyer's would-be touchdown pass to Austin Fogt was picked off by Minster's Austin Brown, and that was that.
The old slogan used by the Morton Salt people said it best.  When it rained Friday, it literally poured on the Anna Rockets – as it seems since their September 29th loss to Marion Local, a span in which the Rockets have dropped three of five.  Following last week's loss against Coldwater, Coach Nick Marino hoarsely confided, "We have to play better at critical times of the game."  And while he was unavailable for comment Friday, he must have been muttering something like that to himself again.  Six turnovers will get you beat in a football game…every time!
"It was a big factor in the game, without a doubt,"  said Minster quarterback Jared Huelsman, who did as much as one human can possibly do to help win a football game. "We knew coming in it was going to be sloppy, and we just kept reminding ourselves to keep two hands on the football.  The toughest team was going to hang on to the football and that was going to decide the score.  And that first turnover they had was really a boost to us.  It got us going."
Without a doubt.
But in his own inimitable take on things, Wildcats coach Geron Stokes paid little heed to the conditions in assessing how his team won.
"I just love our kids," said Stokes.  "Look, our goal was to come in with maximum efficiency and be out of here by 10 o'clock tonight.  I think we made it by nine minutes.  We had an unbelievable week of practice again this week, our seniors haven't let winning and losing affect their mentality, and it's been about showing up, being aggressive to attack every single day, and demanding the most out of everyone."
But in terms of individual credit, it was impossible to overlook the effort and contribution on this night from his quarterback, Jared Huelsman – three touchdowns, a pair of turnovers recovered – and perhaps most important, no turnovers suffered.
"I just think it's an investment level that Jared has…that most kids don't have,"  said Stokes.  "He's so invested into what we're doing, and when you have that the team, the program, and all the hours all come together.  Unbelievable effort by Jared and our kids tonight."
It was no offensive juggernaut:  Minster won it with just 220 yards of offense on 56 plays.  Anna lost it with 262 yards on 53 plays, and a lot of those yards came in the fourth quarter when Travis Meyer began putting the ball in the air to receivers Austin Fogt and Caleb Kauffman.  Fogt finished the night with ten receptions for 98 yards.

But Minster's plan was to keep the ball in the hands of Huelsman, who rushed 34 times for 140 yards – and Isaac Schmiesing, who toted the ball another 22 times for 80 yards.  Very low risk, and very high reward.
Contrast Anna, and Travis Meyer, who threw it for 14 of 27 and 124 yards, but had a pair of interceptions;  and 89 yards from Riley Huelskamp on the ground, 49 more from Endsley…but the four fumbles, two by Endsley, one by Huelskamp, and one by Brady Hanes.
Both teams will play in Week 11, but with different personalities going in.
Minster suddenly is on a high, having won it's final two games of the season.
Anna, on the other hand, has to be questioning itself as to how many ways you can lose a football game, after letting a 14-0 lead slip away at Coldwater last week…and literally, the football slip away six times Friday against Minster.
And that high reward we mentioned?  Geron Stokes gave his team the weekend off.
"Get some sleep," he told the assembled huddle after the game, as the rain's intensity increased.  "And get ready for a tremendous week."
As for Anna, they made short work of getting in out of the weather…and out of harm's way before something else could happen.
When it rains it pours, you know!