Troy overcame the rain, the mud, and turnovers, relying on the remarkable performance of Jaydon Culp-Bishop to beat Piqua and take a one-game lead in the all-time series – 64-63-8 – over Piqua.
Troy – Running back Jaydon Culp-Bishop stood in the pouring rain on the sloppy, soggy Memorial Stadium field. His soaked gray No. 8 jersey and scarlet pants were caked in mud. He was cold and shivering.
"It's the best feeling in the world," Culp-Bishop said after Troy's 32-6 victory over Piqua in the 133rd meeting between the Miami County rivals. "It was hard. It was brutally cold out here. I'm shivering."
A steady rain drenched the football field on Friday night, nearly turning the Battle on the Miami into the Battle in the Miami. The weather – combined with a Troy defense ranked No. 2 in the Greater Western Ohio Conference – helped neutralize Piqua's passing attack ranked No. 5 in the league.
"It did but as everybody says both teams had to play in the elements," Piqua coach Bill Nees said. "We needed to overcome it a little bit better."
That's where Culp-Bishop came in. He drew the wrath of the coaches in the press box when – one play after senior linebacker John Wehrkamp recovered a fumbled Piqua snap – gave the ball right back to the Indians. Culp-Bishop was stripped by Piqua senior linebacker Ben Schmiesing, who returned the fumble 32 yards for a touchdown.
Troy (8-2) led 18-6 with 12 seconds left in the third quarter, but the momentum had shifted to Piqua's sideline. They kept it for all of one minute.
On second down on the Trojans' own 40-yard line, Culp-Bishop took the hand off – and behind the line of senior center Rase Darrow, senior guards Drew Smith and Kameron Block and junior tackles Gage Forsythe and Nathan Garber – sprinted for a touchdown. He broke a tackle at Piqua's 35 and went untouched the rest of the way for the 25-6 lead with 11:09 left in the game.
Culp-Bishop finished with a season-high 254 yards on 33 carries, giving him 1,549 yards entering next week's playoff game.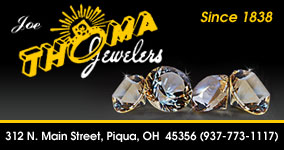 "I wanted to redeem myself from fumbling and put my team in a good position and extend the lead," Culp-Bishop said, doing both on one carry. "I just wanted to continue to drive."
"As soon as he fumbled I came up to him on the sideline and told him to keep your head up," Forsythe said. "You're going to prove yourself and show them you're the best. He did that. Broke that and I just looked at No. 8 from the back and said there he goes again."
Troy capped the scoring with a defensive touchdown with 2:59 left in the game. Senior defensive tackle Joah Schricker returned a fumble three yards for the 32-6 final to secure Troy's second straight GWOC North Division title at 5-0.
"We had that mantra all year of we will defend this title," Troy coach Matt Burgbacher said. "The kids followed through. It feels great. We'll worry about the playoffs tomorrow. We're going to enjoy the GWOC North title again. I couldn't be more proud of these kids and what they did, with the doubt people had in them. To be able to prove themselves that they're a good football team."
The teams combined for nine fumbles struggling to hold onto the slippery football – five for Piqua and four for Troy – and lost six of them. Troy lost two fumbles on its first two drives deep in Piqua territory. The first came on the Piqua 22 and the second on the Piqua 8.
The Indians (6-4) avoided what would have been a quick deficit, but failed to take advantage. Piqua punted on its first five drives and lost a fumble on its sixth.
"We have to kick ourselves in the butt for not taking advantage of it when we had the chance," Nees said.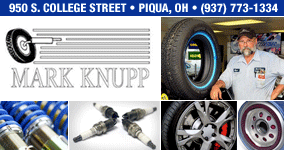 "It's amazing. It's one of the biggest rivalries in Ohio and coming off last year we wanted to prove ourselves again," Forsythe said. "The whole offensive line came to play and so did our defense. (Defensive coordinator Charlie Burgbacher) prepared us all week. We came to play football."
Troy held Piqua to 118 yards of total offense, including 64 through the air. Senior quarterback Austin Davis entered the game averaging 195 yards per game. Davis left the game on the Indians' second drive but returned on the next possession. He took a hard hit from Wehrkamp midway through the third quarter and was spelled by junior Micah Karn, who had not attempted a pass through the first nine games.
"We're on a roll right now and we get better every week," Wehrkamp said. "It's a great defense. Everyone is there for each other and we support each other."
Davis and Karns combined to finish 10-of-21 for 64 yards. Troy's defense also shadowed Piqua senior receiver Hayden Schrubb, who entered the game with 51 catches for 892 yards and 15 touchdowns. Troy held him to two catches for a season-low 19 yards.
"I thought that was definitely a benefit for us," Matt Burgbacher said of the rain. "Not that we can't throw the ball because we certainly can. We can do that but we feel we've got a pretty good run game, too. We knew Piqua's M.O. was Austin Davis and Schrubb. … I thought our defense played solid and played great all night long.
"They have other good receivers, too. But when they need a play they're going to Schrubb. We weren't going to allow them to do that."
Troy's offense, meanwhile, rolled up 366 yards, including 330 on the ground. Troy junior Sam Jackson had four carries for 21 yards, but he made them count. He scored on three of them on runs of 6, 1 and 10 yards to give Troy an 18-0 lead with 10 minutes left in the third quarter.
Troy leads the Battle of the Miami 64-63-8 over Piqua and has won two straight in the series. They also clinched a playoff spot in Division II, Region 8. The official playoff pairings will be announced by the Ohio High School Athletic Association on Sunday.
As for Piqua, they take little consolation in knowing the Indians are one of the best teams in the state to not make the playoffs. Piqua needed a win to qualify in D-III, Region 12. Piqua's four losses came to Trotwood-Madison (10-0), Franklin (8-2), Sidney (9-1) and Troy.
"But we had our chances. You just have to convince your people when you get a chance you have to take advantage of it," Nees said.
Just like Culp-Bishop found his redemption on a cold, wet and muddy Friday night in the Battle on the Miami.