Russia won the sectional title Wednesday in the fashion of the old James Bond movie. A little cold, and a little ruthless. Just like the Ian Fleming would have written it.
Troy – It felt like about 50 degrees Wednesday afternoon with the Russia volleyball team walked into the Troy High School gymnasium. It's a beautiful facility, no doubt, but apparently without thermostats.
And at the outset of the Division IV sectional final match with Cedarville the Russia girls moved and reacted as if they were playing outside – or on the set of Dr. Zhivago. Stiff, and cold.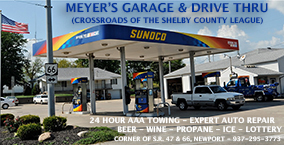 Cedarville (19-6), the #7 seed out of the Ohio Heritage Conference, came in with some gaudy numbers, if not a gaudy resume.
Russia, the #3 seed out of the Shelby County League, came in with a lesser mark (18-7), but with the assurance that some of their wins – and all of their losses – had come at the hands of the best competition to be found in west-central Ohio. And by the 12-12 mark of the first set, the Lady Raiders began to warm to the task.
They ran off five straight points to take an emotional advantage, of not outright momentum, and the Cedarville girls never recovered, losing the first set, 25-20, the second set, 25-16, and the final set, 25-16. In tennis terms it was 3 – love. To the Cedarville girls, it must have felt like from Russia with no love!
The bigger, more athletic Raider simply had their way with the girls from Greene County.
They hit, with outside hitter Laurissa Poling, with abandon.
They defended, with libero Whitney Pleiman, with all-out aggression. Pleiman finished the match with 23 digs, and for good measure…added three service aces.
Every shot from Cedarville was contested, and most kill attempts at the net were either blocked or deflected. In short, the Cedarville girls had trouble getting the ball into the interior of the Russia defense. And when they did…Whitney Pleiman was there.
"We really didn't know what to expect from them," said Russia coach Aaron Watkins on the ease with which the Raiders moved on to Saturday's district round.
"In tournament you see teams that you can't see during the season. We don't know who they play, but when someone has a 19-5 record you have to respect that.
"What helps us most is the fact of our schedule. Out of our 22 games this year we played eight or ten teams that were state-ranked. We just don't have many gimmes, so I told the girls to come out, put the game away, and play like we know we're the better team…and they did that."
As usual, junior Laurissa Poling was a commanding presence with her hitting, rising high above the net to drive shots down through the often helpless Cedarville defense. When the Lady Indians did make contact they then had to scramble to retrieve too many errant deflections.
But as to what's become the norm of Russia volleyball in 2017, it was their defense that confused and discouraged Cedarville's attempt to extend rallies and slip shots into open zones of the court. Whitney Pleiman was just too quick.
"Nobody reads the ball like Whitney," said Watkins. "I'm going to really miss her next year because she's such a great player and a great leader, on and off the court. You can't ask more from a senior than what I get from Whitney."
And for her part, Pleiman is on a mission to at least secure a district title this weekend as a senior goal, the first such distinction for Russia volleyball in fourteen years. Like Watkins, she believes their resume' is a big boost in making it happen.

"There's not doubt that we play a lot of hard teams from the Shelby County League and the MAC," she said outside the Raiders' locker room.
"Tonight felt like just another game, another night to come out and play hard. They were a 19-5 team, but the record doesn't matter as much as the teams you play."
Her instincts are so good – her confidence on apparent (she proudly sports a tiny diamond stud in her pierced nose) – there must be some kind of volleyball lineage. To no one's surprise, Whitney Pleiman has not fallen far from the family tree.
"My mother was a coach when I was growing up. When I was young I was always in the gym with her and it helped me gain a lot of confidence by the time I was in JO volleyball in seventh and eighth grade. I've always had good coaching."
And what would it mean to add that district title this weekend to the Raiders' already impressive record?
"Well, to get a district title would be awesome, of course," she said, flashing a big smile. "I don't think we've had one since 2003, so to bring home a district title in my senior year would probably be the best thing that I could ask for."
Of course, if she doesn't bring home that title it could likely mean the end of the volleyball road for her, something she hasn't allowed herself to consider.

"I'm not thinking about that yet," she added. "Or what it will be like to not play volleyball after this year. I just want to keep going."
Lose and you go back to Cedarville.
Win and you go back to Russia where there was a lot of love waiting on Wednesday night. It's the name of the game this time of year.
And something Ian Fleming (who wrote the James Bond book, From Russia With Love) never even considered.