If this weekend's end of the high school football regular season tells nothing else…the atttendance figures must surely show that the culture for Friday night lights, like a lot of other things, is in the same state of flux.
Sitting in a popular community restaurant last week, the proprietor shared with me his concern for dwindling patronage.
"You know," he said, "people don't eat out like they used to. You could set your watch by Friday night. That's when people came home from a week's work, picked up the wife and family, and went out for dinner. Not any more, or at least not here."
Well, I tried to explain…people's habits change. And if you doubt that look at a lot of other cultural traditions that have evolved. People don't do a lot of things that they used to do, in part, because with the internet and other social media options. It's just easier to stay at home and eat in.
"Do you have online ordering?" I asked.
"No," he admitted. "Never thought there'd be a need for it in a town this size."
Times have changed, pardner. You haven't.
And a couple of hours later I witnessed another cultural change for about the eighth week in a row. I turned up at the Sidney-Tipp football game and was surprised to see an underwhelming crowd for what turned out to be the area's best, and most exciting, game of the season.
The final score was 49-42.
Each team had a running back that eclipsed 200 yards in rushing.
The game wasn't determined until Sidney's last possession of the game.
And yet, Sidney, in the midst of their best football season in a quarter century, filled about 3/4ths of the home stands at beautiful new Memorial Stadium.
And Tipp? If one had taken the time…you could have counted the house, nose by nose.
It wasn't an isolated thing. I go to a high school football game every Friday night, and I can tell you that attendance (and apparently interest) has been down from week 1. And it's especially noticeable in the Greater Western Ohio Conference games where people from Xenia, Trotwood, West Carrollton, and even Wayne…just don't bother to get in the car and drive to see the local team play on the road.  It's been the main knock on the  GWOC since its inception.
But to my surprise, the home crowds at area games are far from capacity, as well.
Community size doesn't seem to matter.  Go to a Cross County Conference game and see the same indifference.
Go to a Lehman game, where the Cavaliers again sit at 8-1, and see that the majority of the crowd consists of family and friends. Yes, it's a small school, but (alumni) simply doesn't come to home football games.
Even with the vaunted MAC, where Anna traveled to Coldwater last Friday for a showdown game with league and playoff issues to be determined, there is cause to notice.  It was anything but SRO (standing room only). For their part Anna pretty much filled the smaller visiting stands, but on the Coldwater side…there were empty seats to be had beyond the 30 yard lines.

Others point to the change in how America lives now, compared to the 70s, 80s, and even the first decade of the millenium. You don't have to leave the house now to eat or to be entertained on Friday nights.
One click of the mouse and food appears at your door within thirty minutes.
There are so many movie options on TV now (and the TVs are 80 inches wide) there's no need to go out to the local theater.
And football? There's a good college game on every Friday night now (and has been for several years). It's just too easy to sit in the comfort of one's den and watch the Big 12 or the Pac 12 play more meaningful games. And the Big Ten says it's next to cash in on the Friday night market.
One reader recently emailed, "With the changes in local media it does not surprise me the hometown residents have no idea who the QB is, or even who's playing who. All I know is in order to read about any high school Friday night game now you might have to wait for a sidebar in Monday's edition."
Others have written…that high school sports is so poorly marketed it's impossible to follow. There is no published schedule of area games, as there once was. Nor, is there a published scoreboard on Saturday mornings of the previous night's results. Not enough staff, and not enough resources is the explanation, if you ask.
But it's all online, along with every other competing opportunity. Which to the point of my restaurant host's lament…if you're not online in this day and age you're just not in the mix of things to do.
Of course, there is the possibility of the football being less than anticipated. But that's always been a factor, and still, in its day it didn't make any difference. A decade ago when Piqua was winning, and even in the years immediately following their 2006 state title, people filled the home stands at Alexander Stadium.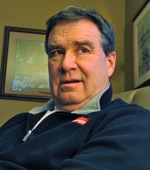 Likewise, during the height of Steve Nolan's success at Troy, the Friday ritual in Troy was to go and watch the Trojans.
But in recent years even the Piqua -Troy game has had its share of empty seats. And if you ask the OHSAA people, they shake their heads over the same carryover to the state tournament weekend in December – declining attendance.
They say what goes around, comes around. We'll see. As for now, a lot of people are trying to figure out how to make it come faster.  It might not hurt…to learn something about Twitter and Instagram!