We've shared the fall perspectives of the man who means the most (Greg Beals). Now some thoughts of our own as to Buckeye baseball going forward, and spring 2018.
Columbus – PPM columnist and Ohio State writer Greg Hoard sat behind the third baseball dugout Saturday to take in the final game of the 2017 fall Scarlet and Gray series.
Recovering from back and leg surgery for the past eighteen months, it was a rare opportunity for Hoard (former beat writer for the Cincinnati Reds) to see the Buckeyes in person; a rare opportunity to assess that about which I've been writing in his absence for the past two seasons.
"I want to see for myself if all this confidence you're putting out there is for real," he said to me as I eased into a box seat beside him.
"You know," he added. "There's a helluva' difference in playing against yourself and playing against Indiana (his home state). I haven't been here, and you have, so it's your word that's on the line. But I'm just saying…it's different when someone in a different hat shows up."
And to his point, that's true. There is a different pressure, a different urgency, and a different confidence at play when the opponent is totally unfamiliar. Doubts creep in as familiarity disappears. Is this guy better than me? I don't know him. He might be? And what do I have to do to be successful? That's the age-old human emotion, regardless of the kind of competition.
So yes, it does matter when you're playing Michigan instead of those faces from the other side of the locker room. But unlike football, or basketball, where physical superiority plays so much a part of the outcome, I say in baseball it's the sheer ability to execute a play, or a pitch, that so often matters over how big and how strong.
I once heard former big leaguer, and Springfield native, Harvey Haddix say that if you execute the curveball correctly it doesn't matter who's hitting. "Babe Ruth is just as susceptible as a high school shortstop," Haddix said. "You make the right pitch and it doesn't matter. That's what makes baseball different."
Extend that to the other eight positions on the field and the same holds true. If you can catch and throw the baseball with strength and accuracy it doesn't matter if you're playing Nebraska or the New York Yankees.
So you see, to argue Hoard's point…a lot of what was seen in fall baseball this year does lend to optimism for February and the start of the 2018 season when the team travels to Florida and opening weekend.
Greg Beals' young Buckeyes did play with a maturing confidence from that of the freshmen who felt their way through the 2017 Big Ten schedule.
They did play with that sense of urgency of confidence, to rebound and atone for an embarrassing post-Big Ten championship letdown.
And the fact of whether the incoming recruit class was talented enough to make its own contribution was quickly dispelled when lefthander Seth Lonsway, catcher Dillon Dingler, and outfielder Jake Ruby took the field.
My own view of what's to come is based on this.
The move of Brady Cherry to second base is bound to pay dividends, whether from the fact of the move itself, or, to the fact of his finally being comfortable with himself as a premier Big Ten athlete. He hit all summer in the Prospect League, and his home run stroke continued through fall baseball and the Scarlet and Gray series. Cherry is not the same hitter as he was as a freshman and sophomore, despite progress in both seasons, and looks so much more comfortable in his recognition and ability to attack the strike zone. He has, physically and mentally, matured.
You have to be strong defensively up the middle in baseball and the addition of both JUCO transfers, Malik Jones (center field) and Kobie Foppe (shortstop) seem to have filled the bill for the Buckeyes. Add Jake Barnwell behind home plate, one of the league's best catch and throw receivers, and the addition of Dingler, and you can rest on the baseball being caught and thrown in a predictable manner. Babe Ruth would approve.
The sheer resolve of a Tyler Cowles, and a Bo Coolen, to atone for disappointing years in 2017 lead you to believe that left field (Cowles) and first base (Coolen) will be far more productive offensively. Cowles suffered through a .191 campaign that he later called "embarrassing" (expletives deleted), and promptly went out last summer and scorched the ball at Chillicothe, playing in the Prospect League.
The next step…by super freshmen Dominic Canzone and Conner Pohl portend consistency, if not some thunder and lightning, in the middle of the batting order. It also means more men on base by the time Cherry, Noah McGowan and Cowles come to the plate. Immediately following Saturday's finale Beals took the time to list a projected starting lineup, and there's was no head-scratching. It's anchored around what these two, along with Cherry and Cowles and Coolen, can do in the middle of the batting order.
The bench is stronger inestimably, for the fact of increased competition at shortstop (Matt Carpenter) and other positions around the field. It's a nice problem when you have to ask…how to get Noah McGowan's bat into the lineup.
The bullpen…anchored by Seth Kinker, or is it? Kinker is so valuable for his ability to spot start, which he had to do at the end of 2017. But there's more…Kyle Michalik, Yianni Pavlopoulos (if he doesn't start), Austin Woodby, et. Al., are all seasoned, available, and willing to do what's necessary, regardless.
Which leads to my one personal issue of question. Who gets it done dependably from the position of starting pitching?
If you think about it, the scenario starting 2018 is just about the same as the one that ended 2017 – Adam Niemeyer (hopefully healthy), Pavlopoulos (hopefully healthy), Connor Curlis, Kinker (?)…and Ryan Feltner.
In my mind, to agree with Beals, the answer begins with which Ryan Feltner, who blazed through the Cape Cod League last summer as a closer, but struggled again in fall ball to pitch with consistency. Physically gifted to throw in the mid to upper 90s, how do you get that kind of stuff in the right parts of the strike zone as a starter?
Connor Curlis has been a model of consistency, and appears to be on the brink of becoming the next Tanner Tully.
Which leaves Niemeyer and Pavlopoulos to battle it out for a third spot in the weekend rotation. Who can stay healthy, and which one can stay on track?
Or to consider, the four – Feltner, Curlis, Niemeyer and Pavlopoulos – pitched to a cumulative ERA last year of just over 5.00.  This is the one number that must be resolved!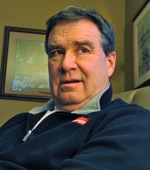 And if Feltner, or Niemeyer and Pavlopoulos falter, will freshman hopeful Seth Lonsway be available, pending an investigation over eligibility by the NCAA. There is an ongoing issues with how his high school transcript was reported. Grades, however, were not the issue.
Greg Hoard is an astute baseball man, and makes wonderful conclusions about things like competition and performing under pressure.
But in my mind, the issue with the 2018 Buckeyes settles on the final piece of my own assessment. Who pitches? And how well do they pitch? These are not the views of anyone official (like Beals), just those of a former pitcher and speculating writer who once cut the seams on the baseball to make hitters miss. Pitchers should always have, and be, the advantage.
And to that point, absolutely nothing HAS changed…since Babe Ruth played.