The Flyers took off like a stealth jet. When a team wins, the assessments usually begin with the quarterback and UD senior Alex Jeske passed the test with 15 for 22 for 223 yards and two touchdowns.
DAVIDSON, N.C. — Classify this one and file it away as, "A good time was had by all."
That, of course, is if you were wearing a University of Dayton football uniform Saturday afternoon in Robertson Stadium and not wearing Davidson black and red, which the Flyers turned to black-and-blue.
The Flyers delivered a 48-22 unanimous decision over Davidson in a Pioneer Football League game.
And who had the best time? It is a litany.
When a team wins, the assessments usually begin with the quarterback and UD senior Alex Jeske passes the test — 15 for 22 for 223 yards and two touchdowns.
—Sophomore tight end Adam Trautman caught five passes for 76 yards, all in the first half that included an alley-oop touchdown pass in the end zone on which Trautman used all 6-foot-6 of his lanky body to over-reach his defender.
—Running back Tucker Yinger did his ho-hum thing, more than 100 yards for the sixth time in eight games, with an added twist. Before Saturday, despite all those yards gained, he had only one touchdown.
On Saturday, he had two touchdowns, including a 71-yard sprint during which not a single human hand touched him. That was a large slice of his 139 yards, achieved on only 14 carries.
"I was hoping I didn't get touched, did it look like I was?" Yinger said of his long touchdown run. "All season it was this close that I would break a big one."
But despite all the yards, Yinger had only one touchdown until Saturday.  Yinger said, "It has been a little bit frustrating, but it has been that way my entire career. When we get close, they usually put a bigger body in (Cole Kaparos)." But they don't need a bigger body when Yinger springs loose.
—With the Flyers owning a large lead entering the fourth quarter, Yinger rested and his backup, Cole Kaparos took over for 65 yards. And earlier in the game, when the Flyers closed in on the Davidson end zone, Kaparos carried in two touchdowns.
And defensively? Those guys had fun, too.
–Jason Balogh, a sophomore cornerback, was picked on by Davidson, aiming passes and running plays to his side. And he made the Wildcats wish they hadn't. He led the Flyers with 11 tackles, nine of them solos.
But his biggest play came on the first play of the second half when Davidson's William Wicks returned the kickoff 85 yards and was touchdown-bound until Balogh flagged him down at the UD 15. And the defense held Davidson to a field goal.
—Linebacker Jack Crain, playing with a cast on his right hand from a broken thumb sustained two weeks ago, intercepted a pass tipped by Christian Searles and returned it 34 yards for a touchdown. Crain also recovered a fumble that led to a UD touchdown.
"Christian broke on the ball and tipped it and I think I owe him a milkshake or a Gatorade," said Craig. "He tipped it right to me. I first tried to put the ball in my hand with the cast, but switched it. Our guys peeled back and led me to the end zone. The cast isn't bad to play with, honestly. That's the easy part The hard part is off the field, like trying to write in class."

–Christian Searles not only deflected the pass that Crain intercepted for a touchdown, Searles collected 134 yards on kickoff and punt returns.
While 48-22 sounds like a sound thrashing, even in this game there were some significant turn of events.
Consider:
On Davidson's first possession, the Wildcats matriculated 95 yards in nine plays, but didn't score a touchdown. They moved from their own four to the UD one, but the Flyers held and Davidson kicked a field goal for a 3-0 lead.
Then UD showed Davidson how to strike quickly and efficienty — 65 yards in three plays. Jeske hit Ryan Skibinski for a 41-yard pass, Yinger ran for nine, then Yinger ran it in from the 15.
Davidson scored early in the second quarter to take a 9-7 lead, UD retaliated with the Jeske-to-Trautman touchdown for a 14-9 lead.
Davidson kicked another field goal with 1:06 left in the half and it looked as if the Flyers would take a 14-12 lead into intermission.
Not so fast, folks. UD had other ideas. They started at their own 16 and with superb clock management the Flyers bolted 84 yards on seven plays, the drive's life maintained when quarterback Jeske ran a keeper for 11 yards on third-and-six.
Trautman made a wondrous catch from Jeske for 28 yards and on the next play Jeske hit Kyle Butz for 22 more. With eight seconds left, Jeske found Matt Tunnacliffe in the left corner of the end zone, the same play on which Trautman scored. It was an 18-yard connection and a 21-12 UD lead instead of 14-12 at the half.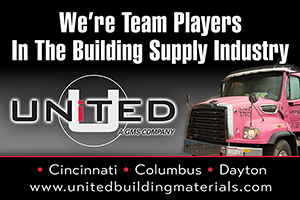 Then came perhaps the game's biggest play — the 85-yard second-half kickoff return on which Balogh made the touchdown-saving tackle. Davidson settled for a field goal and instead of a Flyer lead of 21-19, it was 21-15
And from there the Flyers took off like a stealth jet. They outscored Davidson 27-3 in the third quarter, pushing a 21-12 lead to a 48-15 lead after three.
After the Davidson field goal, Tucker Yinger ran 71 yards for a touchdown on the first play. 28-15. On Davidson's next possession, Searles tipped a pass attempt, Crain gathered it in and ran untouched down the right sideline 34 yards. 35-15. On Davidson's next possession, Craig pounced on a fumble. Jeske hit Jack Euritt with a 25-yard pass and Cole Kaparos took it in from the seven. 41-15. Game over.
Of his 71-yard sprint, his clear path opened by the offensive line, Yinger said, "It was huge for our momentum because it started that splurge where we put up 27 straight points."
"Yes, a good time was had by all — offense, defense, special teams," said coach Rick Chamberlin. "That second half, well, bam, we came out scoring. When they returned that second half kickoff to our 15, I'm going, 'Oh, shoot. There goes the momentum.' But we held 'em to a field goal and I said, 'OK, that's a win for us.'"
It turned out to be a big win for the Flyers, 27 points worth and it had Davidson saying, "Oh, no. There goes the momentum. . .and the ball game.