What's the difference in Coldwater volleyball this season, maybe other than keeping the season going so they can enjoy more of that Tennessee Chicken from the Grill on Main? Togetherness, for one. Coldwater Coach Nikki Etzler says this year's Cavaliers team is as close as any she's had before.
Coldwater – There are two things the Coldwater High School volleyball team can't get enough of this season: wins and that amazing Tennessee Chicken from the Grill on Main that's served at team meals. The Cavaliers have devoured their share of both.
And they're not done feasting just yet.
Top-seeded Coldwater opened the Division III sectional tournament with a quick 25-8, 25-12, 25-6 victory over No. 11 Bluffton on Tuesday night at The Palace. The sectional tournament is just an appetizer to what the  Cavaliers have been craving for so long – a trip to the state tournament. The last time – and only time – the Cavs qualified for state was back in 1994.
"I think we push for it every game and practice. We all want it," said sophomore middle hitter Lauren Gilliland, who slammed 13 kills to give her 237 this season. "We all know it's there for us and this is the year we can do it."
In what's already been a banner season, the Cavaliers want to bring home one more. Coldwater (23-1) won its second-ever Midwest Athletic Conference championship by going 8-1 to share the title with New Bremen. The Cardinals are the only team to beat the Cavs this season, taking a five-set marathon 25-20, 23-25, 25-23, 19-25, 15-11.
Those three sets account for half of the sets the Cavaliers lost this season (6). Until that match Coldwater had won 43 straight sets to open the season.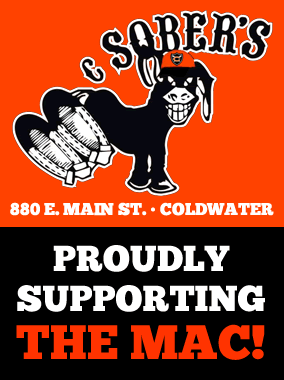 Coldwater ended the regular season ranked No. 1 in the Ohio High School Volleyball Coaches' final Division III state poll. They were joined in D-III by fellow MAC member Versailles at No. 9. The MAC dominated the D-IV poll with No. 1 New Bremen, No. 2. St. Henry, No. 5 Fort Recovery, No. 9 Marion Local and No. 17 Delphos St. John's.
If that schedule doesn't prepare the Cavaliers for a run to state, well, nothing will.
"The MAC is a great conference to play in. The schools are so good and it's great competition each game," said senior outside hitter Olivia Harlamert. "It's really fun playing against them."
And this season beating them. The Cavaliers, who also won the MAC in 2014, had come close to titles in recent seasons including a runner-up finish in 2015. They also finished third in three of the past five seasons.
What's the difference this season, maybe other than keeping the season going so they can enjoy more of that Tennessee Chicken smothered in cheese and bacon? Togetherness, for one.
Etzler said this year's Cavaliers team is as close as any she's had before.
"Our team chemistry is really good on and off the court," agreed senior outside hitter Tasha Kahlig. "We always bring our personality to the court. It doesn't matter where we're at we always get along. That's how we get better each day by pushing each other. Everyone is getting the job done."
Kahlig leads the team with 257 kills. Senior middle hitter Allison Sudhoff has a team-high 41 aces and is followed by Kahlig's 31 and senior Elena Knapke's 22. Gilliland is always a threat at the net with 107 blocks. Sophomore setter/libero Katie Alig has 433 serve receptions and 219 digs, while Kahlig has 205 and Harlamert 201 digs. Knapke has amassed 726 assists.
"This group is super competitive within the team," Etzler said. "We knew that drive would serve them well on the court. We knew this year would be a little unique in that we had six seniors all really competitive, all wanting to push each other and set high expectations in a positive way.
"We're so balanced there's not one individual that's in the limelight."
Next up for Coldwater is No. 12 Spencerville 7 p.m. Saturday at The Palace. A win there moves Coldwater into the sectional final and a potential rematch with No. 4 Minster, the highest-seeded team on the bottom half of the bracket.
The Cavaliers, though, aren't taking anything for granted. Every game is treated like a new season.
"Our coach always tells us to start 0-0," Harlamert said. "That's what we always focus on each practice and each game."
Claire Kunk, Sydney Hartings have also provided senior leadership for the Cavaliers this season. It's that team-first attitude that's gotten the Cavaliers this far.
"I think we have six strong leaders holding our team and being good role models," Gilliland said. "I think we expected a lot out of ourselves. We knew we were capable of doing it."
Coldwater reached the D-III regional semifinals in 2016 before losing a heartbreaking five-set match against Huron. Coldwater led 2-1 before dropping the final two sets for a 25-22, 10-25, 21-25, 25-18, 15-13 season-ending loss.
That setback – and the Cavaliers not having a team appear at state since 1994 – has fueled the team for another run.
"That's a long time ago," Etzler said of state. "That region is super tough because Huron is up there. Generally St. Henry is in the district with Ottoville and Liberty-Benton. Sometimes in this area if you can get through the sectional your going to state. They are going to test you to get out of that region. We haven't been there since 1994. It's certainly a goal of the girls and they've been working hard at it. We're preparing them and watching a lot of film on the teams we might face. This is an opportunity for them.
"They all want it for each other. It's really neat to coach and be part of. I think it's knowing they can't do it individually, so they're going to do it as a team. These six seniors are dear friends off the court. They are almost like sisters. They take all the girls under their wing. They just want to do it for one another."
Well, and maybe for that Tennessee Chicken, too. The Grill on Main is just one of the reasons the Cavs enjoy walking around town these days.
"We're in a great community. We get a lot of comments," Kahlig said. "We always have a big crowd supporting us and our parents do a lot for us so we appreciate everything they've been doing this year."
Especially those team meals.