A few of the better ones received in the past days – on old news, new news, matters of the heart, and spirit. Enjoy!
The most recent letters (emails) sent to Press Pros span the gamut – the last words on some, and even some things forgotten. For instance:
"I've been a football fan ever since Marion Motley played for the Cleveland Browns (mid forties, I think). I've watched about every televised football game I could receive, high school, college, and pro. I always stayed up late on Saturday nights to watch the tape replay of the Ohio State game of that day if it wasn't on live. Family events were scheduled so as not to interfere with football games.
When teams started moving from city to city, my interest started to wane a little.  As the salaries and egos grew , my interest withdrew a little more. Along came cable and ESPN demanding when a game is played, special timeouts for commercials, and the talking heads. I pulled the plug on my cable subscription after much thought and found out I really didn't miss the games that much after a few months. So that left me with the over-the-air games, many of little interest to me. 
This new ado has really given me much more time to enjoy my Sunday afternoons and even some Sunday mornings (games in London) outside doing things I really enjoy. So long NFL, it was nice to know ya, when you were nice to know." … Mike Mescher (Dayton)
And this….
"Thanks for the column reminding us all about awareness of prostrate cancer. I am a six year survivor. I started getting annual physicals at the age of 40. Six years ago my PSA went from 3 to 5 so we did the biopsy. When Dr. Pence told me it was a shocker. He said if we don't do something you won't be with us in two years. One of the worst moments of my life is when the doctor walked me down the hall and this lady began scheduling me for scans, X-rays, etc. Then he handed me a book titled living with Prostate Cancer. Next weekend is the Prostate Cancer 5K run/walk. My wife and I run in it every year." … Dave (Miamisburg, Centerville, Beavercreek)
A tribute to Tommy, and prayer….
"I want to take this opportunity to thank you for the wonderful story about your school friend who waited 50 years to be with the girl of his dreams, only to lose her to cancer. I wanted you to know that I printed that story and keep it in my Bible. It's a wonderful reminder of life's journey, commitment, and dedication to another human being when they need someone most. I have cried a river reading it, but it was so worth it." … Cathy D'Amico
"I had to write and let you know that during the time your friend Tommy Lovejoy was taking his friend to UK for treatments, I was there with my wife and we met. I couldn't believe my eyes when I found your story on the internet and realized that I knew that guy.   I'm so sorry to hear about him, but his devotion was something we still talk about. Thanks for sharing that story." … J.T. Kaiser (Maysville, Ky)
"Your story about Tommy makes my eyes water every time I think of it. What a tragic end for someone who lived in order to be with and serve the person he loved. This is the example that life isn't always fair." … Joe B (Siesta Key)
"You amaze me that you're willing to write things like the story about Tommy…and the column about the importance of prayer. I couldn't agree with you more, and I'm sure there's not another "sports" site anywhere that would share such a thing. Well done." … Randy Moeller
"Thank you for sharing your thoughts on prayer. I think more people need to write about it and read about it." … Carla Siegel
And don't ever say anything negative about the Buckeyes….
"Calling Urban Meyer theoretically the dumbest guy in the Army locker room is way below your norm. Love "Press Pros" even though I just lodged a couple of raised brows." … Jerry Harmon
(Ed. Note: I guess it depends on whether you'd want Urban to run the Buckeyes' defense, or the national defense. Ummm?)
A sign of the times for high school footballl…?
"I'm a little late with this, but didn't know if you had heard that Ironton lost on a last second touchdown to Fairland High School this year (27-21), and in Ironton. It's the first time in 51 years Ironton has lost to a team from Lawrence County. 51 years! Most of my mom's family are Ironton grads and I'm pretty sure my 85 year old grandma cried. LOL. Sign of the times." … Ryan Bloomfield
And…what number did you wear, and remembering Dale Meggas.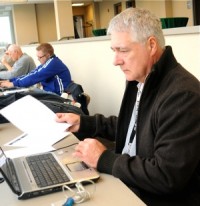 "I had to let you know how much I enjoyed the column from October 9 on all the numbers worn by past Cleveland Indians. I didn't realize that the person who wrote that piece has passed away, but I shared it with a lot of Indians fans in my area, and I'm sure they shared with a lot of their friends even outside the area. Great story idea, and wonder if you had more of his articles?" … Michael Kienle
(Ed. Note: I had the privilege of knowing Dale for nearly 40 years, from our time together at Ohio State until his death three years ago. I will tell you that there are other Meggas features like this one in our archives, particularly one on former Browns great Gary Collins. Look for it in coming days. It's the football equivalent of 'What Number Did You Wear.)