Former Tipp Red Devil Aaron Hughes is making quite an impression as a Buckeye baseball walk-on, and his example of high character and hard work has helped him prove that dreams can, and do, come true.

Columbus – Everyone 'should' have a dream. It's just that important to those who seek to find their life's fulfillment.
And by the way…don't dream small. The bigger the dream the bigger the reward!
Such has been the example for former Tipp City Red Devil Aaron Hughes through his first six weeks of college baseball. A preferred walk-on candidate in the 2017 Ohio State fall baseball camp, Hughes has thus far made a very strong impression on coaches, teammates, and those who look on daily, hoping to spot that one fresh face that stands out – one capable of becoming the next Nick Sergakis or Conner Pohl.
It's a long shot, frankly. It's not easy to walk into a place like Ohio State, amongst the preferred recruits like Dillon Dingler (Massillon), Seth Lonsway (Celina), and Jake Ruby (Bishop Hartley), and muscle for attention and playing time.
It's not easy to overcome the self-doubts that come from bad luck and past injuries; that come from being ignored by the recruiting process. That come from being given up on.
Even if you get there, it's not easy to look around, make comparisons, and see yourself as being relevant. Maybe the time would be better spent on mechanical engineering, Hughes' chosen course of study as an incoming freshman.
"Good luck with that," said one teammate following Saturday's Scarlet and Gray fall series game. "Mechanical Engineering ain't easy."
But none of this has deterred the 6', 185 pound Hughes, who cracked a pair of hits in Friday night's 11-3 Scarlet win, and came back to have another hit in Saturday's 4-3 Gray answer, that evened the five-game series at a game apiece.
"It's a dream come true, unbelievable," said Hughes when we first saw him during the first week of workouts. And since, he's done nothing but prove himself to be highly believable to Buckeye coach Greg Beals and his assistants.
"The thing about Aaron Hughes is that there's so much more there than the baseball player," said Beals following Saturday's game at Bill Davis Stadium. "One of the reasons he's on this roster is because of the human being, the student athlete, and the athlete that he represents. It's the WHOLE thing when you consider Aaron Hughes. He's a great kid that's fun to coach because he has such a high aptitude. And we're seeing him adjust to a new level of baseball."
No one could have guessed, not even Aaron, who graduated from Tipp last spring with a surgically repaired non-throwing shoulder (football injury) and an uncertain future as to even playing college baseball, let alone where.
"I had some interest from Division II schools down south, in Tennessee and South Carolina," says Hughes. "But the labrum surgery really dampened the recruiting process for me. Then last summer I played here in the Mizuno All-Ohio game and Coach Beals saw me. We talked a little bit after that and he offered me a preferred walk-on opportunity to come out for fall baseball…to see if I could fit in. I was really excited about that, l went for it."
And so far everything's been good.
"You have to come out and prove yourself to the other guys a little bit.  At this level you have to earn their respect, on and off the field.  And once you do that they accept you as one of them.  I'm beginning to feel a part of things."
He has fit in, make no mistake. Playing at third base alongside last year's preferred walk-on story, Arcanum's Conner Pohl, Hughes started for the Gray team Saturday, fielded his position flawlessly, and went 1 for 2 in two official plate appearances and was on base a second time with a walk. He scored, as well, during his team's four-run second inning.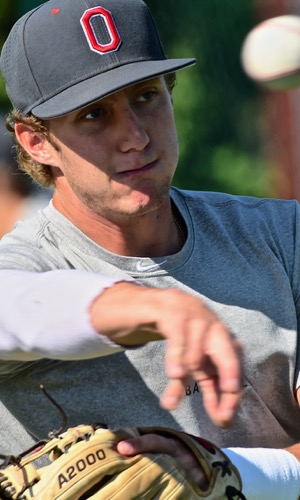 Frankly, you remember Hughes most for being a dependable strike throwing pitcher for Bruce Cahill during his Tipp days, but he's quick to remind that he also swung a more-than-capable bat during his senior year.
"Yeah, I actually hit .420 my senior year," he corrected. "And I about 20 RBIs, so I hit pretty decent. And then I come here and everyone's throwing in the low to mid-90s with good off-speed, so it's been a big adjustment."
But taking a moment's pause, he then assures, "But I think I'm making the adjustment pretty well."
Which jives with Beals' own observation. One can do a lot if you have some ability, and the dream to achieve what others negatively take for granted. Aaron Hughes, in engineering or baseball, is not about to give up on himself!
"My message to everyone is to just keep working hard," he assures. "Like I said, my senior year I didn't really know if I had a place to go, even after spring ball. So I just kept working hard and Coach Beals saw me. It gave me the chance to come out here now and play baseball for Ohio State. It's been awesome."
They say that careers and dreams are lost and found at the corner of Lane Avenue and High Street, a main corner on the Ohio State campus. To the wayward, the experience often leads to a lifetime of excuses over what never happened – a lifetime of explaining why the glass is half empty.
And then there's Aaron Hughes, who's living the dream just three blocks west of that corner, at Bill Davis Stadium. Dreams and hard work really do come together, as he's proving each day.
He's the happiest guy NOT hanging out…at Lane and High!