There was a lot of offense, and they looked (focused) at times – enough for Minster to snap a four-game losing streak at the expense of the New Bremen Cardinals.
Minster – Minster coach Geron Stokes didn't necessarily agree; but Friday's 42-21 win over New Bremen (3-5) may have been the breath of air necessary to salvage the Wildcats' season, restore confidence for the stretch drive and a date with once-beaten Anna…and hey, who knows beyond that?  It's Minster.
"We really don't care about wins and losses, as long as we play well," said Stokes, matter-of-factly, to the question of salvaging anything. "As long as we play well…I think we're in the playoffs, and we just have to get better."
Alrighty then, but to the rest of us it does seem to be the reason they keep records. Teams with more wins than losses usually do go farther; and with two games remaining (Versailles and Anna) Minster is at least in control of its own destiny.  And to their credit, senior Isaac Schmiesing and sophomore Austin Brown had big nights to help ensure that.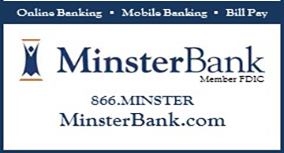 As to the point of their four-game losing streak, the way things started had to have caused a few hearts to skip a beat. New Bremen took the opening kick and promptly marched downfield and scored on a one-yard run by Avery Powers, who would end up having the statistical game of his season.
Minster immediately answered, driving the field themselves and scoring on a five yard run by Isaac Schmiesing. But more important, it set off a scoring barrage that would see Minster put up 28 unanswered points and figuratively turn the lights out on any hopes for a Bremen upset.
…Austin Brown would score on a halfback option pass of 56 yards.
…Austin Brown, again, on a 1-yard pass from quarterback Jared Huelsman.
…Augie Boehnlein scored on a 20-yard from Huelsman.
…And Boehnlein again on a 14 yard strike from Huelsman.
Wham, bam…and scram!
In fact, they literally did turn the lights out for the Minster band's halftime show that featured the band doing a script 'Cats with accent lights. Pretty cool!
And when they turned the stadium lights back on…some of them were a little slow to ignite. And Bremen coach Chris Schmidt probably wished they hadn't come on at all.
But instead of having a running clock in the second half, Minster let the momentum of their first half effort slip away by coming out flat, giving up a quick Bremen touchdown (quarterback Nolan Bornhorst on a 14-yard run), and proceeded to play a very sloppy third quarter.
In fact, they were outscored in the second half, 14-7, and gave up a 75-yard touchdown run to Powers, who would end the night with a pair of scores and 149 yards rushing – a game high!
Minster's lone second half score came on a 38-yard TD pass from Huelsman to Trent Roetgerman to conclude things at 42-21.

In his post-game huddle Stokes made the point to his team: "I liked the effort, and when we play with focus we're pretty good. But when we don't play with focus we're pretty bad."
So to the question of focus, why is it such a concern eight weeks into the season?
"We got up big in the first half, and then we got complacent, I guess," said quarterback Jared Huelsman. "That can't happen. We just came out fired up, but it wasn't the same in the second half. It's something we have to fix."
And was there pre-game concern with their four-game streak…of having New Bremen come in on homecoming night and pull the ambush?
"Not really," said Isaac Schmiesing. "We just stick to what we do. We grind, we practice hard, we lift hard, we do what we do and let the chips fall where they may."
And no concern about their season pivoting one way or another with Friday's outcome?
"No, not really," added Schmiesing. "We really don't talk about wins and playoffs. We just try to maximize ourselves."
Hmmm…the apple really doesn't fall far from the tree. Stokes couldn't have said it better.
But words aside, the win did right the ship for Minster, it probably did guarantee them a playoff spot in Division VII (Joe Eitel lists them at #5 in the region). But more importantly, it had to have restored some confidence and at least a sense of success – and a better template from which to have better practices for next week and beyond.
"No," said Stokes. "We don't care about winning, we don't. We care about executing. We've been playing hard, we really have. But we haven't been executing very well. I don't care if we win if we get beat physically. But we have execute our stuff like a good football team. I felt like it was a little bit better tonight, but we'll see when we watch tape. We just have to keep getting better.
"It's a matter of purpose," he added. "When you really care about something or somebody you put your heart and soul into it. And when you don't, you let your guard down."
Well, there was enough heart and soul for the Wildcats to amass 437 total yards (183 rushing and 254 passing). Jared Huelsman finished 10 of 20 in passing attempts for 198 yards.  Isaac Schmiesing finished with 17 carries for 112 yards;  and Austin Brown had four receptions for 91 yards, the two touchdowns, and a momentum-changing interception in the second quarter.
And there was enough heart and soul from New Bremen for the Cardinals to put up 395 total yards, principally on 232 rushing yards. And quarterback Nolan Bornhorst did connect on 20 of 30 pass attempts for 163 yards.
So now it's Versailles next week, who lost Friday to Coldwater; and Anna in week 10, who won against Parkway Friday to go 7-1, but with a date against Coldwater (6-2) next week.
But the story for now in Minster is not about winning, or losing, or anything else but just 1) purpose, and 2) executing their stuff like a good football team.
Personally, I grew up thinking that winning was the object; but Geron Stokes makes such a convincing argument he's got everyone believing.
Just get better!