On a glorious October day, the OSU Gray team even their fall baseball series with a 4-3 win over the Scarlets, while giving every indication of even better things to come.
Columbus – Understand, of course, that's it's still six months away from opening day of the 2018 collegiate baseball season.
Understand, of course, that playing against your own roster is not the same as Oregon State, Utah, or even Illinois and Iowa.
But in the aftermath of Saturday afternoon's 4-3 win by the Grays over the Scarlets in the OSU fall baseball series, there were a lot of smiles and a lot of optimism.  Never wish your life away, but the next six months are likely to pass as slowly as the six weeks before Christmas for Greg Beals and the Buckeyes.  But, good things come to those who wait!
First, the two squads combined Saturday for just ten hits on the day – five for each team. That said something for the pitching, or course. But on this day it said even more about the defense exhibited by both teams. No errors by either, and one sparkling play after another by names like Matt Carpenter (Gray shortstop), Kobie Foppe (Scarlet shortstop) and Brady Cherry (Scarlet second baseman).
It said a lot, too, about the prospects for freshman catcher, Dillon Dingler, who gunned down a would-be base stealer in the bottom of the sixth inning with a throw to second base that reminded many of those hall-of-famer Johnny Bench used to make.
Dingler was also the only player on either team with a multiple-hit day, this coming just fifteen hours after Friday night's 11-3 hit parade in Friday's opening game.
Gray starting pitcher Adam Niemeyer pitched four innings, giving up three earned runs on five hits, including a massive home run shot by Cherry, his second in as many days.

Scarlet starter Yianni Pavlopoulos worked the first three innings, giving up four earned runs on four hits, and was tagged with the loss.
But it was the bullpen work that impressed Beals the most, while taking in account that a limited sampling by both starters made it hard to assess their respective outings.
"It's something that's kind of hard to address because of where the pitch counts are," said Greg Beals. "We're holding them down, or course, but if the pitch count is at ninety or a hundred like it is in the season, and you have either one of them go six innings with three earned runs then you'd call it a quality start. So It's a little tough to evaluate because of the limited pitch count.
"I also think you have to give our hitters some credit, too, in creating any question about the pitching, because right now they've been impressive, all fall, with how they've swung the bats."
But there was nothing tough about the evaluation of Kyle Michalik (3 innings, 1 hit, and 4 strikeouts), Austin Woodby (1 inning, no hits), and Seth Kinker (2 innings, no hits, and 1 strikeout).
And there was nothing hard in the evaluation process of some of the new faces, like Dingler, who are making an impressive first impression.
Aaron Hughes, an infielder from Tipp City, followed his two-hit performance on Friday with another hit on Saturday and a error-free day at third base.
Nate Romans, a redshirt junior from Canton, cracked a solo homer to the opposite field in left during the Gray's four-run fourth.
Jake Ruby, a freshman centerfielder out of Hartley High School, in Columbus, collected a hit in three at bats.
Kobie Foppe, a JUCO transfer from South Mountain Community College in Phoenix, Arizona, had a hit while sparkling on defense.
And Malik Jones, another JUCO from Richardson, Texas, was one for three while working to lay claim to the starting center field position, come spring.
Of the returning regulars, first baseman Andrew Fishel had the big RBI day for the Gray team with a three-run double to right center in the four-run fourth.
But it was Cherry, whose two homers in two days had the patrons buzzing, who got the lion's share of mention from Beals.
"We've talked about the change of position and how it's been a little like CPR to Brady," added Beals. "It's jumped some new life into his game, but what I'm really happy to see is the evolution of his quality at bats. His home run last night was on a fastball. His home run today was on a changeup. He's recognizing the pitchers' strengths, he's making the proper adjustments, and that's the sign of a mature at bat. That's probably the one thing I'm happiest to see from Brady."
And of the new guys fighting for both relevance and recognition, Beals took the time to talk about…Miami County's own Aaron Hughes (Tipp City High School).
"Aaron Hughes is such a good competitor and good athlete, and one of the main reasons he's on this team has nothing to do with the baseball player; it's because of his being the whole thing you look for in a student athlete. He's a great kid. He's fun to coach because his aptitude is so high, and you're seeing a good athlete adjust to a new level of baseball. It hasn't been a difficult adjustment period for him. He's made it pretty quickly."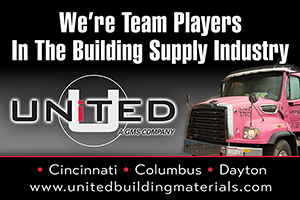 The mood was high Saturday as players left the clubhouse and looked forward to the continuation of the Scarlet and Gray series come Tuesday at 6 pm. There were plenty of happy faces amongst the waiting company of friends and family.
But the biggest grin on this day belonged to Beals, and assistant coaches Mike Stafford, Matt Angle, Blair Everhart, and Dan DeLucia. 24 and 36 (their 2017 record) is hard pill to swallow, and the anticipation for atonement takes a lot of patience.
That's the story of the 2017 Scarlet and Gray series,  at least through two games. A lot of smiles.
So far…it's been ear-to-ear!