The Piqua Indians came from behind twice, and made just enough stops to get past a game Vandalia Butler squad to keep their division and playoff hopes alive.
Piqua – Austin Davis and Hayden Schrubb have been playing ball together their entire lives.
Thursday night, with their teams' playoff life hanging in the balance, those years of playing experience paid off for the Piqua Indians.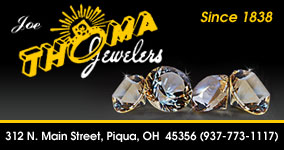 Davis, a 5-10, 202 pound senior quarterback, threw four touchdown passes to his cousin, Schrubb, a 6-3, 182 pound senior, to lead the Indians to a come from behind 33-27 win over Vandalia Butler at Alexander Stadium/Purk Field.
"Butler is always a battle for us, and it certainly was tonight," said veteran Piqua coach Bill Nees after his 187th win with the Indians. "That's a team with a lot of great talent, and we were fortunate to get out of here with a win tonight."
"When you are in the GWOC North, no matter what, you never relax until there are zeros on the clock. Every team has talent and every team has ability. A big factor at this time of year is who has the injuries. We are healthy right now and that is a big advantage heading into weeks 9 and 10."
The first two scores rallied the Indians (5-3, 2-1 GWOC American North) from a 13-0 hole at the end of the first quarter, the third one tied the game at 27, and the fourth won it with 2:13 remaining. Ben Schmiesing then recovered a Butler fumble with 1:05 left to seal the Indians fifth win of the season.
Butler (3-5, 1-2) dominated the first 12 minutes, running 24 plays to the Indians 8 in building that two score lead. Logan Flatt scored the first TD of the night on a 12-yard run, and quarterback Mason Motter hooked up with Bryant Johnson for a 14 yard score on the final play of the first quarter to make it 13-0.
The second period was an exact opposite, as Piqua dominated from start to finish. Davis hit Schrubb with 14 and 30-yard scoring passes, the latter on fourth and 7, and Piqua took a 14-13 lead into the locker room.
The Indians appeared to take control early in the third quarter, marching 60 yards in 9 plays, with Ben Schmiesing scoring from the 6. The Indians missed the extra point, however, and that seemed to ignite the Aviators.
Butler quickly went 60 yards in 7 plays, with Motter finding Johnson again, this time from 31 yards out, to tie the game at 20. After a quick 3 and out by the Indians, Butler struck again, going 65 yards in 7 plays, with Flatt taking it into the end zone with one second remaining in the quarter.
That simply set the stage for the second outburst of the Davis-Schrubb connection. A personal foul on Butler helped the Indians go 60 yards in four plays, with Davis to Schrubb covering the final 19 yards. Butler drove to the Piqua 26 but turned the ball over on downs, and the Indians went 74 yards in 7 plays to take the lead. Schrubb appeared to be well covered on the touchdown pass, but separated from his defender at the goal line to grab Davis' 29 yard toss and give Piqua the final lead of the night.
"This feels amazing," said a beaming Schrubb after the game. "I never thought I would get 4 (TDS) that's for sure."
Butler had 2:13 and two timeouts remaining and quickly moved into Piqua territory. Motter threw  a swing pass to Flatt, and as the senior fought for extra yards, the ball popped loose and Schmiesing recovered to secure the victory. Butler coaches in the press box were sure Flatt was down before he lost the ball, but there is no replay, of course, and the call stood.
Unofficially, Piqua had 404 yards total offense. Davis was 13 of 25 for 220 yards, and now has thrown for more than 1500 yards with 23 touchdowns and just 3 picks. Schrubb had 8 catches for 147 yards, and now has 46 catches for nearly 800 yards and 14 scores. Schmiesing ran for 109 yards on 20 carries and was all over the field defensively.
Butler had some outstanding numbers as well. Motter threw the ball all over Purk Field, going 23-36 with one interception. Jack Mitchell had 9 grabs for the Aviators, totaling 92 yards, while Johnson caught 4 passes for 60 yards and two scores. Flatt had 82 yards on 21 carries.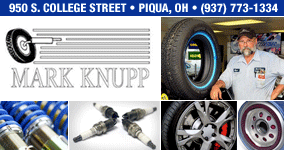 Schrubb said that being on the field with his cousin had made his senior season extra-special.
"It's really amazing. We're both out here just doing what we love. He knows what I'm doing and I know what he's doing. We are always on the same page, and it works."
Nees praised the productive duo.
"They are great. They have been playing together for so long. Austin knows he can throw the ball up and that Hayden will go get it. He's tall and has long arms and can go up with one hand. He's a real tough matchup for most teams."
Schrubb said the Indians never doubted they would come back from the double-digit first quarter deficit.
"Not at all. We have always been a better second half team this season. We just kept pushing. When we got the ball back, we knew we were going to go down and score."
Davis said the win was a total team effort.
"Our passing game was clicking tonight, and our offensive line did a great job. Once we got things going, it was a really good night."
Davis had a key play with his feet in the game-tying drive, scrambling or ten yards and a first down on the same play that Butler incurred the personal foul.
"You probably wouldn't expect me to run at all," he said with a grin. "I mean, I'm pretty much a pocket passer. But if it's there, and there is no one open, I'm going."
The Indians finish the season at Tippecanoe (3-4 and hosting Greenville Friday) and at Troy (5-2 and traveling to Sidney in a Press Pros feature game Friday). Two wins could get the Indians a share of the division title, and, if things fall right, a playoff berth.
"All we know right now is Tipp City," Nees said with a nod of his head. "That's all we are thinking about. We have two seven-day life spans around here. Actually, this week, it's eight days. We are totally focused on Tipp City right now. That's all we are thinking about."
Davis said the formula for winning out is simple.
"Just bring everything we have every day. Keep working to get better. Just keep doing what we are doing."
Some would think Piqua's season has been a disappointment, but the head coach isn't one of them.
"It's been a great season so far," he said as he headed toward the locker room. "We battled the number one team in the state (Trotwood) down to the wire (42-35 loss), we took a big shot at the number 5 team in the state (Sidney) and almost got them (34-33 loss on a failed two point conversion) and we hung in there with Franklin for four quarters. Those teams are a combined 20-1. We have played a good level of football all year. We just have to keep it going."