We all have those days when you ask yourself why you try so hard, and what's the reward?  Today, a punch to the gut, and a tribute to one of our best PPM friends.
We all know…that there are days with any job when you ask yourself why you're doing it.  Why do you work so hard to get to the next level of accomplishment, only to learn that success can be dashed by one text, or email;  that life is matter of a moment's perspective?
Today is such a day.  No sooner had I sat down to write about last night's Sidney-Tipp game than I received news at my desk that a dear, and faithful reader of this site –  an awesome friend of Press Pros – had succumbed to his life's fight.  It took five years, and from time to time those of us who knew him all swore that he had this thing beat.  And just two weeks ago…he said – in fact he swore –  "I'm taking this to overtime, and I'm gonna' win."
But no.
The point is, perspective.  This has been an emotionally hard week for Press Pros Magazine.  Proctor and Gamble has 'em, too, so this is no plea for sympathy.  It's just a statement of life, and fact.  It makes the time spent trying to rationalize a good business decision seem so superfluous (needless) when others are trying to rationalize how they can just live another day.
It takes the joy out of things…and when I wrote that column earlier this week about prayer, and patience, and healthier life habits through better priority, well now I find myself having to practice what I preach.
I would tell everyone:  Appreciate the big picture as much as you appreciate the next sandwich or drink.  It's not all about what's out there in life for you.  Sometimes – and now's one of them – it's about humbly accepting what life deems fit to offer, if at all.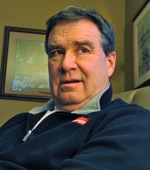 I finished last night's work with tears streaming, because it seems that for all we brag, and advertise, and promote medical advancement…we're not winning this fight at all.  But Ken, I certainly loved your encouragement – your friendship.  You helped make this a better website.  You helped me finish last night's work…when work was the last thing I had on my mind.  It was you I was thinking about, not first downs and total yards.  And I wanted you to know.
And Bonnie, with respect to privacy, I thank you, too…for sharing him.  And for giving us all the opportunity to imagine how we'll handle our own overtime experience.  That is, if we're fortunate enough to have a few extra moments.  I know you'll have all the support and comfort you need today.  But I want to add this, as well.
From this desk, please know that some days are tougher (much tougher)…than others!