Buoyed by attitudes, certain and sure motivation, and pure eye-catching talent, the mood at Bill Davis Stadium is nothing short of "can do"…as the Buckeyes prepare for the 2018 Scarlet and Gray Fall Series.
Columbus – Greg Beals and I met at Bill Davis Stadium and talked for nearly an hour last week, and mainly about one topic.  Why so much early optimism for a total rebound come March from last season's gut-wrenching 24-36 record and a twelth-place finish in the Big Ten baseball standings.
"It sticks in my crawl, I'll tell you that,"  said Beals, a native of Springfield entering his eighth season as Buckeyes coach.  "It has since the end of the season.  I was really glad to get everyone back in here three weeks ago and get back to work.  We know we're better than 24-36."
But across the Big Ten, and across the country, there's sure to be plenty of early optimism for better days ahead, as there is every year.  So why is Beals playing The Fifth Dimension's 8 tracks (Up, Up, And Away…remember that one?) in the Buckeyes' clubhouse.
"We're talented," he says, and without caution.  The man, along with recruiting co-ordinator and assistant coach, Chris Holick, has combed the state and beyond to bring the very best high school talent available that didn't sign professionally in last June's draft.  And, this year's class, which includes Celina's Seth Lonsway (LH pitcher), and Massillon's Dillon Dingler (a top catching prospect), is a great addition to an already solid talent base.
Add junior college transfer Malik Jones, from Richardson, Texas, a junior talent so impressive through three weeks of fall baseball that Beals conceded this week, "He's already locked down the center field position."
Add another outfielder, Jake Ruby, out of nearby Groveport, Ohio, (Bishop Hartley), and Beals beams over his potential.
And why so high, so soon, on so many of the young Buckeyes?
"Because they've all come from winning, and successful experiences in high school,"  says Beals.
"Dillon Dingler is from Stark County, from Massillon Jackson High School.  And all he did his senior year was win a state title in basketball (Dingler was the Polar Bears' sixth man), win a state title in baseball (Dingler was the catcher for Jackson in their win over Strongsville), and you know how good football is up there with Massillon Washington and Canton McKinley,"  says Beals.  "Well, Dillon Dingler was voted top football player in the county last fall."
A soft-spoken youngster who's enrolled in the Fisher School of Business at Ohio State, Dingler looks every bit the part of a difference-maker on the field, an attribute that Beals speaks of constantly when he talks about personal attributes in recruiting.
And while it may be too early to assess how well he will eventually hit against Big Ten pitching (which Beals assures he will), there is no question that he fortifies and already-strong position behind home plate, playing alongside last year's starter, Jacob Barnwell, a junior out of Catlettsburg, Kentucky.  Barnwell, by the way, is another excellent catch-and-throw receiver who did hit around .280 for the most of 2017, before tailing off at the end to finish as .254.
Dingler (6'1″, and 205 pounds) prides himself in his ability to simply catch the baseball, and with "professional" efficiency.  Former Oakland catcher Gene Tenace once said it's the most under-appreciated skill in all of sport, and Dingler agrees.
"I take pride in how I 'catch' the baseball,"  he said last week.  "I really work on having quiet hands and framing the pitch so the umpire has the best chance of calling it a strike.  I've always done it."
And coincidentally, he has the knack of catching the ball so 'accurately' as to make the mitt literally pop, even with an average fastball.  When asked about that fact, Dingler just smiles as if to say, "Can't everybody?"
"He's the real deal,"  adds Beals.  "And he's a player that you really want to see how he develops because his potential is so high."
But back to the question:  Why so much early optimism?
Well, put the Dinglers, Lonsways, Rubys, and Malik Jones with last year's impressive freshmen, now sophomores, and suddenly there's plenty of room for optimism.
Right fielder Dominic Canzone (Walsh Jesuit) hit .340 and was a strong candidate for freshman of the year honors.
Third baseman Connor Pohl (Arcanum) hit .325, playing principally the last half of the season at three of the four infield positions.
Brady Cherry (Pendleton, In), now a junior, will move to second this spring with the potential to mash the baseball.  He hit .280 with nine home runs to lead Terre Haute in the summer Prospect League.
Another JC transfer from a year ago, Noah McGowan, is sure to improve on a struggling debut year when he hit just .213.
Outfielder Tyler Cowles is back in left field, determined to better his .190 average in 2017, a year that he now calls, "embarrassing".  "I've never been through anything like that in my baseball life,"  he adds.  And he proved that over the summer in the Prospect League, hitting better than .300, and with power, at Chillicothe.
Pitching is fortified by returners Adam Niemeyer (hamstring injury in 2017), Ryan Feltner (who closed the summer in the Cape Cod League throwing 98 miles per hour), and junior lefthander Connor Curliss (Lima), who sparkled over the last twenty five games in 2017 and continued his ascendency towards a weekend starting position with a strong summer in Springfield, Ohio (Prospect League).  Add Lonsway, Jake Vance, Reece Calvert, senior Yianni Pavlopoulos (one of four pitchers to beat 52-4 Oregon State last season), and yes…October optimism is fine, and accepted.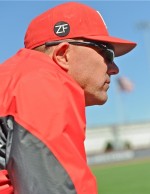 The annual Scarlet and Gray World Series is slated to being on Friday, October 13, and concludes on Saturday, the 21st…a best-of-five series that's highly competitive and will go a long way in determining how much talent is manifest, and who plays where, come February.
"It's the real reason for fall baseball,"  says Beals.  "It gives a chance to put two teams of Buckeyes on the field to assess just how good we are.  It's a time for the young guys to mesh with the upperclassmen, and it's a time to embrace the culture of our program.  It doesn't take long once you get everyone together."
The Scarlet and Gray series is free and open to the public.  And for information you can check times and dates on the internet at www.ohiostatebuckeyes.com.
Join in the fever, early, for Buckeye baseball, 2018!