A week after all the fuss over NFL protests during the national anthem, did your disgust translate into abstinance…and watching the product out of habit? Mine did.
It wasn't that I went into it with my mind made up.
No, I simply walked into the house at about 2 pm yesterday and noticed that the TV was still tuned to CBS (I had watched Sunday Morning earlier), and that the Bengals were just about to score their third touchdown of the first half against the Browns. I glanced, saw the score, turned the channel, and went on about my day.
I didn't watch professional football Sunday, and frankly, it didn't seem to matter with my day. It isn't like I have a bone to pick with Colin Kaepernick, or the Seattle Seahawks, or any other team. Rather, football on Sundays, after football on Thursday, Friday and Saturday, is just not necessary to me…or even that appealing.
To be sure, it is the politicization of it that became the final straw. As I wrote last week, I don't need to watch football for a lecture on social injustice. You watch it because you like football, or competition, or for whatever reason. But I get enough of the evening news six days a week, and I don't need to be reminded on Sundays just because 300 pound athletes claim they have the platform to make a difference. They may make that claim, but they won't make a difference!
In the end the difference lies in the hearts of each one of us, along with a motivation that if it comes…it will come from some kind of Divine spark. And in fact, if it's important the spark is already there. I don't need Michael Bennett to remind me. I don't need the Baltimore Ravens in lock step with arms linked to remind me that as a nation we could be better.
Actually, I'm more impressed when I see unified behavior from the local high school teams, however they choose to express it. And why? Because it represents youthful respect without the taint of politics and capitalism. They're playing for the fun of playing. And when they stand erect with hands on hearts for the anthem it's because they've been taught that at home or in school with one standard that speaks for the entire community.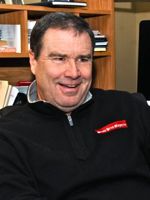 And, they're doing it for the sake of the community, and not for the sake of the cameras or the media. Call it respectful innocence, for lack of a better conclusion.
No, Sunday came and went and I never saw another play other than Giovanni Bernard running free in the Browns secondary, something that happens just about every week, anyway, regardless of who watches. I got a good nap. I did a little work afterwards. And I enjoyed catching up with people out of the area that I had pledged to call.
I didn't miss the NFL, but I do wonder…can you say the same?
I'm interested. Let me know.