Sidney overcomes history, and a stubborn Piqua comeback bid to knock off Piqua and extend their winning streak to six.
Piqua – The message hung on a fence to greet spectators arriving at Piqua High School to watch the battle for the Battered Helmet.
"Pucker up Sidney and kiss your winning streak good-bye," said the painted banner tied to the chain link fence.
As it turned out, it was the Yellow Jackets that delivered the final two smacks on Friday night. The first came when Sidney senior Isaiah Bowser dropped Piqua senior Ben Schmiesing in the backfield on a two-point attempt with 45 seconds left in the game, preserving the Yellow Jackets' 34-33 lead and ultimately their win.
The second came when a Sidney fan – stopped briefly in traffic leaving Alexander Stadium – leaped from his car and ripped down the banner in celebration. The banner joined the Battered Helmet trophy as souvenirs making the trip north following the Yellow Jackets' thrilling victory over its I-75 rival.
"This was the kind of win we needed to have," Sidney coach Adam Doenges said. "Being on the road and beating Piqua … it's a tribute to our coaching staff and a tribute to our kids to be able to persevere and keep grinding through some of those tough times."
One of the toughest came with 45 seconds left. Schmiesing's 2-yard touchdown run capped Piqua's 70-yard drive that started with 2:39 left in the game and pulled the Indians to 34-33. Piqua coach Bill Nees went for the win instead of the potential game-tying kick.
Schmiesing took the hand-off to the left, but was tackled at the 5-yard line by Bowser.
"We all knew it was going right there," Bowser said. "I saw him get the ball. The hole was wide open. I got a hold of his legs, got him down and we got the win."
The win was Sidney's second against Piqua in the last three years, but the Indians still lead the series 77-39-6. They also haven't lost to the Yellow Jackets in consecutive seasons since 1978-1979.
"It felt good – I don't know if I can say it felt just as good as my sophomore year – but it feels good every year to beat Piqua," said Bowser, who rushed for 186 yards and three touchdowns on 38 carries.
"It says we're tough. They punched us in the mouth a little bit … but we got a stop at the end to win the game."
Piqua's lone lead came late in the first quarter when senior quarterback Austin Davis hit senior Cale Meckstroth for a 20-yard touchdown.
Sidney responded with three straight rushing touchdowns by Bowser of 30, 1 and 1 yards for the 21-7 lead at halftime.
Davis found senior Hayden Schrubb for a 29-yard touchdown early in the third quarter. It was 21-13 after the extra-point attempt failed. Senior Devon Brown pulled the Indians to 21-19 with his 8-yard run, but the two-point conversion failed.
Sidney junior quarterback Andre Gordon pulled off a sensational 64-yard scramble when he did a play-action fake, then sprinted around end and let his speed do the rest. Sidney led 27-19 after failing to convert its extra point.
Schmiesing tied the game 27-27 with 9 minutes remaining on a 1-yard score.
Sidney then took the lead for good when junior Ratez Roberts hauled in Gordon's touchdown pass at the goal line, then held on after a crushing hit.
"He's a heck of an athlete," Doenges said of Roberts. "He took a heck of a pop and Andre made a great throw. He proved to people he's a tough kid."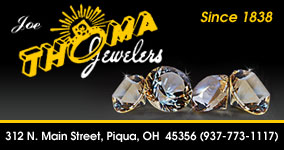 The win helped Sidney improve to 6-0 overall and 1-0 in the Greater Western Ohio Conference's American North Division. The Yellow Jackets also entered ranked No. 4 in the Division II, Region 8 computer points. The top eight teams make the playoffs.
As for Piqua (3-3 and 0-1 GWOC American North), it was another tough setback to a quality opponent. Piqua's other two losses came to undefeated Trotwood-Madison and 5-1 Franklin. Both are state ranked.
"Piqua is a good team. That's definitely a tough GWOC game for us. I'm glad we could come out on top," Bowser said.
As for Nees' decision to go for the win, Doenges just might have done the same if the situation was reversed.
"It's his decision. It was a beautiful night and a fun game, not that I wanted to keep playing," Doenges said. "We talked to the kids all night there were going to be ups and downs. The mixed extra points, it was kind of crazy there for a little bit. It was a good way to end the night. Good for Bill going for it and going for the win."
Nees wasn't immediately available for comment after the game. The Piqua coach, understandably, walked briskly to the locker room to decompress after the emotional rivalry game.
Sidney finished with 418 yards of total offense, 88 yards under its average. The Yellow Jackets rushed for 260 yards on 47 attempts.
Gordon completed 11-of-14 passes for 158 yards and a touchdown.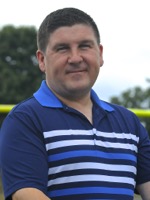 "Dre definitely brings a lot to us. They probably key on me, but with Dre back there they can't do that the whole time," Bowser said. "You saw Dre making plays tonight. We've got the 1-2 punch in the backfield, we have receivers who can make plays and the OL is doing a phenomenal drive."
Piqua had 379 yards of total offense. Davis completed 12-of-19 passes for 135 yards and two TDs. Schmiesing rushed for 119 yards and two scores on 13 carries. Brown added 83 yards and a TD on 20 attempts.
Sidney, off to its best start since 1996, hosts Tippecanoe on Thursday night. Piqua travels to Greenville.
"We're in a position we haven't been in a long time," Doenges said. "We're in a good spot and we're going to enjoy it."