In a notable coaching career that somehow has cruelly denied him the crowning achievement of his profession, Charlie Burgbacher has always taught – is still teaching – everyone at least a little something about football.
They took the time to do something right at Tipp City Friday night – something that was long overdue.
Not necessary, mind you, in the mind and heart of former football coach Charlie Burgbacher, but overdue, nonetheless.
Prior to the Red Devils' game with Troy, they presented Burgbacher with a Tipp Red Devils' helmet detailed with all his coaching accomplishments there in the nearly thirty years of his tenure. He came to Tipp after leaving Covington in 1989; and stayed until leaving in 2015 when he retired to join son Matt when son took over the head coaching position at Troy.
And in all those years, 26 of them…there were wins by the dozens (185 in total). There numerous Central Buckeye Conference titles. There were 11 playoff teams, including the first-ever Tipp team to appear in the post-season. There was a pair of undefeated teams, and one regional runner-up team in 2013, a game that Tipp should never have lost to Trotwood, but did due to a blown call on a fumble by the officials.
And in all that time; and through all the highs and the discouraging low of an official's call, Charlie Burgbacher never made too much over the good, or griped over the bad. It's football. You gotta' be tough.  You get knocked down.  And you get up ready for the next play.
There isn't room in a 500-word sidebar to describe all the football in Charlie's life; or, how much football has meant to him during forty years and stops at Toledo (where he played linebacker), at Portsmouth Notre Dame (his first head coaching job), at Covington, Tipp, and Troy.
It hasn't been easy. It never is. For some reason football is fickle in the manner in which it rewards even those who put it as the highest priority, along with faith, family and friends. Charlie Burgbacher has never won a state football title, even with outstanding teams at Covington (1985), and with his best Tipp teams, in 2007 and '08 – the undefeated ones!
He's a devotee' to the run game, and over the years he drew the ire of those in the stands who said if he had thrown the ball…he would have won a state title. But not necessarily. Check the record books and the teams – Versailles, Marion Local, and Ignacius – who did it by controlling the ball and clock, while playing solid defense.
He's known to be one of the most meticulous in his profession – obsessive in his preparation, right down the an inch here or and inch there in an offensive lineman's stance. No one outworks Charlie, and no one complains about the work if they want his appreciation and respect.
Along with wife Carol, and his children, football and the people he's touched in it have been his family. For their commitment they're inseparable, and they all get equal respect. If you really want to know how devoted he his, go to the state tournament with him and observe. While other coaches are making pleasantries and sharing a beverage in the luxury suites, Charlie's eyes never leave the playing field, always looking for an angle, an advantage, and something he hasn't learned before.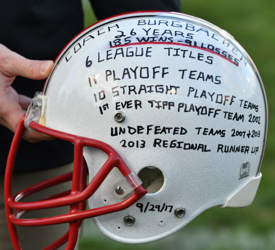 Life's funny in that many of the harshest critics are want to later concede…that they had it good all along.  They just never knew it. Such is the case with Charlie Burgbacher, as they rose at City Park Stadium Friday to applaud, to thank, and pay tribute to one that the colleagues who know him best, and respect the most, call "Papa Gruff". The critics have learned late, perhaps, but they still learned.
"I don't want a big deal made of this," Burgbacher said in typical character to one of our Press Pros staff. Not to worry, Charlie. It's been a big deal all along.
Only now, they understand. Everyone has learned at least something about football from you.  On bad days and good…you get up and go on!