Rick Pitino was fired yesterday, the basketball cat that finally ran through his nine lives.  But why is it such a big thing relative to other national problems.  And why should you and I care?
Under the old heading of "the apocalypse is upon us",  the news of basketball scandal rocked the country Wednesday, September 27, with the headlines of multiple coaches, players, administrators and alumni having lined their pockets with cash by influencing top prep talents to pick one school over another.
At the head of the list…Louisville head coach Rick Pitino, who finally met a rap he couldn't beat.  The interim president of the school put him on unpaid leave, indefinitely, and announced that a replacement would be sought immediately.  Translation:  Pitino won't be coming back to coach anywhere, unless it's at an inner-city high school near you.
The questions have been fast and furious as to who knew what, and when, and the fallout from all this in terms of lives and careers impacted is indeterminable.  They're predicting the domino effect.  You know…heads will roll?  But why is anyone surprised?  And why is this such a big deal?
Yes, why should you be surprised when the very core of our culture has always been primed with cash, or influence.  Read some Mario Puzo books if you lack insight?  Call it what it is…crime.  How rampant?  Name me an institution – church or state – that hasn't had its face reddened by the fact that someone has always been on the take…since the ink dried on the ten dollar bill.
Our government is full of it.
Our churches have sinned.
Our schools are suspect.
Business in America has always come with a little "vig", as the gamblers call it.  Influence money!
But seriously, why should it matter…and why should it matter with basketball, any better or worse than football, or even backgammon?  And why are we sending the infantry out in support of the artillery when we have so many worse, and pressing, problems in America?
We have an opioid epidemic in this country that's claiming a thousand lives a day, and no solution in sight.
We have an immigration issue in this country that we refuse to address because of its feared impact on the lawmakers when they run for re-election.
We have healthcare legislation that can't get passed;  we have wasteful entitlement issues that are bankrupting the country;  and we continue borrow money and raise debt ceilings without any worry whatsoever as to who pays, or how, or when.
And God forbid we prioritize the North Korean boob who's aiming nuclear warheads at us.
No, kids, we've got real problems and we're sending the FBI out to find out who's on the take, to make them dangle in the wind over some point guard whose family doesn't have a hundred dollars to its name…and they benefited because he chose Louisville over Indiana.
And how great a problem is it?   According to the best estimate, about three dozen basketball recruits a year.  But that's just basketball.  Stay tuned.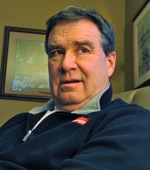 We've lost our minds over the thought of sports not being on the up-and-up.  Say that ain't so, Pete Rose.  Meanwhile,  the kid who lives next door has a three hundred dollar-a-day heroin habit, and we plead helplessness.
As for truly getting to the bottom of all this, I'm amused by the coach yesterday who said, referring to Pitino's future fate…"I'm just praying for his well-being, and that of his family."
Well, if I wanted to be sure of that…I'd contact Joel Osteen.  And I'd send him a check – a very LARGE check!