It went five sets and by the end it seemed the air had been sucked out of the gym.  A thriller between a pair of state #1's, and New Bremen came out on top of Coldwater!
New Bremen – Seldom in MAC country do you find an event outside of football that begs conversation in the off-season in the manner of football – Marion vs. Coldwater, St. Henry vs. Marion, Minster vs. Recovery, and so on.
Seldom is there event so anticipated in the fall that both sides of gymnasium seats have to be pulled out to accommodate the crowd.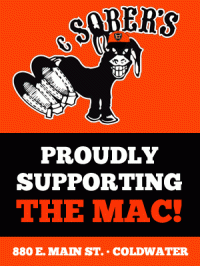 And seldom do you find the kind of atmosphere outside of football that actually makes one notice, appreciate, and say "wow"!
Such was the case Thursday night when a record crowd (if they even keep records for volleyball crowds) showed up at New Bremen for the showdown between the state's #1-ranked team in Division III (Coldwater) and the #1-ranked team in Division IV (New Bremen).  Coldwater entered the contest with a perfect 16-0 record, and in fact, had yet to lose a set in its previous 15 matches – a perfect 45-0.
New Bremen came in at 13-1, with their lone loss coming against Fort Recovery last week, and likewise, had dropped but maybe four, or five, sets throughout the season.
It was jacked – the people from both communities who came to witness something that would rival the football this Friday when unbeaten Marion Local meets unbeaten Anna.  They came expecting to see some star power in the person of New Bremen outside hitter, and Michigan recruit, Paige Jones.  They came to see the machine-like efficiency of Coldwater.  In fact, they came for a little "wow" factor…and they got it!
In a match so tightly contested that there was never a point spread in the five sets of more than seven…Bremen won it 25-20, 23-25, 25-23, 19-25, and 15-11.  It was nuts, crazy, and loud, and atmosphere that New Bremen coach Diana Kramer (who played at St. Henry) later called, "a dream come true for high school volleyball players."
It was marked by fireworks and heavy hitting on offense, particularly by Bremen's Jones, who was simply superb in all phases, but stood out for her ability to drive the ball through an excellent Coldwater defense.  She registered 44 kills for the match, she never left the court, and finished the night with energy matching that of the Energizer bunny.
"It was super exciting, nothing else but that,"  said Jones later.  "To do this against Coldwater is special because they're such a fantastic team.  They're defensively sound, and they have really good hitters.  They have the whole package.  They're a great team."
But it was a game also marked by the respective defenses.  As Paige Jones paid tribute to the Cavaliers defense, in truth her own matched Coldwater's effort point for point.
"We played really good defense,"  beamed Diana Kramer, who played collegiately at Duquesne, in Pittsburgh.

"But our defense was set up by our blockers tonight.  My blockers were on fire tonight and that's where your defense all starts.  When they're playing well it enables you to play better back row defense.  We were determined to go after everything tonight and the ball didn't hit the floor.  That's the mentality that we played with tonight."
But it was the dominance of Jones – her ever-presence at all points on the court that was so evident, and the reason that she's arguably one of the three best volleyball players state-wide, in any division.
"Paige had a fantastic game again,"  said Kramer.  "And someone said this week that all we had was Paige Jones.  But what you saw tonight was a lot more than Paige.  Our girls had to grind it out against one of the best passing and best defensive teams you'll ever see.  My setter was sick all day, and was eating saltine crackers before the game to settle her stomach.  We had a player with a sprained ankle so bad it was still purple, and still we found a way to win.  I couldn't be prouder.
"The thing is, Paige is an unbelievable player," added Kramer.  "She does what she does.  But Coldwater put a lot of pressure on her by serving to her all night.  So she had to work twice as hard tonight to return serve and get into transition.  But that doesn't phase her.  She's not afraid of anyone."
But she had a lot of help, in the manner described by her coach.  Teammate Rachel Kremer exemplified the overall effort given, and needed, to take down #1 Coldwater.

"This was so cool,"  said Kremer.  "It was exciting and I would rate it above a 10.  It was the most exciting match we've played all year, and probably even last year.  I mean, this was crazy to beat them because they haven't been beaten in like 45 sets.  We needed to beat them to have a chance at the MAC title, and we did it."
The liberos for both teams were ball magnets, but New Bremen's Blake Snider was simply uncanny for her ability to anticipate whistling shots over the net and somehow stretch out her diminutive figure to get a hand on would-be points.
And the blockers, to confirm Kramer (including Jones), asked no quarter from the experienced hitters of Coldwater…and gave none, as well.  Every shot was contested, and points were extended so often that the crowd rose on both sides to lend encouragement.
"You won't see better high school volleyball than this,"  said the public address announcer during a timeout.  "Wow", he added.
But in the end, with the win in hand, Paige Jones, Rachel Kremer, and Julia Goettemoeller all acknowledged that perhaps the best part of the experience…was the crowd.  The atmosphere.
"You know, it felt like a boys basketball game crowd,"  beamed Kremer.  "You hardly ever see a volleyball game where they pull out both sides of the bleachers.  That made it even more fun."
A dream come true, in the words of her coach.
And in the words of more than one, who saw it, who will remember it, and who will talk about it next off-season…it was a lot better than some MAC football games.  In fact, a lot of 'em.
It was…WOW!