He died yesterday at 91.  And who's not surprised that he lasted that long.  But Hugh Hefner, like him or not, lived by at least one mantra that defines success for anyone, and everyone.
I woke up early this morning, about a quarter til 5, and turned on the news.  The headline?  Hugh Hefner, founder of the Playboy empire had died at age 91.
It was shocking.  Stunning.  I mean, who besides me believes that he lived this long?  You might say he spread himself kind of thin for all those years, and with all those beautiful women that he either claimed as partners…or wives!  Makes me tired.
It took me back, remembering those long-ago days when sneaking a Playboy magazine into band camp was simply an over-the-top achievement – the high school friends you'd visit with their private collection hidden between the box springs and the mattress – as if Mom didn't know.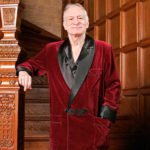 And what would the neighbors think, anyway?  His braggadocio, and his views on sex and open relationships just didn't fit the average household.  Many tried, of course, and failed.  Others simply knew better not to.
They're writing today that he was an evolutionary, a visionary, a fighter for free thinking and free speech.  Many considered him to be a liberator, pandering the view that there are no consequences as long as what you're doing makes you happy.  But at what cost?
Like him or not, there's no denying that Hefner was an American icon in business, starting the Playboy enterprise back in 1953 with $600 of his own money, and $1,000 that he borrowed from his mother.  His first centerfold was actress Marilyn Monroe, and from those humble beginnings he grew the business to a net worth of a billion dollars – on the back of nude photos, and thought-provoking articles on politics, culture, and literature.  His Playboy All-American football team, published each fall, became the one All-American team that every collegiate truly dreamed of making.
But it was the term "dream" that defined Hefner's life, for he was absolutely a "dreamer".  And his long-ago statement pertaining to one's focus on what they truly wanted from life turned out to be the standard by which almost anyone could find at least some commonality.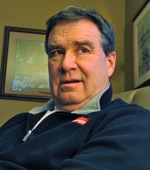 He said once, "Life is too short to live somebody else's dream."  And no truer words have ever been spoken, I admit, regardless of the dream.  Everyone should have one.  Hugh Hefner, regardless to what it mean to everyone else, was obsessive in his pursuit of his, building an empire that drew both praise and scorn from a culture divided in its appreciation of his accomplishments.
In an interview with talk show host Dick Cavett, he added, "Imagine what I could have done if I'd chosen to sell lemonade."
I can't actually.  I'm too visual.  But the point is…even 91 years wasn't enough time for a dreamer as big as Hugh Hefner.
Like him, or not!