Three years into his Big Ten career, Ohio State's Brady Cherry is ready, and settled, to deliver on the considerable promise of his obvious talents. His time is now, as he looks at a position change and the challenge of leading the Buckeyes back to the top of the Big Ten.
Columbus – Brady Cherry is never going to win any debates. He just doesn't talk that much.
And besides, the Ohio State Buckeyes junior infielder hasn't had that much to talk about in his first two years of Big Ten baseball.
But regardless of what he does from this point on…well, you might say that his humility will always rule how he relates his success.
At 6'2" and 215 pounds, he has all the tools, and the promise of something very special yet to come. He looks the part of a masher at the plate, where he hits right-handed, with power, but through his first two seasons…not often enough.
As a freshman third baseman out of Pendleton, Indiana, he showed early promise in the Buckeyes' Big Ten championship season of 2016, with 5 homers and 23 RBIs, only to vanish like a puff of smoke during the season's stretch run. He finished the season with a .218 average (27-121).
Last season, his sophomore campaign showed significant progress from a retooled swing, and simply…heightened confidence. Playing third base most of the season, he upped his average to .260 (52-200) with four home runs;  but he hit .341 against the Big Ten (31-91), with nine doubles, two triples, a home run, and 17 RBIs.
Bolstered by that success, he promptly went to the Prospect League over the summer, to Terre Haute, Indiana, and hit .280 with 9 home runs in 30 games before injuring his wrist and shutting it down for the rest of the summer.
Quiet is his makeup, and when he sat down this week to talk about fall baseball – his journey from that .218 freshman campaign to the threshold of what should be his best season yet as a Buckeye – there were no exclusives, and no bombasts of braggadocio. It was just Brady Cherry speaking from his soul.
"I think I relaxed some last spring, and just went out and figured out what kind of player I am," he said quietly. "I've made a lot of adjustments to my swing over the past two years, and last year I just went out to play hard, have some fun, and enjoy the game more. I think that's what helped me the most last spring, over the summer, and so far this fall."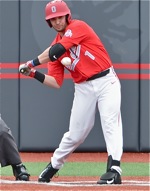 The swing he talks about has showed flashes of promise, even brilliance. Hard contact to all parts of the field have yielded streaks of "wow" from time to time.  And at other times…periods of strikeouts that left heads shaking. Consistency at the plate has been his achilles heal.
"I'm at the point now where I don't worry about my swing. Mechanically, it's going to stay the same. I've worked on it for 18 years of my life, and now it's time to go out and compete, and win. I've made some good adjustments over time, and over this summer, and now it's something that I really believe in."
Anything to bolster one's confidence, including a switch from third base, where he caught and threw it last year at an .845 clip (18 errors) to a projected trial at second base come spring. Having played a lot of middle infield during his high school days, the thought of a position change doesn't bother him at all.
"It looks like it might happen," he says. "That's up to the coaches, but it's where I've played all fall.  I'm enjoying it, and I'm willing to play wherever is best for me and the team. I played at short and second base in high school, and I'm comfortable with the change."

Greg Beals believes that second base is what's best for the team, and, Brady Cherry.
"It's where he played in high school, and he had success there," says the Buckeyes' head coach. "The angles are different, the reaction time is different, and with his size and speed he covers more ground (range) than you might think. Plus, he's got way more arm than the average second baseman, so that's going to help him go to his backhand and with turning the double play."
His time is now, and the wait is over for Brady Cherry. Armed with two years experience, and the confidence of improvement by steps, he looks forward to this being the year where promise becomes manifest.
"The big difference is just being comfortable…and confidence," he adds. "Not that I wasn't confident before, but when you're younger and you have adversity it has a bigger impact on you. In baseball it's inevitable that you're going to go through slumps. It's just a matter of whether they last for a game or a week. What I've learned is how to limit that over what I've done in the past.
"It's a really important year for me and the team. Obviously, I'd like the opportunity to play professionally.  It's always been a dream of mine, like most of the guys on the team. But I haven't thought about that very much. I'd rather focus on the season and winning. I want to go out and enjoy the game. The last couple of years I haven't enjoyed it as much as I used to, and I think that had a lot to do with the times when I struggled. Now, it's time to go out and compete, try to win games, enjoy my teammates and enjoying the atmosphere of being at Ohio State."
He admits that his best highlight in two years has been the occasional breakout day – and the 2016 Big Ten Championship above all.  But now Brady Cherry is ready to enjoy (a word he uses a lot) more of one, and a repeat of the other.  And given his personality, he'll do both with modesty and humility.  Quietly!
"Mostly, when I'm done playing here I'm going to remember those times and my teammates – the good times we had," he assures.
For Brady Cherry and the Buckeyes, the wait is over, the promise is at hand.
Time to enjoy!