On a slow sports day (no one called anyone an "SOB" today)…the annual "what ifs" from hall of famer Hal McCoy – revealing, thought provoking, and in his own words…bordering on a grin.
A public service announcement brought to you by PPM: In case of tornado, report to Paul Brown Stadium and stand in the Cincinnati Bengals end zone. There is never a touchdown there.
Geez, eight quarters and no touchdowns? You'd think one Bengal would fall into the end zone by accident. The Bengals are 0-and-3, blew a game at Green Bay, and play at Cleveland next week. Another loss and they can be thinking about 2018 — like the Reds.
–For those Ohio State football fans that are disenchanted with the quarterback, well, coach Urban Meyer loves the kid so you all have to just Grin 'n Barrett. And nobody needed to worry against Army.  Those caissons have not been rolling along for the football team for a long time. They were 2-and-0, but they beat Fordham (64-6) and Buffalo (24-17).
—Who invented socks and why do we have to wear them? Who invented neckties and why do we have to wear them? Marty Brennaman and I never wear socks and we avoid ties as if they were snakes wrapped around our necks.
—The Cleveland Indians won 22 straight games and Tribe fans deserve it. The Tribe hasn't won a World Series since 1948, when I was 8-years-old. They should have won it last year. There is always the fear, though, that they are at their absolute peak right now and might topple into the abyss in the playoffs. Of course, the Tribe fans and the Browns fans are accustomed to the pain. Where's Lou Boudreau when we need him?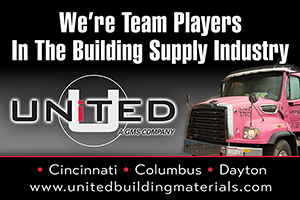 —Do you argue with your wife whether the toilet paper should roll over the top or roll underneath? Nadine insists it needs to roll over the top. I just put it on whichever way I happen to be holding it. What's the big deal? It comes unrolled either way, doesn't it?
—There is no doubt in my mind that Joey Votto is the best pure hitter since Ted Williams, Votto's god of hitting. Incredibly, Votto swings at less than 5% of pitches outside the strike zone, by far the lowest in the majors. He walks on a lot of very close pitches and there is no doubt umpires respect his batting eye and give him the benefit of any doubt.
It is like when Ted Williams once took three close pitches in a row and umpire Bill Klem called them all balls. Catcher Joe Ginsberg complained vociferously and Klem told him, "Joe, Mr. Williams will let you know when it is a strike."
–When you try to separate the paper inside the box to get to the cereal, if you try to rip it apart by hand, well, Lou Ferrigno couldn't do it. I never open a box of cereal without first taking my Swiss Army knife out of my pocket.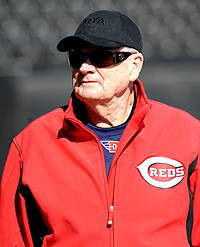 —While watching Ohio State take apart Army recently, Nadine asked, "What do you think the difference is in IQs on the Ohio State team and the Army team. Quickly, her brother, Dr. Rod Tomczak, a member of MENSA, said with a laugh, "OSU coach Urban Meyer is a smart guy, but if you put him into the Army locker room he would be the dumbest guy in the room."
—They often call football a contact sport. West Virginia basketball coach Bob Huggins doesn't agree. "Basketball is a contact sport, football is a collision sport." He's right, of course. Every play in football has the potential for a torn knee ligament, a concussion, a broken ankle, a shoulder separation or a touchdown.
—Watched a Dayton television station news report one night this week and over the course of an hour there were six (six?) weather updates. And there was one three-minute sports report. They told us three times that it was raining in Bradford and Minster. What do I care in Dayton if it is raining there. And the folks in Bradford and Minster? They can look out their windows and see that it is drizzling. Give us more sports and less low pressure area reports.
–You probably have at least four great grandchildren if you know who the Buffalo Bisons, Miami Seahawks, Chicago Rockets and Los Angeles Dons were. Those were four of the original teams in the old All-America Football Conference, which started play in 1946 to compete with the NFL.
The Cleveland Browns were in the AAC, too, and won every championship in the league's four-year existence. When the league folded, the Browns, Baltimore Colts (the original Colts) and San Francisco 49ers were absorbed into the NFL. Could we bring back the AAC for all us long-suffering Browns fans?
—Did you see the University of Florida's Hail Mary victory last week?  Everybody knows the Hail Mary was invented by Boston College quarterback Doug Flutie. But you are a real college football aficionado if you know that Gerard Phelan was the guy who caught the pass in 1984 to give Boston College a 47-45 victory over Miami, the defending national champions.
—My neighbor's wife wanted him to buy her a stationary bike and he said, "You've had a stationary bike, a Schwinn eight-speed that has been hanging unused in a corner of the garage for 10 years."
Never say that to your wife when she is holding a hot cup of McDonald's coffee.
—Former Brooklyn Dodgers pitcher Carl Erskine tells this one on himself. When Ralph Branca warmed up in the bullpen during the historic 1951 playoff game with the New York Giants, Erskine warmed up with him. But manager Chuck Dressen brought in Branca and he gave up the iconic home run to Bobby Thomson.
Said Erskine, "While I was warming up with Branca next to me, I threw two straight breaking pitches in the dirt that bounced in front of the plate. When Dressen called the bullpen and asked who was ready, he was told, 'Well, Erskine just bounced two pitches.' So Dressen said, 'Give me Branca." Those two pitches I bounced in the dirt were the two best pitches I ever threw."