You dread terrible news of any kind, but the story behind the news I received is what I'm sharing…and what you'll remember.
When I awoke last Wednesday morning I had a text with some terrible news from overnight.
"You remember Tommy Lovejoy?" asked a elementary classmate of mine from back in the '60s when we were students together in the Chesapeake school system in Lawrence County.  "Tommy took his own life yesterday.  Very sad."
Going on, he asked,  "And you remember Ginny, don't you?"
Bear with me for a few moments, and I'll share a Press Pros 'heart' story you're sure to remember.
Tommy was a different type of kid, the smallest in our class at the old East Elementary School, in Chesapeake, Ohio's east end.  He looked a little geeky.  He wore horn-rimmed glasses with scratched lenses that were way too big for his head (someone said they weren't actually his, he just found them), and his ears were large and protruded from his head.  Kids used to tease and call him 'Sputnik'.   He had no real home or family, as he moved from one foster guardian to another.  No one really knew how many.  It was different back then.
But no one ever messed with him, either, or bullied him, because Tommy armed himself with a pocket full of hen-egg-sized rocks that he collected from a nearby creek.  They were smooth, easy to grip, and Tommy could chuck them accurately and raise quite a welt on anyone who chose to cross him.  Few ever did!
He was a loner, and we lost track of him after his fifth grade year.  Some say he ended up in another home in Ironton, and eventually I think he graduated from Ironton High School, though I'm not sure.  I do know that he enlisted in the Army and served a stint in Vietnam near the end, and was decorated for bravery.
He came back home after the service, scraped his money together, and bought a dump truck.  He started hauling, and after several years became independent and prosperous.  He saved his money, invested, and before long Tommy owned several trucks, and a trucking company, which he operated richly for many years.
He never married.  His childhood sweetheart, and another of our classmates, Ginny Heineman, had married someone else while he was in the U.S. Army.  Tommy chose to wait for her, no matter how long it took, or the circumstances.  It came to pass, as Ginny and her husband broke up when they lost their home a few years ago.  Tommy was there for her, to help her get back on her feet.  But within three months Ginny was diagnosed with breast cancer – the fast-growing kind.
Tommy waited on her hand and foot, and drove her daily to the University of Kentucky hospital in Lexington every week for treatments, but to no avail.  Ginny slowly slipped away and died that summer.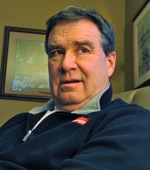 Tom Lovejoy did some wonderful things in his life, not the least of which to reconnect with some of us from grade school because it mattered that much to him.  He read this website after he made that connection, and eventually sent emails to the 'Reader Speaks' column that we publish each month.
He made some money, and he did good things with it.  I'm told he paid nearly a half million dollars for Ginny's cancer treatments out of pocket…because she was one of the unfortunate that lost her insurance during Obamacare.  And while he proudly held his company up to those who once doubted that he'd ever amount to something, in the end his success was worthless to him.  The only thing he really wanted…he couldn't have.
"Tommy didn't die from a gunshot,"  said my friend in his text.  "He died from a broken heart."