At the midway point of the season teams from around the state are already sizing up the area perennials in Divisions V, VI, and VII.
I had the occasion to spend a couple of hours with friends in southern Ohio weekend, where football may not be what it is in the MAC, or the GWOC, but of that which they have, they're intensely proud.
And when you look at teams like Division V Wheelersburg and Portsmouth West, Division VI Nelsonville and Dawson-Bryant, and Division VII Danville and Bishop Rosecrans…you'll find an eagerness to hear about the perennial favorites from west-central Ohio, and how they might stack up against Marion Local, Coldwater, or Minster this year.
Without question, out of Scioto County the Wheelersburg Pirates have the lion's share of support from those who believe that any year now they'll take their place among the state's elite.
From a consistency standpoint, you cannot argue with their winning percentage over the past four seasons, nearly 90%. And coach Rob Woodward makes no bones about it…they would like to be counted in the same class with Coldwater, who's beaten the 'Burg twice in the past four years in the regional round of the tournament.
"You want to be like Coldwater," said Woodward last fall, after failing to get to the regional final and Chip Otten's Cavaliers. "They're the standard of competitive class, and our kids look forward to the challenge of playing them."
Which also raises the question as to this year, and could this be the year that Wheelersburg finally might get beyond that standard. Coldwater, after Friday's win over St. Henry, is 3-2. Wheelersburg, after another crushing win on Friday over a good Jackson team (38-14), is 5-0 and again feeling their oats.
"The 'Burg is good again," said long-time friend Brian Blankenship on Saturday. "They've got size, they've got some good skills, and they're well-coached. The question is…have they played the kind of consistent talent that Coldwater sees every week?"
And the same can be said for Division VI Dawson-Bryant (4-1) and Nelsonville (5-0), each impressive for the margin of their wins, but each aware, too, that they haven't seen the likes of teams like Marion Local and St. Henry out of the MAC.
"Coal Grove (where Dawson-Bryant is located), has a couple of nice wins, over Valley and Chesapeake," says Blankenship. "And their only loss was to Portsmouth West, who's undefeated. But none of them has seen anyone like Marion Local."
Nelsonville-York, out of Nelsonville, outside of Athens, may have best resume' of the group, with wins over Newark Catholic and previously undefeated Waverly, last week.
"Nice team," says Blankenship, who makes it a point to see all the top schools in his area. "But probably not up to the standard of teams in your area."
The difference in football along the Ohio River?
"You don't see the balance down here that you do upstate," adds Russ Massey, who frequently travels with Blankenship on Friday nights. "Wheelerburg is probably the exception on offense, because they have the athletes, but you don't see many teams down this way who throw it because they want to."
"And you don't see as many athletes as you find upstate," adds Massey. "Down here there might be two or three really good athletes on a given team. In Mercer County you might have two to three times that many. I saw the Marion-Coldwater game three weeks ago and it was impressive just to watch them warm up."
Trust it, they're reading Press Pros in some of those communities along the river; and everyone has the JoeEitel.com site marked as a favorite on their laptop. They know how the other half is doing on a weekly basis.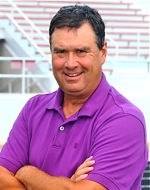 "It's a privilege for a program like ours to have the opportunity to compete with a Coldwater or Marion Local," said Wheelersburg's Woodward after their 2015 regional finals loss to Coldwater in Xenia. "You respect them even when you lose, because I told the kids…that's the way we want to be. We want to be like Coldwater."
Is this the year…for a team like Wheelerburg, or Nelsonville, or even Rosecrans, a Division VII team out of Zanesville?
"That's hard to say," adds Blankenship. "But I can tell you this. Every one of those teams wants the chance to play teams up your way. That's the only way you get better – or see how close you are."
We'll see for ourselves beginning this week, when Press Pros goes out on the road for a first-hand look…of how the other half thinks.