No one really knew how long it had been since St. Henry had beaten Coldwater in football, but after penalties and near-misses on Friday…it's at least, for now, one more year.
Coldwater – It was, in fact, an ignominious streak, and one that Brad Luthman and the St. Henry Redskins would have chosen to ignore.
Except, people in Coldwater weren't about to let them forget…that it had been something like 20, 21, or 22 years since the Redskins had actually beaten Coldwater in a high school football game. That's what they were saying prior to Friday's game.  Most say it's 21, but there's a caveat by other's estimation – that Coldwater actually beat St. Henry twice one year with a playoff game, somewhere along the way.
Doesn't really matter, now, after Coldwater used three St. Henry turnovers (two fumbles and an interception), and a pair of Blake Dippold field goals to extend the Redskins' misery Friday night, 13-10, before a packed house in Coldwater.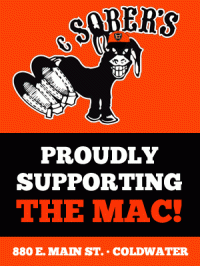 Coldwater got on the board first with a bomb – a 78-yard touchdown pass from Sam Broering to Jacob Wenning to take a first quarter 7-0 lead.
St. Henry sputtered on offense repeatedly in the first half, but did sustain enough of a drive to put three points on the board via a 34 yard field goal by Ryan Luttmer midway through the second quarter.
Coldwater was efficient with its opportunities, though, and came right back before the half to tack on three more points on a Blake Dippold 21 yard kick, and held the 10-3 advantage at the break.
St. Henry struck first in the second half, hooking up between quarterback Daylon Lange and Tyler Schlarman for a 51-yard scoring strike down the sideline. Luttmer's extra point tied the game at 10.
And there it stayed, until the 2:23 mark of the fourth quarter, when Coldwater being unable to sustain continuity on the ground or through the air, set Dippold, a cherub-faced sophomore, for the most important kick of the season to this point. From the right hash he booted through a 35-yarder to effectively win it, 13-10.
St. Henry had one remaining possession, but simply ran out of time and real estate.
But in between all this, St. Henry more than had its chances to score and break the streak of losses…and simply could not take advantage.
A fumble in the first half snuffed out what looked to be a promising drive.
And another fumble in the third quarter negated another opportunity at midfield.
And more, no fewer than five illegal procedure penalties on the 'Skins – and 20 for the game by both teams – made it look like the first scrimmage of the year for both teams. St. Henry had 64 penalty yards; Coldwater had 83!
"We can't beat ourselves like that," said Brad Luthman afterwards. "I just made too many bad calls where I tried to do some things with the count that our guys weren't prepared for. I take responsibility for that. They were legit, and it's on me for trying to put that stuff in the game.
"But still we were in position throughout the game to score and we just didn't finish drives. But, I thought we stood toe to toe with a perennial state champion tonight, we held our own, and we just couldn't get over the hump. We have to get over the hump."
He didn't say anything about the streak, but I think it has something to do with…the hump!
For Chip Otten's part, he breathed a sigh of relief, and made sure to mention one of the oldest axioms of football…that the team that wins the turnover war usually wins the football game.
"We won, and we tell the kids if we win the turnover battle in these close games you have more chances. We had the two fumble recoveries and Ben Wenning had a great interception there in the fourth quarter to snuff a drive for them.
"But the defense – our defense really played well again. We bend some, but we made plays. Our touchdown was on a broken play where the defender fell down and Jacob Wenning was wide open. And their touchdown in the third quarter was a similar play where they hit a big one down the sideline to Schlarman. It was almost like we were matching each other, back and forth, all night long."
Another axiom in football states that the team that has the best special teams play usually wins, too, and Blake Dippold was as big as the moment Friday night.
"I give my teammates the credit," said Dippold, whose too young to drive, but old enough to have one of the best legs in Division VI football this year. "The snap, the spot, and the blocking were all perfect…and I hit it pretty good. I had missed a couple earlier this year, and it really felt good tonight to hit a couple to help us win."

"Blake's just a sophomore, and he's worked really hard. I hate to put him under that kind of pressure at the end. But you know what? That's how you learn; that's how you grow up in those circumstances and he did a really good job."
Offensively, it was hardly thunder and lightning. Coldwater had 257 total yards; and St. Henry had 285.
Coldwater had 60 rushing yards; St. Henry and Ryan Luttmer (principally) had 142.
Coldwater and Sam Broering struck for 197 yards through the air (17 of 29); and St. Henry and Daylon Lange had 145 (8 of 18).
It was close, it was contested, and for a while in the third quarter after Schlarman's touchdown catch it appeared that St. Henry would have the momentum to push through – to break the streak.
But credit the perennial champs about which Luthman spoke. They found a way. Humps apparently don't bother them anymore.
For Luthman and the Redskins, it's still one loss in a league that this year promises many more opportunities between now and the next five weeks. They're hardly out of it at 4-1
The same for Coldwater, who at 3-2 still has just the one league loss to Marion.
But still, 21, or 22, or 23 years – whatever – is a long time between bragging rights when you're just five miles apart. Might as well be light years.
The streak goes on, and still counting!