They've done the typical;  they've done the atypical.  And still, the Bengals are bad.  With nothing to compare with the league best franchises, it leaves little with which to elicit fan favor.  They're now the featured guests for Oktoberfest, and beer drinking!
Cincinnati — This past Sunday Andy Dalton and A.J. Green spent part of their off day at Fountain Square leading thousands in the annual Chicken Dance, which marks the official start of Oktoberfest Zinzinnati.
Leading this dance—not a flattering thing in the first place—is an honor bestowed on legends in the city, folks like Joe Nuxhall, Sparky Anderson – Jerry Springer.
The Bengals quarterback and his All-World receiver were given a hero's welcome from the sudsy gathering. This was not all that surprising in spite of the Bengals' recent difficulties.
We have our bugaboos here like every metropolitan area, but we are generally and usually a polite populace. So on this occasion the Bengals 0-and-2 start was largely ignored.
Oh, there were a few throwing verbal grenades at Dalton and Green, but the critics were largely muffled by the um-pah music and the well-mannered majority.
That's just Cincinnati. We are far too easy, too nice when it comes to our professional teams and their participants.
The last time the Bengals won a playoff game was January 6, 1991, when they beat the Houston Oilers, 41-14, at Riverfront Stadium.
That's 26 years ago – twenty six years. Sam Wyche was the coach then. The next season he was fired, and what followed was 13 years of ineptitude.
We had Dave Shula for five years. He was 19-and-52. Next came Bruce Coslet, who was 21-and-39.
Coslet's tenure was cut short when he walked into a post-game press conference after a loss and said, "We suck. We suck! That's all there is to it."
Next came Dick LeBeau. LeBeau toiled here quietly as defensive coordinator and took over when Coslet was fired. He was not suited for the job and in his three years the Bengals were 12-and-33. (He went on to Pittsburgh and became the best known and most respected DC in the game.)
By the time Marvin Lewis arrived to coach the team in 2003, the fan base was numb. The Bengals were coming off a 12-year stretch in which they were 52-and-124, and were regarded as the worst professional franchise in the country.
They were laughable. Each fall, they provided a weekly example of Murphy's Law. They lost and in every conceivable way. Yet, we voted to build a new stadium with taxpayer dollars.
Now, where are we? We are two games into Marvin Lewis' 15th season. They haven't won a game. They haven't scored a touchdown. They've scored nine points, three field goals, all against Houston.
Andy Dalton is spending nearly as much time on his back as he is on his feet. The offensive line is woefully inadequate and that's an organizational failure: bad draft choices and the inability to keep good people like Kevin Zeitler and Andrew Whitworth, who each left as free agents.
After two games, the Bengals turnover ratio is -5. Dalton has been sacked eight times and has thrown four interceptions, lost a fumble, and never mind all the balls that have been overthrown or short-armed.
Towards the end of the Houston game he looked, nervous, jittery—all shook-up. He looked like a man who could use a Valium.
So, what do they do? They do something atypical for the Bengals. They do something to make it look like they are doing something. They fire Ken Zampese, the offensive coordinator. By most counts Zampese is a great guy who was probably out of his depth last year when he replaced Hue Jackson, who left for Cleveland to become head coach of that mess. (There's a message there someplace.)
The company line was that Zampese wasn't getting his playmakers on the field enough. In fact, Zampese was the fall guy—corporate America at work.
There is much more, far more wrong with the Bengals than the work of one man and that includes Marvin Lewis.
There's more than a fair amount of folk who want to see Lewis go, but apparently the Bengals will live or die with him—come hell or high water—and this in a business that is all about what-have-you-done-for-me-lately.
It's baffling. It tests the imagination. It makes no sense.
Since 2003, Lewis' first year with the Bengals, there have been over 140 coaching changes in the league. Only New England's Bill Belichick has a longer running tenure, and he has a little more to show for it.
He started in New England in 2000. He's taken the Patriots to seven Super Bowls and won five: 2001, 2003, 2004, 2014 and 2016.
I've always felt it was cold-blooded and just plain unfair to mention Lewis and Belichick in the same breath. I've never believed they are playing out of the same toolbox.
To begin with, Belichick has a genius, if aging, quarterback who thrives when improvisation is necessary. Lewis has a quarterback who requires an ironclad script, a blueprint. He has a quarterback who stumbles badly when all the blocks aren't in place.
Beyond that, we don't know what Belichick has that Lewis doesn't. I've often thought while other coaches in the NFL are equipped with high tech, world-class tools, Lewis has a claw hammer and buck saw.
Like Dalton and Zampese, Lewis is part of the problem not the problem.
What makes each season so frustrating is we all know what's likely to happen because we have seen it over and over, and we know it will not change until the Brown family relinquishes control of the team.
Thirteen years ago, Lewis and I sat in his office talking about where he wanted to take the team, what needed to be changed and how he would go about it. All the while he insisted it was his team, that he had been given the reins.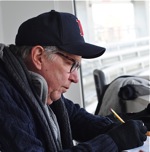 "It's a process," he said, sensing my skepticism. "The process continues and it will continue for some time."
He paused then and smiled. When it's real—from the heart—Lewis has a great smile.
"But it is my team," he said. "Trust me."
A lot has changed since then. On Sunday, the Bengals play the Green Bay Packers. The Bengals will have a new offensive coordinator. His name is Bill Lazor.
Can't help but wonder what he'll be able to bring out of the Bengals' toolbox.