It went five sets, with plenty of blood, sweat and tears at the end.  Jackson Center and Russia put on a volleyball clinic en route to a thrilling Tiger win.
Russia –  Here's how good it was – how compelling, thrilling, and breath-taking Thursday's SCL volleyball match between Russia and Jackson Center was.
After dropping the first set of the match, 25-22, Jackson Center came back to win it in five – 22-25, 25-22, 25-20, 15-25, and 15-11;  and after talking to his girls behind closed doors for the better part of fifteen minutes, Russia coach Aaron Watkins finally emerged from the locker room with a smile.
"You know you really can't be upset with losing a match like that,"  he said.  "I don't want to be happy with a loss, but that was a great volleyball match.   Jackson Center played well, but we played the best we've played all year.  We played with heart.  I'm glad we played (and beat) Jackson earlier in the year, because I knew she (Kim Metz) would have them ready this time.  They played well."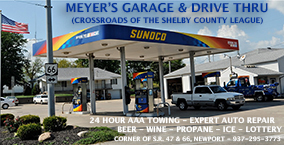 If you're into cliches', it was a war.  There simply were no easy points, as Jackson Center's Metz would point out.  Skinned knees and elbows were the highlight of the match – that and the hitting of junior Raquel Kessler, who sparkled with 29 kills, 4 blocks, and 24 digs.
"Tonight was basically the way our season has to be,"  said Metz, smiling ear to ear.  "We have to work for every point we get because we're not as talented as we've been in the past.  This is a different group.  We have to elongate points.  We can't try to put points away too early.  We only have a couple of heavy hitters now and we just have to keep playing and hope that the error happens on the opposite side."
Kessler, a tall, athletic outside hitter with excellent flexibility at the net, was simply dominant.  She routinely drove the ball through the Russia defense and repeatedly found open spots where there was little or no defense at all.
Russia, on the other hand, made it tough as they could, as libero Whitney Pleiman made Jackson work, as Metz said, for everything they got.
A turning point….after dropping the opening set, Jackson jumped out to a commanding lead in the second.  And up 24-15, and game point, Metz and her Tigers stood by and watched a Russia rally of nine unanswered points before finally putting the set away, 25-22.
"It was a turning point of the match,"  said Metz.  "We got a little slap-happy, we had a nice lead, and got complacent and allowed them to control things at the end.  They have so many weapons, you can't do that with Russia, and we were fortunate to hold on and win that.  It was a turning point, but it was very valuable to us because we learned that it's not about the celebrations, it's about keeping our balance, focus, and being able to finish."
Kessler, whom Metz simply calls "a heckuva' player", had plenty of help, as the entire rotation for Jackson Center worked furiously on defense to, in Metz's words, elongate each and every point.
"It epitomizes what volleyball is like in this league,"  said Watkins.  "Every night.  Kudos to them, they came out ready tonight, Kessler had a great match, and that's a good Jackson Center team and they played defense tonight like we usually play defense.  Like I said, I'm not happy with the loss, but I'm not upset, either."
Jackson Center improves to 8-5, overall, and 5-2 in the conference.
Russia drops to 8-5 and 6-2 in the league.
But the photos tell the story.  Everything was contested.  Every point was its own story.  And everyone went home talking about it.
It was the match…with no easy points!