At the midway point of the high school football season, my main observation is that it's taken for granted…and is so poorly marketed that many people don't even know it's there.
It came to me Saturday night in Delphos, Ohio, as I observed one of the really entertaining high school football games of the season.
The hometown St. John Blue Jays beat Versailles, 24-21, in three overtimes, in a game that had as many turns and twists as the Lincoln conspiracy hangings. Neither team played particularly well, but they played so hard it made up for some of the finer points missing.
Without question, it was schoolboy football, but on a Saturday night, when a lot of would-be, and so-called, football 'fans' were sitting at home watching Louisville and Clemson on TV.  It was frankly better.  That's right.  There was something better about Versailles and Dephos St. John!
It was compelling;  it was fun.  And I was highly entertained…coming from a person who sees so much football that I can hardly differentiate the last two teams I saw.
But there weren't many people there, which struck me as odd, given that Versailles is one of the storied programs in the history of the OHSAA; and that St. John once set an OHSAA record by winning something like 57 games in a row. Both teams have more state titles than room to display the trophies, and yet…one could make the case that most of the people on the Delphos side were parents, family, and friends of the players. On the Versailles side, there weren't even that many.
Look, I get it that it's a different world now from that in which Al Hetrick coached when he was winning consecutive titles in '93, '94, and '95 at Versailles.
And I get it that the demographics change over time, even in a community as small as Delphos.
But for six dollars, and the convenience of parking free 15 minutes before kickoff, finding your seat, and buying concessions for less than $5, it's a shame that more people don't take the time to watch high school football.
This thought struck me, too, that Ohio State and other Big Ten schools are talking about playing at least one of their games on Friday night, going forward, to cash in on the tradition of Friday Night lights. Pure and simply, it's a marketing decision. They want their share of those dollars!
But you're not going to drive into those games 15 minutes before kickoff. You're not going to feed the family for $5. And the fact is, if the Buckeyes are playing Army, or Youngstown State, or UNLV (God forbid, next week), it's a very poor return on investment. And, the fact that they'd play on a Friday night does damage to the very tradition of high school football that feeds the colleges through recruiting. Why bite the hand, eh?

Those of you who read me know that I'm pretty close to my Jeffersons and Grants. No, not the people who go by that name, but those whose images grace our currency – Thomas and Ulysses. And if the OHSAA and high school athletic programs, which annually claim to be cash-strapped in proportion to their agenda, wanted to better ensure their existence…they'd do a helluva' lot more to market, or promote, their very bread and butter.
At the risk of sounding like Larry David (Curb Your Enthusiasm), I walked into the local sandwich shop in my hometown of Covington last week, and while standing in line asked two other male customers to tell me who the starting quarterback of the Buccaneers was this year. Neither could.
The following day asked the same question at a busy retail stop in Piqua, and had the same experience. No one knew.
On Thursday, the day before the Troy-Fairborn game, I asked in a local Jiffy-Lube while getting an oil change. Not one employee could tell me who either Troy, or Miami East, played that week.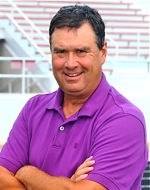 The point is, that high school football has become so taken for granted in some communities that people don't respect the fact that it even exists. They can, on the other hand, tell you that J.T. Barrett had a miserable game against Oklahoma. And they can tell you about 'skull session' before the game; and they'll marvel at how unique it is to see the Buckeyes sing and sway to Carmen Ohio after another dull win over a hapless opponent.
But back to my open…it's a shame that more people didn't witness the fantastic finish of that three-overtime game Saturday night; a shame that they prefer the 'experience' of grinding elbows with 108,000 and "showtime" football at the Horseshoe…then coming home $everal hundred dollars lighter.
It's an even bigger shame that we still buy the notion that high school football is so much a part of the tapestry of the state – when clearly the empty seats cast a different reality.  Or is that kind of reality part of that 'different' world now?
I don't know, but for the sake of what we say still matters – for the sake of one who told me last week that he was a "geek" for high school football – it would be a good idea to get the word out.  I didn't see him at the game!