Needing a victory to even their season's record and to restore a winning confidence, Versailles saw a late lead slip away…and the game with it, in triple-overtime.
Delphos – Adam Miller needed a win. In fact, he had to have a win.
You see, there are coaching jobs where the unsaid looms bigger than the fact of what you accomplish, irrespective of the odds. And the odds have not been favorable to Miller, ever since he took over for the man, who replaced the man, who replaced 'THE MAN' – the venerable Al Hetrick – as head football coach at Versailles High School:
Hetrick, who won those six state titles, including the epic 'three-peat', in '93,'94, and '95 – the Turner years.
Hetrick, about whom the mention of his name in Versailles still brings a wistful gaze to those who long for the glory years of "Tiger-Ball".
Hetrick, whose teams were so feared, and were so efficient in the execution of his T formation offense, that someone once said you knew what he was going to run…and you still couldn't stop it!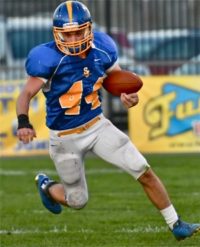 But those days, in these days, are distant memories, as "Tiger-Ball" has gone the way of whatever cycle it is that takes immortal feats down to the rank of mere flesh and blood. Versailles, a program that once seldom lost at all, has become all to familiar with it since Hetrick left in 2005.
Miller, in his fifth year, knows the expectation in a community once called "Titletown".  After an impressive opening win over Celina, he endured back-to-back losses to Delphos Jefferson and Anna in weeks two and three. They were in the Jefferson game; but were never a threat against the ascending Anna Rockets!  Saturday night, in Delphos against league rival St. John, Adam Miller and the Versailles Tigers…NEEDED a win!
But whatever it is that separates legends and those longing for it…it came to pay another call on Miller's Tigers as St. John won a thriller in three overtimes, 24-21.
Versailles (1-3) played gamely, tough, and the defense that Anna shredded just a week earlier came out with a chip on its shoulder as if to say, "No Mas" – if you're a Roberto Duran fan.
St. John quarterback Jared Wurst scored from three yards at 11:03 in the second quarter to give the Jays a 6-0 lead at halftime, but that was the sum total of offense for either team in the first half.
The third quarter started better for Versailles, as Kurtis Rutschilling rumbled 38 yards for a touchdown, and his biggest gain of the year. The extra point gave Versailles a 7-6 lead; and eight minutes later, at the 9:20 mark of the fourth quarter, quarterback Noah Waymire hooked up with George Grow for a 15-yard scoring pass to extend their lead to 14-6.
Meanwhile, the Tiger defense continued to stymie Wurst and the Blue Jays.  But, a threatening habit of turning the ball over loomed over Versailles like the grim reaper of leads lost.
And more, a pair of interceptions of Wurst passes put Versailles within point-blank range of scoring twice…and nothing came of either. They turned the ball on downs on one, and punted on the other.
Delphos is a resilient bunch. They hustled, ran to the football, and frankly, when they hit they knocked the football loose…five lost fumbles for Versailles on the night, and they came at the worst possible times.
In the fourth quarter, driving for yet another score that would have extended the Tigers' lead to 21-6, Garrett Thompson coughed it up at Blue Jays 10 yard line. Delphos promptly turned that into momentum, and at 4:13 Wurst found Connor Hulihan in the corner of the end zone for a 15-yard touchdown – the two point conversion good – to tied the score at 14-14.
Versailles would drive again, with 4:07 remaining, and got within sight of the goal line again for the presumed winning score.  But another fumble killed that drive, giving Delphos the ball, but not enough time to score.
It went into overtime, and neither team could score, Versailles fumbling again to give up their possession.
It went into a second overtime, and Wurst ran it in from three yards out to give Delphos a 21-14 lead.
Moments later, Waymire returned the favor for Versailles to tie it at 21-21.
In the third overtime, Versailles got the first possession, and from the start it looked ragged and disorganized on first, second and third down. On fourth and five, guess what? They fumbled again to kill yet another scoring opportunity.
Delphos got the ball, moved it fifteen yards, and set up kicker Mark Wrassman for the winning field goal from 27 yards. Ballgame!
There aren't words to describe a loss like that, and when Adam Miller finally emerged from the Versailles locker room, his expression was a blank as the win that had just been jerked from beneath him.
"I told the kids that the effort was there. We played hard and I was proud of our defense," said Miller. "But, we've got to find a way to win a game like this. We never gave up, but we definitely shot ourselves in the foot."
One of the oldest adages in sport is that which says that no one can coach, and no one can teach, a team how to win. It's something that has to come by doing it.
"It's a mentality thing," he added. "I'm not sure that's the cure-all, but if the kids start believing that they'll start getting it done. We did a lot of good things tonight. The defense played tough, we got stops at key points, and we moved the ball. But the fumbles…we've got to stop beating ourselves. Something's got to change.  We gotta' find something."
In their best days of the Hetrick era, no one ever dreamed of finding a way to win;  because, as Miller put it, it was the mentality of those Versailles teams.
And no one ever talked about learning how to win, they just won…because they'd done it so often.

But it's also fair to know…that it took a few years before Hetrick developed that winning formula. And yes, there were games that got away. "Tiger-Ball" was not dispensed with a tablespoon, but rather, it came in volume and with the confidence that even if you did know what was coming…you couldn't stop it.
Saturday night Adam Miller longed for those days – longed just one of those lost fumbles.
It was the difference in a quality win on the road…and the game that could not, but yet did, get away.