After a horrible start, Marion settled down in the second half to wear down Minster for its fourth win in as many starts.

Maria Stein – It is habit-forming, of course, when you win as often as Marion Local.
And if you're that good, you can even avoid the typical mistakes that usually doom the outcome of any football game; that is, turnovers.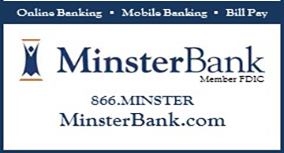 Well folks, that might have been a harbinger of how good the 2017 edition of the Marion Local Flyers are, because they survived one of the ugliest starts in the 19-year tenure of Tim Goodwin as coach Friday to beat visiting, and previously unbeaten, Minster, 21-7.
Ugly? It was 'yo' momma' ugly…an interception and two fumbles on three consecutive first quarter possessions that had Goodwin and the packed house in the stands behind him on their feet and with their hands in the air.
Remember that famous sound bite from Vince Lombardi? "What the hell's goin' on out here?" It was something like that – the kind of start that can create anticipation and momentum for an opposing team, and before you know it you're beaten.
But not Marion. Their defense stepped up as the offense stepped all over itself and limited Minster to just one touchdown, a 52-yard pass from quarterback Jared Huelsman to receiver Austin Brown that gave the Wildcats the early 7-0 lead.

But the Flyers continued to shoot themselves in the foot – penalties – and a bunch of them, as there was more yellow on the ground than mustard in the hot dog hall of fame.
And still, the Flyers' defense pulled them out while Nate Bruns and Nick Tangeman finally hooked up with 1:32 left before the half on a 15-yard touchdown pass to tie the score at 7.
Whatever Goodwin said at halftime he kept to himself. But rumor was…it was intense.
"We definitely came out and played better in the second half," said quarterback Nate Bruns. "We didn't have the start we wanted, but our defense kept us in the game until the second half. Then we cleaned some things up and just got back to what we do."
And what they did was make plays – lots of plays.
Bruns eventually got the passing game going for 228 yards on 15 of 27 attempts.
And while they couldn't run the ball in the first half, those halftime adjustments spoke heavily in the second as Marion ended the game with 151 yards on 36 attempts.
Minster, in the meantime, got an eyeful of that defense, gaining just 205 total yards in 44 plays…and just 70 rushing yards in 24 carries.
Marion had 7 penalties for 73 yards; but Minster topped that with nine flags for a debilitating 89 yards.
"We played hard," said Minster coach Geron Stokes, who's yet to beat Marion in his five years at Minster. "But we lead the nation in penalties. That's playing with a lack of discipline, and that's my fault."
Whatever, Bruns and the offense got the ground game going, hit some big plays through the yards, and saw running back Henry Keller ring the bell twice from the one yard line in the third and fourth quarters, respectively. All in all, it wrapped up a tidy 21-7 win over what Goodwin acknowledged as a very good MAC football team.
"Yeah, they're a good team," he said. "Geron has them believing and they play like they believe. He's done a great job there and I know they're going to continue to get better. But obviously our defense kept us in the game while we were giving them the ball on three straight plays. The defense gave us time to regroup.
"The touchdown before the half was big. And maybe the biggest play of the game was the touchdown they had in the second half that was brought back for holding. It was a tough game for both sides because you couldn't get into any kind of rhythm for the penalties."
Huelsman, acknowledged as the most dynamic quarterback in the league, could not get started with the Marion pursuit breathing down his neck. He ran it 18 times for 54 yards (3 yds per carry), and connected on just 7 of 20 passing attempts for 130 yards and one interception.
For Marion, Nate Bruns had those 228 yards passing; and junior Nolan Habodasz continues his ascension to attention with a tough 65 yards on 16 rush attempts.
"I thought Nate did a great job tonight," said Goodwin. "Obviously he's young, but he really played a nice second half. He moved the chains a couple of times on the ground, and made some plays – the fourth down play he kept alive and hit Nick with the pass – that was a huge play."
For Geron Stokes…the frustration of how most MAC teams feel year in and year out when you fail to come up to the standard necessary to beat Marion Local.
"I loved our effort tonight," he said. "The effort was unreal. They're just better than us right now. We had a good start because of the turnovers, we played hard, we flew to the ball, and we fought off blocks. We were doing some things right, but they're just better than us right now."
Very tidy…when you can turn the ball over in football on three consecutive plays and still come out a winner against a good football team. That's exactly how Marion won their fourth on Friday. Like Nate Bruns said – their defense kept 'em in it until they got things cleaned up.
Altogether now: All's well…that ends well!