Fort Loramie's mistakes were huge, and paved the way for visiting Miami East to hang around long enough to eventually capture a thrilling outcome.
Fort Loramie – As his Miami East Vikings ran off the field in celebration, just moments earlier punctuating the 27-26 victory with a game-clinching interception, Miami East coach Max Current described the scene as a playoff atmosphere.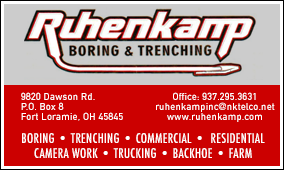 Fortunately for the Fort Loramie Redskins, this one wasn't a one-and-done scenario. As Fort Loramie coach Whit Parks told his team following the self-inflicted loss, there's still plenty of time left to correct what went wrong in the Cross County Conference showdown at Fort Loramie High School.
There were signs of success from the Redskins in the form of a strong running game, a strong-armed quarterback and big-play ability with three third-quarter touchdowns covering 56, 25 and 45 yards.
But there were also miscues. Too many of them to fend off an opponent like Miami East, which capitalized on some of them.
Among them:
Fort Loramie missed three extra points with two missed kicks and a failed two-point conversion attempt.
A 15-play drive that took 4:23 off the clock in the second quarter ended with a turnover on downs at the Vikings' 11-yard line after two penalties erased two touchdowns.
An under-thrown pass to an open receiver down the sideline resulted in an interception in Miami East territory with 3:58 left in the game.
"This has kind of been our Achilles' heel so far this year," Parks said. "When we have chance to make plays we don't always make them. We had two touchdowns called back. We missed three extra points. We dropped a couple touchdown passes. You can't win games that way.
"Too many missed opportunities. Wow. I'm sure I'm going to watch that film and see all those missed opportunities. Crazy."

As for what went right for Fort Loramie, that came to start the third quarter.
Trailing 13-6, Fort Loramie's Carter Mescher took a hand-off up the middle near midfield, broke a couple tackles at the Vikings' 30 and sprinted 56 yards for the touchdown. The Redskins missed the extra point to pull within 13-12 with barely a minute gone in the quarter.
After forcing a Vikings' punt, Mike Hoying went around the left end from the East 25-yard line and ran into a Vikings' defender at the 5. He powered toward the end zone with one defender on him for the 25-yard score and the 20-13 lead with 9:03 left in the third.
After a Nolan Holthaus sack forced another Vikings punt, quarterback Austin Siegel placed a pass over the shoulder of Mark Seger in stride for the 45-yard strike and the 26-13 lead with 4:35 left in the quarter.
But the Vikings showed some big-play ability of their own. Two plays after falling behind 26-13, Justin Brown raced around the left end and sprinted 62 yards for the score, pulling the Vikings to 26-20. They took the lead for good with 5:31 left in the game on Brown's 5-yard run.
Miami East then ended Fort Loramie's final two drives with interceptions by Brown and Blaine Brokschmidt. Brown's interception came with 3:58 left on an under-thrown pass.
"(The Fort Loramie receiver) got by my corner and Justin rallied to the ball like a free safety is supposed to," Current said. "You're supposed to cover the center fielder in baseball and he did a good job. He timed his jump and he got it."
On Miami East's final possession, the Vikings converted a fourth-and-1 from their own 33-yard line. They faced a fourth-and-2 from their own 43 and elected to punt.
"Sometimes you can't go to the well that often," Current said. "We gambled on our own 30 and punched it over. We just wanted to waste some time and give them as little as possible. Blaine got a nice punt and we had good coverage.
"This is huge. This a playoff-type game. We knew Fort Loramie has a really good tradition and they knocked off Covington. This keeps us with the leaders in the conference title chase."
Next week Miami East travels to Bethel for another CCC clash among front-runners. Fort Loramie travels to Ansonia.
"We have a lot of season left to play," Parks said. "We're going to stick together and keep working to try and get better. That's all you can do. Come back tomorrow and go to work. … We had a lot of chances the whole game and we didn't take advantage of them. Give them credit. They took the game to us. I'm kind of at a loss to lose one like that."