Behind a sterling defensive effort, Fort Loramie exacted a measure of pride in dispatching Russia in a straight-set volleyball win.
Fort Loramie – The irony of sports is (or at least one of them)…what goes around comes around.
Another once said, "Careful what you say that it might be held against you."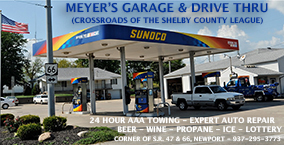 And darn, no sooner had Russia volleyball coach Aaron Watson praised his team's defensive prowess prior to Thursday's showdown with Loramie (7-6)…than the Redskins put on a defensive clinic of their own in a straight-set win, 25-15, 25-23, and 25-21.
"It was a stunning loss for us," said Watson, shaking his head in disbelief afterwards. "I told the girls inside that they dominated us. And give a lot of credit to Loramie. We hadn't expected them to play like that, and they did."
But in the other locker room down the hall, Loramie coach John Rodgers addressed the same question. Was it a stunning win for his team.
"I don't think so," he said. "I have confidence in my girls. I can take no credit for that win tonight because that was my team. When they're confident, and when they're playing well, and they stay relaxed, the sky's the limit.
"And that's what I tried to do during our timeouts. I reminded them of playing loose, of what Russia was doing with their rotation, and just tried to keep them relaxed and in the moment."
And to that fact his point was valid.
Russia, leading the league outright and riding a 7-2 record entering the game, played with anything but confidence. They were noticeably tight, and never showed the kind of aggression with which they played just a week prior in their win over Anna.
In fact, they were simply outplayed. Rodgers' Redskins out-hustled, served consistently, and turned the tables defensively on a team known through the first month for its defense. This time it was the back line of Loramie, not Russia, that made a difference in the game's outcome.

"Our defense was good," said Rodgers. "But that all starts with blocking at the net. Your defense really sets up off your blocking and my blockers really understood what I was asking from them tonight. They were in the correct position, they did the things they needed to do, and when they do that it makes your defense so much better."
And while the blocking set up the defense, tiny libero, Emily Austin, a junior and the smallest player on the court, more than took advantage. She led her team with 20 digs, got more floor time than lacquer, and came away with the most satisfied smile of all.
"Our defense was just determined not to let a ball drop," said all 5'4" inches of Austin. "I might have a few bruises in the morning, but I'll take a win every time. Coming off a loss like we had, this feels so amazing to win like this over Russia. It's a good one to build on."
It raised their record to 7-6, of course, but more, it energized a Loramie squad that has had as many bad outings as good prior to Thursday…and just in time for the second trip through league play, beginning next week.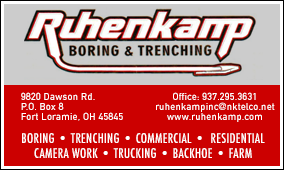 "I agree," added Rodgers, packing his papers and stats to leave the gym. "And to build off this one I don't think it's the win over Russia, but the way we played confident, and calm, and executed what we do. You know, that's the key. When you can get your team to do what they do, and not play out of their zone, you just play hard and let the chips fall where they fall."
Statistically, Emily Austin had her 20 digs; but, she was assisted heavily by teammate Sophia Albers (34 assists). Marissa Meiring and Morgan Holscher, who each had 10 kills.
And for the part of both teams, credit the fans…a huge turnout for a Thursday evening that packed the gym and created a typical Russia-Loramie environment.
"It was a good object lesson for us," said Aaron Watson as he left for the bus. "We got beat at the net a lot tonight. Credit Loramie for the way they blocked our hitters, we couldn't match that, and they dominated us at the net.
"I told the girls…remember how this feels, and we don't want to feel it again."