I fell far short in a previous blog on why Colin Kaepernick's views on the national anthem have kept him sidelined. Here's more.
When I wrote on Monday that protests for Colin Kaepernick over the NFL's opening weekend barely made a ripple on the pond, I really failed to cover some of the ancillary issues with him being a topic in the first place.
Kneeling for the national anthem is just the start of his problems.
Really now, it's hard to feel sorry for someone out of work when that person actually opted out of his previous contract with the 49ers because…(wait for it)…he wasn't the starting quarterback anymore. It's tough to feel sorry for someone for reason of vanity and greed.  Agree?
And really now, it's also hard to blame racism for his not being offered a contract (by anyone)…when Tim Tebow and Johnny Manziel are unsigned, as well. They're all quarterbacks with varying degrees of skill and experience.  And you can make an argument for them being distractive, I guess.  But Tebow and Manziel are white. Agree?
And look. There are probably a hundred other players that have gotten skipped over for the same reasons – for diminishing skills – and no one's saying a thing about them. So what do you do when you don't have the requisite skills to compete at the highest level of football anymore?  You make the case for social injustice.  Agree?  BRILLIANT!
But what really has to stop over all of this is the media, especially ESPN, trying to demonize owners who don't agree with their one-sided perspective of Kaepernick – that it has to be racism for the fact that no one wants him.
Of course, now, the NFL represents 32 private owners who, like owners in other walks of business, live by the mantra that just because you have a skill set it doesn't guarantee you a job. It's why they have things like job interviews. You get to hire the one you want, for whatever reason, and if you make a bad impression you're not going to get a job.  There are no laws (not yet, anyway) that says someone HAS to hire…ANYONE.
There simply are better stories on which to report if they would, but it doesn't fit the agenda of a liberal media that salivates over any perceived injustice because of its portent of headlines and readership.  That's called marketing, or worse…pandering.
I might also suggest that ESPN and others look to within for issues of injustice, for surely it exists in every workplace. Go ahead.  Call your boss a racist and see if YOU have a job the next day.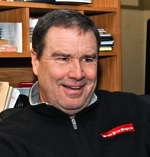 And, oh, would it hurt to point out that Tebow (and others) actually went out and found work in other mediums? They say that all work is dignified, so who, besides me, is anxious to see where Kaepernick, with his University of Nevada degree, lands next.  Should be an interesting interview.
Or, continue as you are, Colin, and discover that while issues live on, one's relevancy to that issue surely fades. Just ask Andy Messersmith.
Who's Andy Messersmith, you ask?
Ask any modern baseball player. They won't have any idea, either.