They set a new American League record for consecutive wins, and likely put up a number that will stand for at least another 100 years.

OK, how impressive is yesterday's Cleveland Indians win over Detroit that established a new American League record for 21 consecutive wins?
Well, consider that it matches the old Chicago Cubs mark of 21 wins set back in 1935. That's 81 years ago.
And, it pulls them within five more wins of the modern record set by the National League New York Giants in 1916, of 26 wins. That's 101 years ago.
But most impressive of all, the Indians streak, in this day of 100-mile-per-hour pitches, fire-breathing bullpens, and a juiced-up baseball…well it simply defies the odds.  And the odds are that there's going to be someone in the span of three weeks that out-pitches you, or out-hits you…because everyone has a bad day.  Except the Indians, it seems!
Lucky? Yes, decidedly, because even Terry Francona would concede that good hops have come their way. The old adage reads, after all…you gotta' be good, but you'd better be lucky, too. They haven't been so much as challenged since the streak began on August 24.
Their numbers for both pitching and offense are simply numbing.
During that stretch the Indians' starting pitching has gone 19-0…that's 19-0…with a 1.70 ERA.
They've outscored their opponents 139-35 and trailed in only four of 189 innings.
More incredibly, the Indians have hit 40 home runs during the span – actually more home runs that the pitchers have given up in TOTAL runs.
Charmed?
A guy started for them on the mound Wednesday that 80% of casual big league fans could not name – Mike Clevenger. Clevenger, by the way, is a fine pitcher, but he's not to be confused with Clayton Kershaw and Chris Sale, either. But he has won his last four starts and didn't allow a run in his 18 innings pitched. He did give up a run in the top of the first Wednesday to snap that streak, but unfazed, he proceeded to pitch comfortably for the next six innings while former Red, Jay Bruce, provided all the cushion he would need with 3-run home run in the bottom of the first.
From there, the bullpen took over for 2.2 innings, and Cody Allen, who's about as sure a bet as you can have closed it out in the ninth – the final out being recorded on a shoestring catch of a line drive to left field. What else?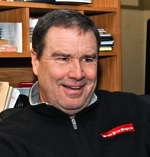 They're good, yes. They're better than last year? Probably, given that they're 'mentally' unbeatable right now – like the Dodgers were a month ago, before losing 11 of the next 12.
But to give you an even better idea of this…behind pitching ace Corey Kluber, a former Cy Young Award winner, their next four starters have a combined career mark of 201-173, a winning percentage of 53%. That number simply defies the odds of winning 21 games in a row!
Now, you tell me. Is it better to be lucky, or good, or a bit of both?