On the week of his team's first genuine conference test, Geron Stokes is out to measure the size of the fight in the dog…not the size of the dog itself.
If you ask him he'll tell you, flat-out. The only way you can compete in Midwest Athletic Conference football is win against Marion Local.
And, Minster coach Geron Stokes hasn't been able to do that…not yet.
But his state finalist Minster Wildcats get another chance on Friday night when they travel across route 119 for a few miles to take on the undefeated Marion Local Flyers, who themselves took down Coldwater last week, 13-7.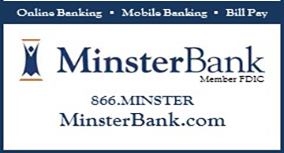 For their own part, Minster is coming off what may be its most complete win of their three, having thoroughly beaten Delphos St. John, 44-14.
In his fifth season now, and winner of the 2014 Division VI title, Stokes minces no words when it comes to what it takes to beat either Marion, and the other perennial challengers in the MAC.
"Marion and Coldwater have been the standard of the league," he said following last year's disappointing outcome against Marion. "You have to be as tough as Marion is to win, and so far we've haven't been tough enough.
"Our kids work hard, but until you get past that mental toughness hurdle that teams like Marion have every time they go out there, you're playing at a disadvantage."
Example: While hosting Marion in Week 4 last year, that was the talk of their week's preparation. The outcome: Marion won in a romp, 44-6.
Example: Three weeks after the Marion game, Stokes and the Wildcats hosted undefeated Coldwater, and drawing from whatever they learned against Marion, they beat the Cavaliers for the first time under Stokes, 33-18.
"We were a different team that night," he would say later. "I'd like to think that we learned from the Marion game, and that we played with a toughness we didn't have three weeks before."
With impressive wins so far over Fort Loramie, Covington, and St. John, Stokes hopes past experiences will prove to be a similar motivator when they face the Flyers on Friday.

"They're so good in every phase of the game," he said following last year's game. "You have to come out and match them in execution, plus be physical.  If you don't you get beat.  If you just come out physical and don't execute, you get, too.  They demand that you be your best."
And they win impressively. Marion through three weeks have outscored opponents 89-14 with a shutout over Patrick Henry.
Oddly enough, Minster seems just as capable, having won their three games by an identical combined margin of 89-14, with shutouts over Loramie and Covington.
"We know what we're up against," says Stokes, who as a player was known to have great intensity, a trait he's preached daily to the 'Cats for his five years. "Are we ready? You really don't have any choice when you play Marion.  They're really good."
Are the Wildcats Stoked?
"We'll see," he says.
Another lesson in toughness awaits.