If some activist NFL players can't understand why the Colin Kaepernick movement still hasn't gained traction, or enough respect, don't blame management for not caring.  It's just simple business.
Among the most empty displays I saw on Week 1 of the NFL season was the march by the Kappa Alpha Psi fraternity in downtown Detroit to support Colin Kaepernick, and protest that no one's given him a job yet.
While a smattering of players around the league still refused to stand for the national anthem, there was really very little said, or aired, about it. Kaepernick's frat bros were a notable exception.
"When you look at some of the recent incidents like what happened to Michael Bennett in Las Vegas , it validates the stance that Colin Kaepernick has taken," said Eric Brown, a former president of the fraternity's alumni chapter in Detroit."
"It doesn't make sense that the man can play and nobody's willing to give him a chance," said another.
Silly brother, of course it makes sense.
Football in the NFL is a business, just like retail on the streets. And if a majority of your clientele supports standing for the national anthem and support for law enforcement and the military they're going to eventually take it out on management if Kaepernick shows up to play quarterback.
Some call it 'blackballing'. Some say collusion.
But in the world of professional football, it's just good business; and no different than J.C. Penney would have done back in his day if he had an employee with body odor. If that employee offends people, he can't work.
The overwhelming majority of NFL players, black and white, stood for the anthem on Sunday, and many stood arm-in-arm with local law enforcement officials on the field for the salute to the flag.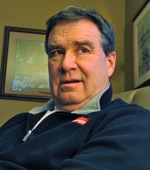 Green Bay safety Ha Ha Clinton-Dix actually help hold the giant stars and stripes as the anthem was played.
The fact is, this protest still falls on deaf ears to the majority of Americans, black and white – those who grew up while being taught a proper respect for law enforcement, how to co-exist with it, and an understanding of the risks associated with wearing a uniform and badge. And when those Americans show up for a football game, the last thing they want to see is a political statement being made at a football game. Not the time and place!
If you still don't understand, ask your local retailer. Or pick up a copy of the old Samuelson economics textbook. You find it in there with other basics of good retail.
The customer may not always be right…but he is the customer.