UD's home-opening win over Division I Southeast Missouri served as friendly reminder…that the best things in life (and especially sports) are nearly free.

Dayton – I pinched myself at the irony of it.  While Press Pros colleague Doug Harris was fighting the throng and masses at Ohio Stadium Saturday afternoon in preparation for the Buckeyes and Oklahoma later in the evening…in a much smaller, more intimate, and realistic environment, UD head football coach Rick Chamberlin was quietly holding court, post-game, outside the Flyers locker room at Welcome Stadium.
Chamberlin and Company had just dispatched Division I Southeast Missouri, who had played well against the University of Kansas the week before, in the Flyers' home opener in front of 2,000 people on a sun-splashed Saturday afternoon.  More people watched Coldwater and Marion Local the night before.  But the affable coach was available for all who would take the opportunity as his team made the quarter mile walk across the parking lot to the dressing facilities next door at UD Arena.
"How about that for a football game?"  he laughed, accepting my compliments for both a quality, and exciting, win.  "And we won, too."
And well, the ironies…as I mentioned.
So easy to get in and watch.  Tickets for OSU-Oklahoma were north of $150.  Entire neighborhoods could watch a Dayton game for that much.
So colloquial, and intimate, by comparison to the enormity of Ohio Stadium, the security issues, and the protocol.
And so facilitating, as almost anyone with a question or compliment, could have walked up to Chamberlin and addressed him face to face, and many did.  As Hal McCoy and I stood and did our journalistic duties, the thought struck as to how this was, indeed, a writer's dream come true.
It was, as the adage goes, the personification of…when less seems more.
As to the game, and as Hal wrote about it in his feature story, it was the age-old example of David versus Goliath.  UD is a Division smaller football school compared to Southeast Missouri, and grants no football scholarships.  This fact was obvious. Dayton was David;  and SEMO (Southeast Missouri, from Cape Girardeau, Missouri) was Goliath.
Their offensive and defensive linemen were huge – literally huge – compared to the Flyers.  SEMO listed fifteen players on their roster weighing 300 pounds or better.  Dayton averaged 250 pounds, tackle to tackle on their starting offensive line.
"Those guys ARE huge.  They had us by 50 pounds per man, and they're pretty athletic,"  said Chamberlin with a chuckle.  "I was impressed.  But it just goes to how gritty our guys are.  It doesn't matter how big the other team is, our kids are gonna' come to play."
"We're accustomed to it by now,"  said running back Tucker Yinger (from Columbus), who had just run around and through the bigger Missourians 24 times for 141 yards.  "They were very big and intimidating.  But that's how every team is against us, and we just go out and play the same way."
What it was, of course, was that example of not how big the dog is in the fight, but how big the fight was in the dog.  Dayton's running game, with Yinger and teammate Sean Prophit, from Cincinnati (St. X), literally wore down the SEMO defensive pursuit in the late stages of the game after Redhawks had come back to take a 17-16 lead in the third quarter.  One run after another…of 5, 8, and 10 yards…and when they stacked the box quarterback Kyle Kaparos would remind them that there was a passing game, too, as he hit Ryan Skibinski with what turned out to be the winning touchdown pass early in the fourth quarter.  Freshman kicker Patrick Sandler added his fourth field goal of the day to pad the lead.
"I think we surprised them,"  said Chamberlin, whose grown up in college football at Dayton, first as a player, then as an assistant for then-coach Mike Kelly, and now as head coach – 3o-plus years.  "Our guys are in great condition and I think we got in their heads.  We wore them down."  It was a comfortable as talking with your neighbor across the backyard fence, compared to the post-game press conference and the media pecking order associated with Ohio State football.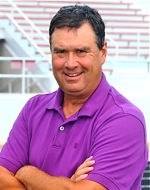 Fans and family walked by as they headed for their cars, waving and assuring Chamberlin that they'd be back next week, when the Flyers host Duquesne in another Saturday matinee.
"Ah, this is so much better than last week,"  laughed the coach, stating the obvious.  "We played a good game today, but we didn't play as good as we can.  We're going to get even better.  This is a good football team."
Nor the biggest, but good.  Easy to watch, and easy to like.
When less seems more.