Buckeyes can't get passing game going against Sooners … Oklahoma offensive line has its way in victory … Offense has problems, but Barrett shouldn't shoulder blame.
COLUMBUS — Ohio State might as well say sayonara to its College Football Playoff hopes. The Buckeyes can probably play a dirge for their Big Ten title ambitions, too.
They were beaten, battered and bruised on both sides of the ball by Baker Mayfield and Oklahoma in a 31-16 defeat as a monstrous crowd of 109,088 started heading home early in the fourth quarter and probably pounded pillows in frustration when they got there.
It was the worst home loss in the Urban Meyer era, and the culprits were a pedestrian passing game and a defense that was ripped to shreds in a way that no one thought possible.
The Sooners scored touchdowns on four of their first five possessions of the second half, and the Buckeyes had better get ready to see themselves the rest of the year on the video promoting Mayfield for the Heisman Trophy.
The former walk-on finished 27-of-35 passing for 383 yards and three TDs, exposing a young secondary that was sorely missing its three first-round NFL draft picks from last year's team.
And if those projections about the season being a lost cause after two games seem a bit harsh, remember when the Buckeyes won at Oklahoma last year? Did we think the Sooners had any shot of returning to playoff contention? Yes, they had one extra non-league loss, but did the Buckeyes show anything Saturday to make us think they can get through the rest of the season unscathed?
Which brings us to the Big Ten race. Trips to Nebraska, Iowa and Michigan and a home game with Penn State suddenly look a lot more dicey, no?
The Buckeyes are now 0-6-1 all-time against top-five opponents at Ohio Stadium. Go figure.
On offense, we submit this sequence to sum up the Buckeyes' woes: On a fourth-and-4 play to begin the fourth quarter while trailing 17-13, they rolled J.T. Barrett to the right, where linemen were getting plowed backward. Bumped and harried, a long pass down the sideline to K.J. Hill had no chance of being completed.
On a do-or-die fourth-and-4 play, with a break between quarters to confer, that's the best they could muster? A roll-out because they can't adequately pass protect, limiting Barrett to half the field, and throwing to a receiver in traffic?
Ohio State had 92 yards in the first half. Let that sink in for a moment. Four possessions produced 92 yards, seven first downs and three points.
They finished with 350 yards, a good chunk of that coming after the outcome was decided.
That's shocking, really, for a game in prime time under the lights in a stadium full of maniacs ready to scream themselves hoarse at the tiniest provocation.
This is an offense that's sunk to a level of ineptitude that we haven't seen since the Luke Fickell transition year in 2011. Before that, you can point to a couple of dead-on-arrival showings in 2004 under Jim Tressel.
That kind of offensive incompetence caused alarm when it happened then, and it should cause alarm now.
Ohio State has already changed offensive coaches, so we can't point to failings on the staff.
Barrett is a popular target. Take your shots if you must. But I can only tell you what I saw from my perch in the press box.
Though he was the second-best quarterback on the field by far, you can't pin this homely effort on him. Not sure why, but receivers aren't getting open. I looked downfield each time Barrett dropped back, and, trust me, it wasn't as if he were missing wideouts running free all night.
I raised this point last year while the Buckeyes were riding high after a win at Oklahoma and a couple of home thrashings. I said at the time I didn't know whether it might become an issue, but the wideouts even then weren't creating separation.
But something is amiss with this offense beyond just that. Barrett finished 19-of-35 for 183 yards and no TDs with one interception. He had 304 yards at Indiana in the opener, but his three outputs to end last season were 86, 124, 127 yards.
The Buckeyes' only TD came on a short field after a long Parris Campbell kickoff return.
I'll say this for the fans, though: They may have wanted to unload a chorus of boos on the home team as the game was unraveling, but they refrained. You wonder what a bevy of five-star recruits making a visit thought of that disaster.
Barrett was 5-for-11 passing for a measly 25 yards in the first half. And, remember, this was an opponent from the Big 12 where they supposedly don't play any defense. I'm still not sure they do, although TCU's 28-7 win at Arkansas on Saturday might suggest otherwise.
The Sooners had 222 yards and 13 first downs in the first half. They finished with 490 and 27. The game was tied 3-3 at the break only because the visitors lost two fumbles and missed a 37-yard field goal.
They were advertised as having one the best offensive lines in the nation, and that unit looked the part, winning the line of scrimmage consistently. I didn't think I'd see that this year against the Buckeyes' ballyhooed D-line.
But they usually picked up substantial gains on runs, and Mayfield is too dangerous if you don't make that offense one-dimensional.
They didn't keep Oklahoma from crossing midfield on any possession until the midway through the third quarter. And the Sooners reached Ohio State territory on their other 10 possessions.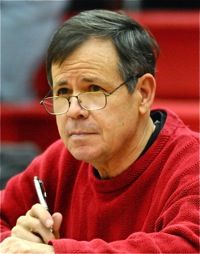 Meyer said afterward that he wasn't happy with the play-calling, nor the passing game. But he added that Barrett was in no danger of losing his job.
"We've got to get on a roll, and you've seen us get on a roll a few times around here," he said.
Yes, in 2014, they lost by two touchdowns to Virginia Tech at home and then found another gear after that, leading to a Big Ten title and a national crown.
But this felt different. The conference is better. And given the lack of chemistry between Barrett and the receivers — and the pummeling the defense just took — anyone expecting a turnaround this season is probably engaging in wishful thinking.