Given their history and some of the personalities…you wonder how it could happen. But it did. The Bengals show a new level of disappointment in opening loss to Baltimore.
This is what you waited nine months for?
This is the reason you buy their paraphernalia for Christmas and birthdays?
This the reason you would give up church on Sunday mornings to tailgate in the parking lot of Paul Brown Stadium?
Well, Heaven help, because what the Bengals showed Sunday afternoon in their 2017 opener against the Baltimore Ravens was purely hellish!
The offense looked like something you'd expect from a Pop Warner expansion team.
The offensive line looked like what you feared the moment you heard that club had decided to let tackle Andrew Whitworth and guard Kevin Zeitler walk in the off-season.
Andy Dalton looked tentative, at best. At worst, he just looked shell-shocked. Credit the Ravens' defense, too, because they obviously invested heavily in infrastructure. The Bengals, as they've always done, have invested heavily in skill position players.
Frankly, this isn't fair to fans who still believe that club management is playing by the same rules as the other 31 NFL teams. Ineptitude, questionable personnel, and a reputation for thuggery hardly makes for community pride.
"I'm loving this," a friend phoned me during halftime, with the Ravens leading 17-0. "The Browns are looking good and the Bengals are looking like the Bengals. This is how it should be."
Seriously?
Given the Browns record for arousing hope since 1999, is there anyone that empty for something to watch on a Sunday afternoon?
And amidst all the bad cliches' used by network and local broadcasters in describing their performance Sunday, why not one more? If there really is such thing as someone spinning in his grave, then Paul Brown was surely running at 3000 RPMs!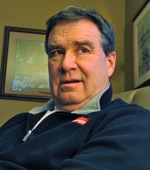 Watching in disbelief, I really don't know how the Bengals resurrect a better performance from offensive tackles Cedric Ogbuehi and Jake Fisher. Sadly, one is a first-round pick (Ogbuehi) and the other was taken the second. And the club's history is to exact every last cent of 'ROI' (return on investment) possible before making a change, or confessing their mistake in draft evaluation. I know if I was Andy Dalton I would not watch the film from Sunday. Terrell Suggs couldn't have gotten to him quicker if he'd traded positions with Ogbuehi.
The only thing more questionably entertaining than what we saw Sunday will be Marvin Lewis's justification for it on Monday. Marvin always stands by his minions.
As for you…you who keep buying the 'Who Dey' koozies and painting your car to look like the helmets, I don't know what to tell you; except that it's 210 days until next spring's draft. After what we saw Sunday, that's the only intrigue you've got between now and next September 9th.
Or, watch all the Reds baseball you can for the next three weeks.  They look pretty good compared to what you watched today.
A famous philosopher once wrote that optimism comes when you least expect it, so take heart.  There's never been a sure thing…with the Bengals!