Behind the dominant presence of all-state senior Paige Jones, the unbeaten New Bremen Cardinals left no doubt as to which was the better team Thursday with a straight set win over Marion Local.
New Bremen – Matthew McConaughey has nothing on Paige Jones, the all-state outside hitter and University of Michigan volleyball recruit from New Bremen High School.
McConaughey's movie from this summer, The Free State of Jones, portrays him as Newton Jones, a rebellious deserter from the Confederate army during the Civil War, who commanded twelve counties in backlands Mississippi during the war's final days and declared them free of the oppressive Confederate foragers that preyed upon starving local citizens.
Paige Jones did her best to imitate McConaughey's dominance in the Newton Jones role Thursday in a straight set win over Marion Local Thursday, 25-13, 25-16, and 25-22. Her presence on the court was unmistakable. Her dominance was unquestionable. And her skills in all phases of the game were unmatched.
Jones, a slender 6'-footer, had 22 kills and 10 digs in the match, and had the requisite complement of help from Taylor Paul (5 kills), Blake Snider (7 digs), Abbi Thieman (21 assists) and an overall team contribution of 11 serving aces.
"She's a real difference maker," said Marion coach Erica Shulze after the match that took just over an hour to play. "The rest of their team complements her well, but she's a difference maker. We had a couple of chances in the third game, but simply couldn't capitalize."
Which pretty much summed up the Cardinals latest victory in the midst of an early season 7-0 record. The rest of the team is happy to provide the complementing role, but Paige Jones makes every contest with New Bremen a match with the 'state of Jones'.
"We had other girls that did things that won't show up in the stats," says Bremen coach Diane Kramer. "Rachel Kremer had a tremendous match serving for us tonight, and needs to be commended for her play. But Paige makes this team better. Without her, obviously, we're not the same team.
"But her teammates make her a lot better, too,"  adds Kramer.  "They're really, really good, and that gets overlooked because of how good Paige is. But she would be the first to tell you that without Rachel's passing she doesn't make the plays; without the setter finding her she doesn't make those plays. They give her the opportunity to make the plays and once she get it she can knock the beak of the bird (the cardinal on the floor) with the volleyball, and no one knows it's coming."
Her countenance on the court is the perfect compliment to her skills. Paige Jones is very serious about volleyball, and yet…has the personality to have fun with it, an important attribute that helps her stay loose and into her game during stressful, game-defining situations. She plays with a lot of joy.
"That was a main focus for us this year," says Jones. "I think last year we were more laid back, and this year Coach told us that we should get more hyped up, play with more energy, and have some fun with it. We do."
And the average person watching can't have a clue as to her commitment to the game, the years, the number of hours spent practicing, and the number of miles driven in the off-season to provide competitive opportunity.
"I've been in the gym since I was three months old," she says with a bright smile. "I had an older sister that played that was nine years older, so she played and I was there watching. It's been a huge commitment and now I've given up basketball to focus more on volleyball. In 'JO' (junior olympic volleyball) we practice three times a week (in Plain City, Oh) from 8 to 10 pm and I have to drive an hour and a half to get there."
Without question Marion Local is a good volleyball team. The Flyers have size, quickness, and a nearly unmatched tradition of state title success under former coach Amy Steininger.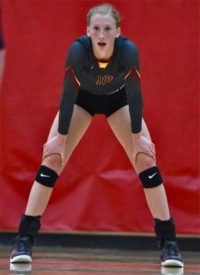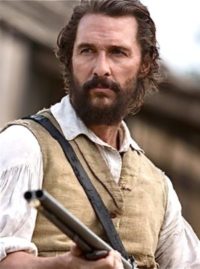 But Jones and company never let the Flyers threaten Thursday with an extended run of points. Two here, three there, and then…the state of Jones would serve, spike, or save a point on defense to take the momentum back and restore their confidence. The third game was tied at one point, 20-20, but no one really doubted as to the outcome, and who might determine it.  Paige Jones provided the winning point with her 22nd kill!
The Cardinals star will go to Michigan next year, because…..
"I love the school. It has great academics. I'd like to study sports management and I know I'll come out with a strong job. And, it's a beautiful campus."
But before then…the goal is to take nothing for granted, ala Newton Jones in the movie, and do what's necessary come tournament time to get beyond their regional final appearance in 2016.
"We just have to focus on winning every match, if we want to get back there," says Jones. "We can't take anyone lightly. Last year was last year, and this year we have to come back and work hard every day."

Spoken like a star.
Spoken like a great teammate.
And spoken like the standard by which to compare.
McConaughey would have loved it had he seen it. He would highly appreciated the new and different…State of Jones.