Senior quarterback earns Big Ten accolade but wasn't always on target against Indiana … His deep passing is still a work in progress, but the Buckeyes may not need a heavy dose of that … Meyer seems satisfied with how Barrett has been looking.
COLUMBUS — I received a text message from a friend who has covered Ohio State for several years while both of us watched Alabama play Florida State from our abodes. He wrote: "These quarterbacks are better than J.T. Barrett. But, to be fair, both offenses are probably better overall, too."
I'll tell you what I told him: "Probably so. I've gone back and forth on Barrett. Doesn't have a big arm, but I don't see receivers running open much. Great at what he does, but you're not going to get chunk plays unless it's catch-and-run stuff. Always a good idea to have an experienced guy there, but I wonder what the offense could look like with (rocket-armed) Dwayne Haskins. If he leads them to a win over Oklahoma, all is well."
I was a Barrett backer through all of last season, even when the grumbling about him reached a crescendo after the donut in the Clemson playoff game.
But I started to have some reservations as I watched a couple of Ohio State replays on the Big Ten Network in the off-season, like the lopsided Fiesta Bowl win over Notre Dame in 2015. The success seemed more because of the ground game — Barrett is a master at those zone-read runs — rather than him dissecting defenses through the air. And he never seemed completely comfortable in the pocket.
He went 20-of-35 for 304 yards and three touchdowns against Indiana, and he rushed 13 times for 61 yards and another score. He was named the Big Ten co-offensive player of the week.
At his press conference Monday, coach Urban Meyer said Barrett graded out as a champion, and that's not a designation he hands out lightly.
But Barrett wasn't particularly sharp against Indiana. Forget his 0-for-7 passing on attempts longer than 20 yards (one was a perfect spiral that went through Parris Campbell's mitts). What stood out were the two passes he missed leading up to the Buckeyes' second field goal when the game was tight. They were first-and-goal at the 10-yard line, and he overthrew Austin Mack and Marcus Baugh in the end zone on consecutive snaps.
I watched the game live, and then I watched the version ESPN aired with four former college coaches analyzing every play. One pass that jumped out to them was when he badly overshot Baugh another time. They said he needs to learn how to anticipate when guys will get open, not wait until they are.
But he's a fifth-year senior. How much better can he be expected to get?
Before we go any further, let's remind ourselves how much worse the Buckeyes could be at that spot. Barrett was the Big Ten co-MVP last season. He's been the conference quarterback of the year twice. And he was freshman of the year in 2014.
Would you rather have him or trot out Wilton Speight as Michigan is forced to do? Speight threw two pick-sixes against Florida, and back-up Jack O'Korn was no better.

Not that there aren't concerns. Meyer was asked his reaction to what Indiana coach Tom Allen said about his defensive strategy against Barrett's passing after the Buckeyes' 49-21 win. If you missed it, it was pretty telling:
"We tried to do quite a bit of dropping with more (defenders). We covered with eight because that's something I feel like, with a quarterback like that who's not an accurate quarterback, that's what you try to do."
Translation: Plant extra bodies around Ohio State's receivers because Barrett can't complete passes into tight windows.
Ouch.
Meyer, though, didn't flinch when asked what Barrett needs to do to counteract that. "Improve his accuracy," he said.
He added: "He had a very good day (in practice) Saturday. If we catch a couple more of those balls, which were right on target — I don't know how many drops we had. I know there was one big one, and I want to say there were one or two others that we could have come down with.
"So, he's a very accurate passer. I made this comment (before): the accuracy of a quarterback has to do with the timing and relationships he has with the receivers. If he's expecting the receiver to come back, and he goes over there, it may look like the quarterback's fault. And that's what happened.
"We had some issues with J.T., but also the receivers. It's much better now."
Meyer seems overly optimistic after one good day at practice, but maybe it just reinforced what he had seen all spring and summer and the impact of new offensive coordinator Kevin Wilson and quarterbacks coach Ryan Day.
And, to be fair, Barrett did show improvement in hitting receivers on the run, which helped them in the yards-after-catch department. Campbell had a 74-yard TD and Johnnie Dixon a 59-yarder, taking short gains to the barn. Last year, Barrett likely would have failed to hit them in stride, limiting the Buckeyes' ability to maximize the burners they have at the position.
Meyer doesn't sound like he's ignoring the deep-ball shortcomings. He said QBs need to be accurate on 60 percent of all long passes and that Barrett has been hitting that standard in practice.
But he's also not going to obsess over it, correctly pointing out that it's only one phase of a multi-faceted offense.
"Crossing routes have been a major emphasis. Coach Day brought those concepts to us, and that's been working for us. Receivers have to catch those things on the move. When you have two 70-yard catches, or close to that, and they're short and they run with them, that excites me as much as deep balls," he said.
"You're letting your athletes go run, and we've got some speed out there."
Asked if that could replace a field-stretching aerial attack, Meyer smiled and said, "In the record book, it still says '74 yards.'"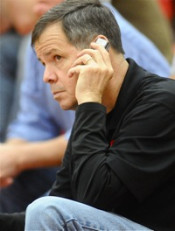 What that tells me is that maybe we shouldn't get fixated on the "passes longer than 20 yards" stat. Barrett is never going to be Daryle Lamonica, who was known as the "Mad Bomber" when he played in the 1960s for the Oakland Raiders (OK, showing my age there).
Barrett just needs to get back to being "The Distributor," as he was called in 2014. He was a pinpoint passer on short throws. He regularly hit receivers in stride. And he would uncork an occasional rainbow to keep defenses honest.
The Buckeyes have enough play-makers that Barrett doesn't have to wow us with his passing, especially when you factor in his ability as a runner.
He probably has higher aspirations than that — and many Ohio State fans want more from him, too — but that may be good enough to get the Buckeyes where they want to go. We'll find out soon enough.