Dreaming, designing and fly fishing. They all came together for Troy's Ethan Smith in SmithFly, a business that has become unique in raft building.
TROY – Ethan Smith loves the outdoors, and fly-fishing in particular. Even when he was working all week in an office, he made time after work for fishing.
Smith, 39, graduated from Troy High School in 1996 and then earned a degree in industrial design from Ohio State.
His degree led him to a career of dreaming and designing. He worked for an architect in Columbus, then for a design firm in Dayton.
"My job was to dream things up, then figure out a way to make them real," he said as we sat in his 100-year-old brick building near the Great Miami River. "I had these ideas for gear bags and eventually turned them into reality."
His company, SmithFly, is a family endeavor. His employees are his father and father-in-law. And it all started when his mother-in-law taught him how to sew.
He soon realized his sewing would never be good enough to produce numbers of quality products.
"It's a small industry and the people who are making the gear bags for the military are the ones who can turn out the quality I was looking for. So I sent them the prototypes I had sewn and they took it from there," he said.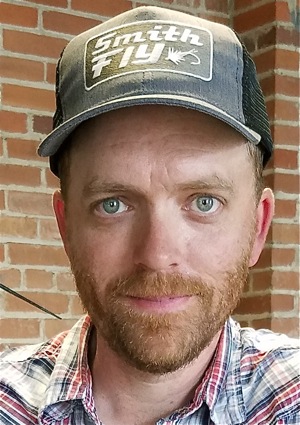 Smith started his business part time in his garage about seven years ago. He went into it full time in December of 2015 when the company he was working for in Dayton moved away. Since his orders were increasing, it was natural to make SmithFly his full-time job.
While he still sells outdoor gear and all things related to fly fishing, the bulk of his business is selling rafts and poling boards (for fishing flats). The rafts, which come in gray or camo, are not your average float rafts. They are state of the art Big Shoals rafts that enable up to three people to fish at a time.
"There are only three companies making rafts like this and only two of us make them for three people," Smith said.
The key is the aluminum frame that attaches to the inflatable raft with eight straps.. The frame contains the seats, oar locks and a rack for a cooler and a small gas or electric outboard motor.
The whole raft comes in three boxes. And according to Smith's Web site, smithfly.net, can be assembled in 10-15 minutes. Once assembled, the frame can be carried on top of an SUV or pickup truck. The raft is rated for class 2 rapids, but is also suited for very shallow "skinny" water. If you must portage, the raft weighs only about 120 pounds.
Another cool feature of the raft is its inflatable hard floor which enables standing to fish. There are support bars to help with balance.
His presence in the world of fly fishing has enabled him to contribute to two charitable endeavors. He donates gear to Healing Waters, teaching fly fishing to veterans, and is a sponsor of the Mayfly Project, working with foster children.
Smith's vision for the future: "I want to expand the business. That includes more gear and we're getting into jackets. But mostly, I want to sell more rafts. The business has doubled each year and I would like to see that continue."
Our comprehensive selection includes over 1500 guns, a full line archery "Pro Shop", shooting & hunting clothing, boots, ammunition, reloading equipment, gun cases, holsters and a multitude of other shooting & hunting accessories.
Olde English Outfitters meets the needs of serious sportsmen and casual enthusiast alike. This is truly a store for all your shooting and hunting needs.
Open this year's hunting season with a trip to Olde English, proud to sponsor outdoors columnist Jim Morris on Press Pros Magazine.com!