On the threshold of another football season, some words on the best looks in area football, and how to make a good look go bad.  How less is always more!
There's absolutely no one out there in athletic administration who's going to read this and give a rat's rump;  but that's what you do sometimes on a dry news day.  You write opinion on the most obvious of topics.
And there's nothing more obvious in recent years than the decline in the look of football…the uniforms, helmets, and obvious concession to kids that 'alternative' matters if it means getting them to play.  If clothes make the man, in other words.  Trouble is, fashion and how you look seldom wins championships.
I look at NCAA football, and even the NFL, and I want to throw up when I see Nebraska wearing those horrid 'black' goth-looking uniforms instead of their classic, simple, red jerseys, white paints, and with helmets with the block 'N' on the side.
In fact, a lot of colleges now, regardless of school colors, are wearing some kind of alternative 'black' uniform, and of course, that filters down.  "It just 'looks' nasty," a player  told me at last year's state tournament.  Looks aren't everything, though.  His team got drilled by four touchdowns.
The Buckeyes are creeping over the line, as well, with the alternative garb they occasionally wear as a concession to Nike marketing.  AD Gene Smith told me last spring that it boils down to what the kids like.  Well, yes.  And it also boils down to the millions that Ohio State gets from Nike for marketing the latest Nike look.  It's "Hey, if Ohio State's wearing that outfit we should have it, too."  It's called high school "cha-ching".
The problem is…it doesn't look good on most high school football programs, where they don't have the skills to play (or look) like Oregon.  And pretending you do only heightens the embarrassment of being over-dressed, like me wearing a tuxedo.  Where prep football is concerned, just keep it simple.
For years I thought that Covington High School had the absolute best uniform in the area…classic black home jerseys with names on the back, white on the road, and with silver pants that put you in mind of the Oakland Raiders.  But alas, that look is gone now because 'names' are an added expense, and the present black pants are easier to wash, I'm told.  Gone, but not forgotten.  A shame!
Troy always had a classic looking uniform until about five years ago when they replaced the familiar Trojan shooting star on the helmet with some gothic-looking sword-in-the-stone decal, a tribute to ancient Rome, I guess.  And 'black', as an accent, began creeping into the Trojans' color scheme.  One of the first things Matt Burgbacher did last year was go back to the old helmet decal.  And thank you.
You talk about classic uni's?  Check out the MAC, where Marion, Coldwater, St. Henry, Ft. Recovery and Versailles dress every year in a manner that would make Paul Brown and Vince Lombardi proud.  Very few changes over the years, and in Recovery's case there's only so much you CAN do with purple.  The others treat change with acute subtlety.
Miami East has a classic look, I think because they have a classic-looking coach in Max Current.  Just plain royal blue and white, and even with the classic stirrup football socks.  And no alternative uniforms.
I've always thought Piqua had the makings of a great look…if they'd ditch the dark blue pants for New York Giants silver to go with the navy home jerseys and white on the road.  I've had people tell me that silver isn't part of the official dress code, but Nebraska didn't used to wear black, either.
Every year you see some embarrassing new helmets that are, I suppose, in tribute to that awful business that the University of Maryland wears.  But lest you think that I'm too hard on change, I rather like the new look I recently see at Northmont.  And by the way, the T-Bolts actually do the San Diego Charger look better than the San Diego Chargers because they stick to a classic font with their uniform numbers.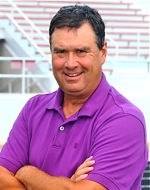 Truly, if I had my way EVERY football team would wear white pants.  Or, they'd wear complimenting pants like the Packers, the Giants, or the Steelers.
And God help the Cleveland Browns.  The next worst thing to black pants…is brown.  Never, ever, ever…should a football uniform come with brown pants.
And, EVERY team would have jerseys that were easy to read from the press box.  That means normal fonts for the numbers, not that awful business of squared numerals that the Tampa Bay Buccs wear.  I think there's a reason why only one player from Penn State is currently on their roster.
Having outlined some of the area's best looks, you might wonder about some of the worst?  Well, think in terms of 1)  easy to read, 2) mud and grass stains, and 3) helmets that look like something that Maryland or Oregon would wear.
Or, something from "Spaceballs".