Got a sensible question for the 'famer'?  Send them to Press Pros and get a more-or-less sensible answer from hall of fame Reds columnist Hal McCoy.  Today on…Reds players with funny names, the price of beer during the good ol' days, and whatever happened to Eddie Mathews' baseball bat?
From Dave in Beaverwsqueak:  Hal, as a former pitcher are you disgruntled that the Reds have no scheduled bobble-head games featuring a Reds pitcher?
DAVE: I pitched one inning in my entire life and that was in Little League. I walked one, hit one and gave up a hit. I couldn't throw hard enough to break a crystal snifter if I hit it directly, which I wouldn't. And you missed it. The Reds had a bobble-head game for pitcher Anthony DeSclafani last Saturday. It is, though, somewhat ironic that they had a bobble-head night for a pitcher on the disabled list. They should have made it a triple-head — DeSclafani, Homer Bailey and Brandon Finnegan.
From Joe B:  Hey Hal, I see the Reds have another pitcher I never heard of named Wojciechowski.  Do you expect this guy to set any records besides most letters in his last name?
JOE: Asher Wojciechowski falls one letter short of tying a major league record for longest last name. That honor belongs to Jarrod Saltalamacchia, Italian for jump over (salta) the thicket (la macchia), which means he is a tall shrub. The longest total name in baseball annals belongs to a pitcher named Calvin Coolidge Julius Caesar Tuskahoma McLish. He was Cal to his friends. Wojciechoski might be one of the toughest to pronounce. Reds assistant coach Ted Power told me how to pronounce it — How's Your House Key?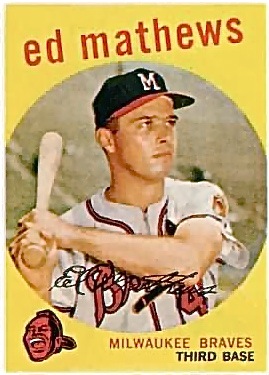 From Greg in Ironton, Oh:  Hal McCoy, when I was playing high school baseball in the 60s I used a Louisville Slugger 'Powerized' bat styled for Braves third baseman Eddie Mathews.  It had a very thin handle and I loved that bat.  And then recently I read where they no longer made bats out of ash trees because there is a shortage of trees.  So, what are they making bats out of now, and are those old bat models like the Eddie Matthews model still available?
GREG: How coincidental is that? I, too, used an Eddie Mathews bat in the 1950s when I was playing American Legion, High School and College baseball. As you said, the handle was very thin, the thinnest handled bat I'd ever seen. It was almost pencil-thin and the barrel was like a fire hydrant. The only problem was if you got jammed and hit it off the handle you probably were standing there with two pieces of wood. Mathews himself had such quick hands he probably never got jammed. You won't find the model at your local sporting good store, but Louisville Slugger keeps on file the specifications for bats used by major leaguers. If you want an Eddie Mathews style bat, call 'em up and order one. But you'll probably be shocked by the sticker price. If you want a bat actually used by Mathews they are available from collector's. One Eddie Mathews bat used to hit a home run recently sold for $15,000. If you buy it, don't use it. While there is a shortage of ash, most major leaguers are still furnished ash bats. Some use maple, but maple bats tend to shatter into dangerous slivers.
From George in Fairborn:  I love to see the baseball fights like last week when the kid (Bryce Harper) charged the mound, and I think it's funny when the pitcher actually gets the best lick in, like Nolan Ryan did one time when a hitter charged the mound.  But I cannot remember who that was.  Do you?
GEORGE: I, too, like baseball fights but I call most of them GMAs – general milling around. Usually, during a fight guys from opposite teams who are friends grab each other and act as if they are holding each other back. They look like dance partners. The unfortunate guy who was dumb enough to charge Nolan Ryan was actually a smart guy, Robin Ventura. Ryan landed a quick right and Ventura dropped like a sack of cement. Ventura later managed the Chicago White Sox and stayed out of all fights. One of my favorites was a pitcher actually charging the mound. Reds pitcher Paul Wilson was buzzed by Cubs pitcher Kyle Farnsworth. Wilson gazed at Farnsworth and hesitated. He should have stayed put. He charged and Farnsworth charged back. They met halfway and Farnsworth put a linebacker tackle on Wilson and he ended up under a pile of Cubs humanity.  My other favorite was when Reds pitcher Rob Dibble hit a member of the Houston Astros. There was a huge pile of humanity on the mound and Astros first base coach Ed Ott (who may have had the shortest name in baseball history) had Dibble underneath the pile in a death chokehold. Dibble's face turned blue, green, red and black. Later Dibble said, "I thought I was doing to die. I was choking on my gum."

From Jack Ries:  Nick Senzel got off to a great start in Dayton last season after he was drafted.  I was wondering where he's playing now and how he's doing?
JACK: He is doing just fine, but let's not rush him. He is playing for the High-A Daytona Tortugas. In 54 games and 214 at bats he is hitting .304 with four home runs, 21 doubles, 24 RBI, nine stolen bases in 11 tries, 18 walks and 41 strikeouts. It would not surprise me if the Reds don't promote their No. 1 draft choice to Class AA Pensacola around the All-Star break. He is, of course, on a fast track because of his talent and the fact he's a No. 1 pick. This one should get very interesting. He plays third base and there is nothing wrong with the way Eugenio Suarez is playing. Of course, Suarez is a natural shortstop, so if the Reds trade Zack Cozart they could move Suarez to shortstop and keep Jose Peraza at second base. The Grand Plan, though, is to move Peraza to shortstop when second baseman Dilson Herrera is ready. But Herrera is struggling a bit this year after having shoulder issues during spring training.
From Harold in Troy:  What made Bob Howsam so special as GM during the days of the Big Red Machine?  And weren't most of the players on that team already there when he got there?  My other question is, in your opinion has there been another GM as good as Howsam since?
HAROLD: Bob Howsam was one of the all-time best at recognizing talent. He should be in the Hall of Fame and when I was a member of the Veterans Committee tried to get him in. But I was always stopped by another committee member, Bill DeWitt Jr. He used the same argument you mentioned. He is the son of Bill DeWitt, who was GM of the Reds before Howsam and said, "Most of the Big Red Machine was put in place by my dad." Not true. Yes, Johnny Bench and Pete Rose were there. But it was Howsam who fitted in the final needed elements when he acquired Joe Morgan, Cesar Geonimo, Jack Billingham and George Foster. And he hired manager Sparky Anderson. Howsam was a master at handling people. Women employees often found bouquets of flowers on their desks, compliments of Mr. Howsam. His strongest suit was talent judgement. He rarely made a mistake.
From Gerry:  Hal, I read this week where Brandon Phillips said it's a slap in the face that the Reds would give his number #4 to another player so soon as him joining the Braves.  Isn't this kind of attitude exactly why the Reds should have let him go sooner?  Your opinion, please.
JERRY: Exactly my opinion. Phillips was a fan favorite because of his big smile and his interaction with the fans, mostly through social media. But his ego is bigger than his smile and he was not a popular guy in the clubhouse with teammates and media. His number isn't retired. He isn't in the Reds Hall of Fame. Why should they not issue his number 4? After what Scooter Gennett did (four home runs in one game) he should be upset that Phillips is wearing No. 4 in Atlanta. And what a joke that Phillips said he is still Mr. Cincinnati. What a slap  in the face that is to Pete Rose or Johnny Bench or Frank Robinson or Ken Griffey Jr., or Joey Votto — all of whom are closer to that title than Brandon Phillips. And the Reds tried three times to get rid of him but he invoked his no-trade clause. I wrote a column criticizing him for not accepting the trades and he cursed at and refused to talk to me for the last two years in Cincinnati. Then when he came back with the Braves he refused to talk to any of the print media. Yeah, right. Mr. Cincinnati. More like Mr. Egomaniac.
From George Lange:  Hal, can you remember the days at Crosley Field and Riverfront when a Wiedemann cost $2.50?  I still have the cups from Crosley and wondered if they would have any collectible value.  They say everything else does.  By the way, I enjoy your coverage of Dayton basketball and hope you'll be doing that again this winter.  Do you think Anthony Grant was a good hire?
GEORGE: The Wiedemann-Bud days were before my time. I was in Akron rooting for the Cleveland Indians, where they sold Carling Black Label, Stroh's and Erin Brew, the standard beer, for $1 a cup. Those cups you have might be worth $10 if you fill 'em with any beer of your choice and sell 'em at Great American Ball Park. As for overing UD basketball, I love it. If Sonny Fulks continues to let me do it I'll be right there are court-side. We'll all miss Archie Miller, but we also all knew he wouldn't stay long at UD. Everybody hopes Anthony Grant is the right choice. That will only be answered down the road. But if he is as good a coach as he is a dresser then he'll be better than Archie and his red ties. It all comes own to recruiting and Grant's ability to lure talent to the Dayton campus.
(Ed Note:  Hal will be courtside come December in UD Arena)
From Tim Simmons:  I was talking with friends this week about ballpark names and none of us think much of Great American Ballpark.  The Reds could have done better in honoring the history of baseball in Cincinnati.  But what parks do you think have the best names, and why?
TIM: Unfortunately, ballparks have been taken over by corporate sponsorships. Big money is paid to have ballparks named after corporations. That's why the Reds park is Great American Ball Park. It is named for the Great American Insurance company, owned by former Reds owner Carl Lindner. Being tremendously old school, I like Dodger Stadium and Fenway Park, about the only major league venues not named after beer or communications companies or dog food (Petco Park). The Florida Marlins used to play in a park that had about five different corporate names during its life. Now they play in a new stadium, Marlins Park, so I have to assume they haven't yet negotiated a deal with a corporation to rename it something like Starbucks Stadium.