A stirring comeback, topped by a 'sophomoric' climax, sent the Russia Raiders to Saturday's Division IV championship game against Minster.

By Stan Wilker
Columbus – Friday's second Division IV semi-final game featured 23–7 Russia, locked up with a late-charging Dalton team, that like Minster, caught fire later in the season, though the Bulldogs waited until tourney play to play their best ball.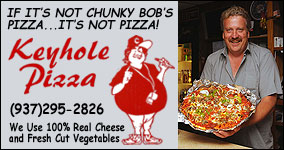 The Medina Regional winner was 10–11 at one point in the season, then won a couple of late season games and moved through the sectional, district and regional tourneys to enter state action with a 16–11 record.  This less than impressive record has not caused the Russia players or coaches to assume that they will have an automatic ticket to Saturday's championship tilt. 
Coach Kevin Phlipot simply stated this about the game, "There are no bad teams at this point in the season. They only have 3 seniors on the team, and only one of them starts.  But obviously they became very good, and got hot, or they would not be here." 
Dalton entered their sectional play as a # 7-seed Medina.  After winning their tourney opener, the dispatched the #2 seed, the #3 seed, and finally number one seed Hillsdale on the way to their Regional tourney.  Once there they defeated the #4 team on Ohio, Berlin Center Western Reserve, then captured the title with a win over #7 New Riegel.  Coach Scott Huth characterized the mood of team entering state play saying, "We are pretty loose right now." We feel that we can play with anyone and we're running with that."  The Russia staff expected the Bulldogs to play a lot of small ball.  In their last game there were 2 squeeze attempts and three stolen bases. 
The Raider players looked forward to the challenge of representing their school and community in Final Four action for the first time since 1975.  Drew Sherman captured the mood of the team.
"We have played and beaten good teams all year.  We're 5-2 versus the MAC and had to come back in a number of those games." 
Dylan Cordonnier felt there would be some pressure. 
"The state is a big stage, but once we get used to everything, we'll be OK." 
Kevin Phlipot described his Raiders as a composed group. 
"During the regionals we experienced a number of lengthy rain delays and our kids handled it with no problem.  They had fun in the dugout and when play resumed it was business as usual."
For the Russia seniors it's been all about winning for school and community.  Though the names were different, the attitude was the same as their Minster counterparts, and to a man, the Russia and Minster players felt the games were being played for fellow students, fans, and the community at large.  
In the D-4 nightcap the Russia Raiders made a prophet of Kevin Phlipot.  Prior to the game the Raider boss expressed little concern if his Raiders were put in a position where they had to come back.  After starting fast, like their Minster counterparts in game one, the Shelby County League tri–champs opened with two runs and looked good doing so as hitters were making solid contact.  Dalton responded with a single run on no hits to cut the lead in half. 
In the third the Bulldogs came to life with three runs, highlighted by a bases loaded double form clean-up hitter Mitchell Clark.  Undaunted, Russia entered the 5th with time running short.  DH, Clay George opens the frame with a shot to right center landing him on second.  Trenton Monnin was by a pitch, and on the ensuing sacrifice attempt Dion Puthoff was safe on a perfectly executed bunt.  With the bases juiced, number two hitter, Dylan Cordonnier promptly laced a double to left field gap clearing the bases and returning the lead to the Raiders, 6-4.
The Bulldogs scored a single run in the 6th to draw within one at 6-5, and tied the game in the 7th at 6-6 to set the stage for the next comeback. 
Dylan Cordonnier opened with a sharp single to center, followed by a Drew Sherman sacrifice that sent Cordonnier to second.  Clean-up hitter Hunter Cohee was given an intentional walk, followed by a Kevin Drees slow ground out, advancing Raider runners to second and third, with two out. 
To the plate steps sophomore Evan Monnier, and after fouling off several pitches in a tough at bat, the young second baseman promptly drilled a sharp single to center field, sending the Russia fans into a state of frenzy.  And now, these two friendly rivals that are separated by 15 miles, will meet on Saturday to decide the last player standing. 
Assistant Coach Aaron Monnin could have been speaking for both communities as he said, "Playing in the Final Four is always special, but with the chance to play Minster, well, it is really special."
No one in Shelby or Auglaize would disagree.